Has the allure of uniquely beautiful Blue Flowers captured your fascination? Despite their enchanting appearance, blue blossoms are surprisingly sparse due to the rarity of natural blue pigments in flora.
Our insightful article sheds light on this curious phenomenon. It brings you an extensive list of various types of captivating blue blooms for your reference. Delve into today's post to uncloak nature's best-kept secret: why are strikingly stunning 'true-blue' flowers so rare?
Why Is the Color Blue special in nature?

Why are blue flowers rare?

Types of Blue Flowers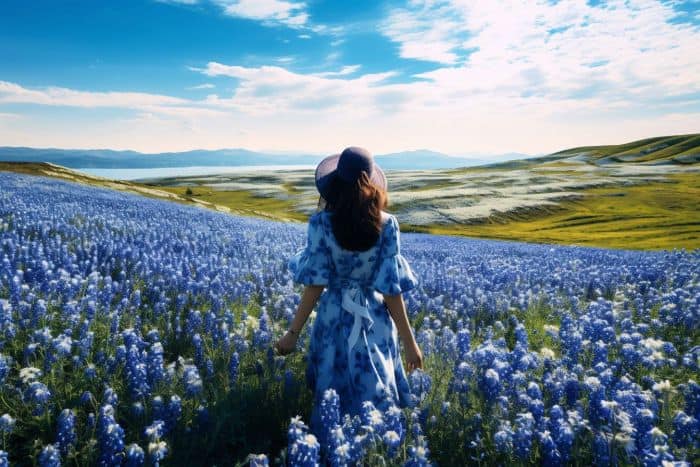 The Himalayan Blue Poppy draws masses with its bright and mesmerizing hue. Larkspur Flower possesses clustered spires of violet-blue flowers, a perfect addition to your garden. Stemless Gentian enchants gardener with its gorgeous purple-blue petals that bloom in late summer.
Virginia Bluebell bestows the garden with delicate bell-shaped flowers embodying various hues, including deep blue or white. Common chicory showcases small, brilliant sky-blue blooms commonly seen on every roadside during summer.
A member of the cucumber family, Borage Borage bewitches with clusters of sapphire-blue star-shaped flowers. The Wood Forget-Me-Not fascinates viewers with a sea of tiny sky-blue blossoms during springtime's end and early summertime period.
Their brilliant azure lace-like blossoms make Blue Lace Flowers one of the most beloved florists worldwide.
Cornflower boasts breathtaking shades from pale pink to vibrant blues while offering extended blooming seasons! Blue Daze adorns landscapes and containers alike.
1. Blue Himalayan Poppy

2. Larkspur Flower

3. Stemless Gentian

4. Virginia Bluebell

5. Common Chicory

6. Borage Borage

7. Wood Forget-Me-Not

8. Blue Lace Flower

9. Cornflower

10. Blue Daze

11. Blue Flax

12. Blue Marguerite Daisy

13. Colorado Blue Columbine

14. Azure Blue Sage

15. Blue Commelina

16. Leadwort/Plumbago

17. Blue Giant

18. Blue Pincushion

19. Edging Lobelia

20. Turquoise Ixia

21. Love-in-a-Mist

22. Blue Passionflower

23. Monk's Hood

24. Siberian Bugloss

25. Butterfly Pea

26. Liverleaf

27. African Lily

28. Siberian Squill

29. Jasione Montana

30. Bluebell Bellflower

31. Baby Blue Eyes

32. Blue Orchid

33. Blue Star

34. Blue Violet

35. Blue Hibiscus

36. Blue Mist Shrub

37. Blue Daisy

38. Azure Aster

39. Dwarf Morning Glory

40. Fairy Thimbles

41. Triplet Lily

42. Tweedia

43. Georgia Blue Veronica

Symbolism of Blue Flowers


Frequently Asked Questions
You may find it odd that blue flowers show up in nature. They exist, but they use a blend of pigments to create their blue hue. Some nice ones for your garden are Forget-Me-Nots. These flowers have light-blue petals and yellow centers and bring a soft touch to any garden.
Blue flowers come with many different meanings tied to them. Most good thoughts about these colors involve feeling quiet and at peace. Besides being serene, people like how stylish they look when used in floral design.
The Texas highways often shine bright with peaks of Bluebonnets during springtime's full bloom in April. Their stunning blossoms attract busy bees and fluttering butterflies seeking sweet nectar! If you play Blox games, you might be aware that these rare beauties can spawn quite often there!
One type of blue flower is native – the Scabiosa or pincushion flower! Boasting hues from pure white to rich blues; it's an excellent choice if you wish for some variety in color tone among your botany collection.
Blue flowers bring peace and beauty to any garden. With their bright colors, they catch your eye. They stand out because blue is rare in nature. Next time, plant some blue flowers and see their charm light up your yard!
Cite This Page