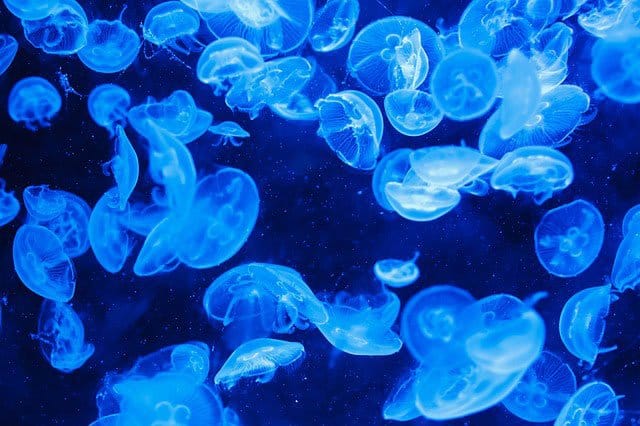 A
re you interested to learn more about the vast world of aquatic plants and organisms? Will it excite you to know about the phyla or families of species living in sea or other water bodies? Are you curious to know about marine ecology in its entirety? If your answer to the above questions is Yes, then taking up a course on
Marine Biology
can benefit you in a huge way.
What is Marine Biology all about?
Reading the title 'Marine Biology' straightaway suggests that it is a branch of biological science that deals with the study of marine creatures, isn't it? Although correct, the subject is broader than you think. We already know that in Biology, diverse forms of family and genera of living organisms are present. One such category is the 'Marine Family' that encompasses all living organisms that live in the sea, ocean, brackish waters and other forms of water bodies.
Did you know that the three-dimensional ocean occupies most of the Earth's surface, as big as 71%? As a result, marine biology also focuses on the study of habitats like coral reefs, tidepools, seagrass meadows, sandy, rocky bottoms in an ocean, thermal vents and of course the kelp forests.
In a nutshell, everything from the microscopic picoplankton to huge mammals like blue whales and creatures living in the oceans, estuaries, and wetlands is all included in the study of Marine Biology.
Studying Marine Biology – Is it Advantageous?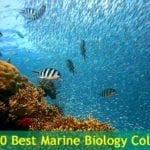 Here are the top 10 Best Marine Biology Colleges & Universities in North America that offer excellent marine science programs in state-of-the-art facilities.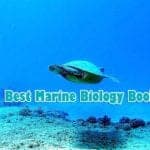 Marine biology is both a fascinating & complex field of study. Explore the top 15 marine biology books & oceanography textbooks for students & researchers.
First of all Marine Biology is an interdisciplinary subject and includes everything from biological oceanography, chemistry, geology,
molecular biology
to zoology,
botany
,
cellular biology
, meteorology and many more. The marine life is unexpectedly vast. It is extremely resourceful in nature. Some of the popular marine resources include food, health befitting drugs, raw materials and scintillating destinations promoting tourism and recreation all across the globe. Since most of the Earth is covered with water bodies, marine creatures make a significant contribution to the oxygen cycle. Their water-borne organisms create new lands and protect the shorelines as well. Studying Marine Biology will only expand the doors of knowledge, discovery, and science.
Career Options:
After a successful course in Marine Biology, you can easily explore a world of opportunities. From a fishery biologist, marine biologist to a technician and microbiologist, you can pick from a variety of great career options.

Center for Marine Conservation
The mission of the Center for Marine Conservation is to protect ocean ecosystems and conserve the global abundance and diversity of marine wildlife. Through science-based advocacy, research and public education, CMC informs, inspires and empowers people to speak and act for the oceans.
Competition and information among British Columbia salmon purse seiners
Part of the history of overfishing salmon.
Crayfish Biology-Aquaculture.
The Dolphin Institute and the Kewalo Basin Marine Mammal Laboratory: Dedicated to Dolphins and Whales through Education, Research, and Conservation. Over 20 years Dolphin Research and Whale Research, based in Honolulu, Hawaii. Browse our extensive educational area to learn about marine mammals. See how you can participate in our whale and dolphin research.
The Marine Biological Laboratory is an independent scientific institution, founded in 1888, that undertakes the highest level of creative research and education in biology, including the biomedical and environmental sciences. MBL is a member of the National Association of Marine Laboratories.
Marine Sciences Research Center
The Marine Sciences Research Center (MSRC) is the State University of New York's center for marine research, graduate education, and public service. MSRC is also the University at Stony Brook's center for research, education, and public service in the atmospheric sciences.
Marine Weather is (as far as we know) the largest collection of the marine weather forecast on the planet with thousands of forecast, maps, images, and links.
The website for marine experts and consultants.