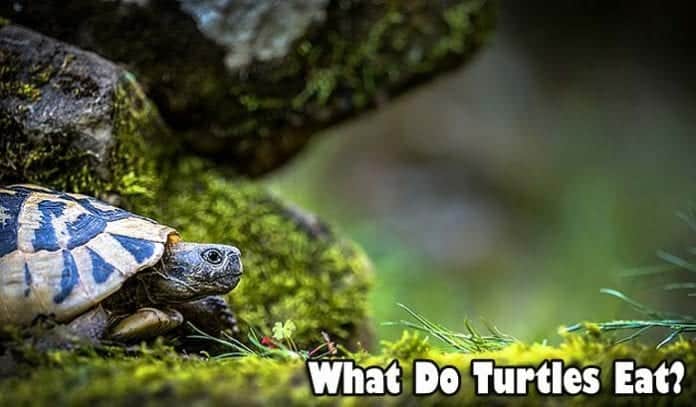 What Do Turtles Eat? Turtles are unique reptiles notable for their hard shells, which come in handy to protect them from their predators. These organisms can be found disseminated in various parts of the globe, meaning they can thrive in almost every climate.
Turtle diet is diverse. When looking at sea turtles, for instance, their diet varies depending on the species. These organisms can be purely carnivorous, herbivorous, or omnivorous.
Some species change their feeding behavior as they go through the stages of their lifecycle. A good example is the green sea turtle, which takes up a carnivorous diet when it hatches through to the juvenile stage, but as an adult, it becomes herbivorous.
What Do Turtles Eat?
| | |
| --- | --- |
| Green Sea Turtle | Algae, seagrass, worms, small crustaceans, and aquatic insects. |
| Painted Turtle | Omnivorous diet (worms, algae, and plants) |
| Common Snapping Turtle | Aquatic invertebrates, fish, aquatic vegetation, and carrion. |
| Leatherback Turtle | Tunicates, squids and jellyfish. |
| Spotted Turtle | Aquatic insects, worms, fish, spiders, green algae, and cranberries. |
| Common Musk Turtle | Algae, snails, tadpoles, crayfish, clams, and other aquatic insects. |
Types of Turtles and Their Diet
Scientists have described 330 turtle species. Some of these turtles live in water, while others are semi-terrestrial. This section will look at a sample of the extant species.
What Do Green Sea Turtles Eat?
| | | | | |
| --- | --- | --- | --- | --- |
| Animalia | Testudines | Cheloniidae | Chelonia | Chelonia mydas |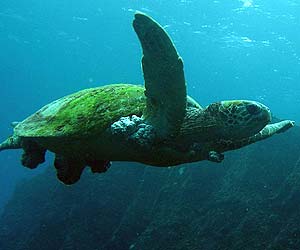 The diet of green sea turtle changes throughout its lifecycle.
As an adult, it mainly feeds on algae and seagrass.
As a juvenile, this turtle consumes an omnivorous diet of mostly worms, small crustaceans, aquatic insects, and plants.
The green sea turtle is one of the largest turtles in its oceanic habitat. The green sea turtle gets its name from the greenish hue on its cartilage and fat.

What Do Painted Turtles Eat?
| | | | | |
| --- | --- | --- | --- | --- |
| Animalia | Testudines | Emydidae | Chrysemys | Chrysemys picta |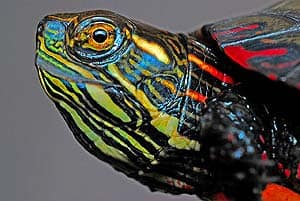 The Painted Turtle is omnivorous feeding on animals, algae, and plants.
This turtle species can be found in multiple habitats.
Its primary habitat is freshwater, which can also be found in brackish water.

What Do Common Snapping Turtles Eat?
| | | | | |
| --- | --- | --- | --- | --- |
| Animalia | Testudines | Chelydridae | Chelydra | Chelydra serpentina |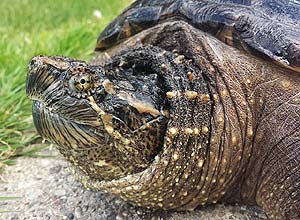 The Common Snapping Turtle feeds on aquatic invertebrates, fish, aquatic vegetation, and carrion.
This turtle can be found in almost all permanent water bodies, especially those with a rich distribution of aquatic vegetation.

What Do Leatherback Turtles Eat?
| | | | | |
| --- | --- | --- | --- | --- |
| Animalia | Testudines | Dermochelyidae | Dermochelys | Dermochelys coriacea |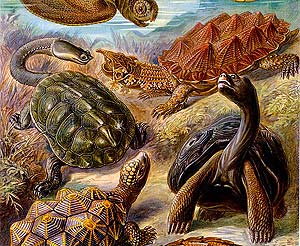 The Leatherback Turtle feeds on low protein diet drawn from tunicates, squids, and jellyfish.
The leatherback turtle is the largest marine turtle whose population is on the brink of extinction.
These turtles are found in oceanic habitats from Alaska to South Africa's Cape of Good Hope.

What Do Spotted Turtles Eat?
| | | | | | |
| --- | --- | --- | --- | --- | --- |
| Animalia | Reptilia | Testudines | Emydidae | Chordata | Clemmys guttata |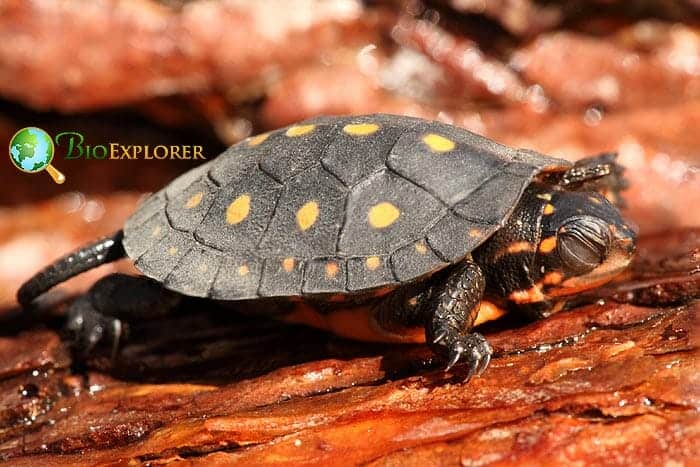 The spotted turtle is an endangered species of semi-aquatic turtle commonly found around Maine, Quebec, and Ontario. This species is known to be especially small, typically boasting just 12 to 13 cm long. Spotted turtles are omnivores, meaning they consume both plant-based and animal-based food.
Common staples of this species' diet include aquatic insects, worms, fish, spiders, green algae, and cranberries. It is common for these turtles to search for prey in aquatic environments by pushing their heads into underwater plants. Although spotted turtles can reside on land, they always eat food in the water.

What Do Common Musk Turtles Eat?
| | | | | | |
| --- | --- | --- | --- | --- | --- |
| Animalia | Reptilia | Testudines | Kinosternidae | Chordata | Sternotherus odoratus |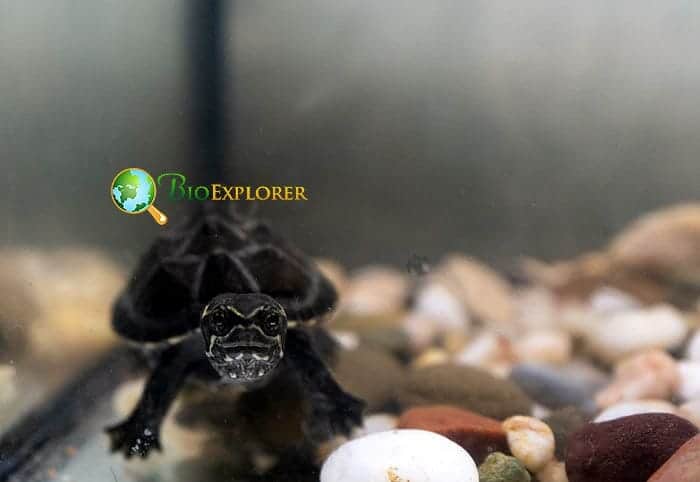 The common musk turtle, colloquially known as the "stinkpot" due to the smelly odor it can release through its shell, is a species of turtle commonly found in the wetland habitats of eastern North America. These turtles are also small, with a maximum length of about 12 cm.
Common musk turtles are also omnivorous, including algae, snails, tadpoles, crayfish, clams, and other aquatic insects. Being scavengers, these feed on the carrion of dead animals, too. They are also nocturnal, almost always hunting for food at night.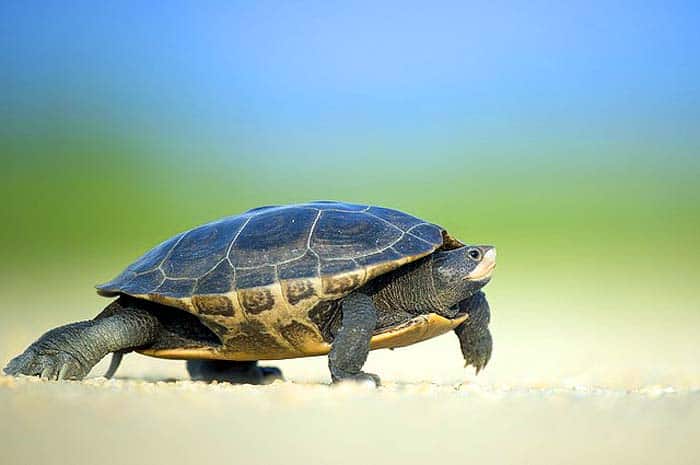 Turtles hunt their food using different means. Some species move quickly to ambush prey that comes near their areas.
Other species, like the painted turtle, survey the water bottoms to find and capture prey.
Their hunting is facilitated by their tactic of quickly pushing their heads in and out of the water to attract the attention of unsuspecting victims.
Some species use their tongues as bait to lure prey into their mouths.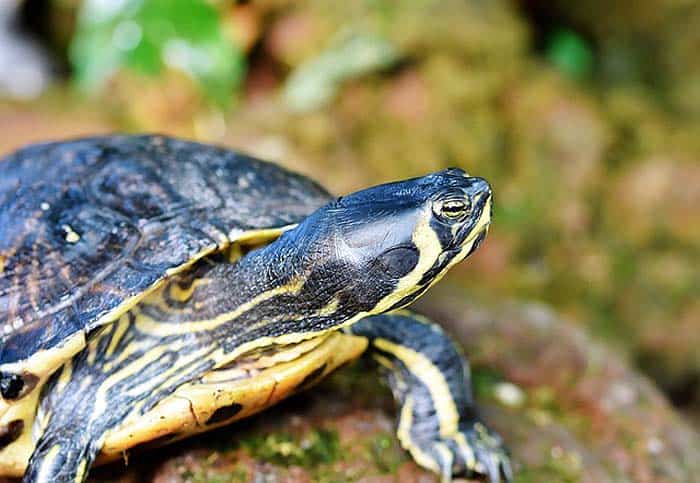 Most turtle species display different periods of activity.
For instance, sea turtles are mainly diurnal, meaning they are active during daylight hours and tend to eat during this time.
However, sea turtles can also display nocturnal activity during the breeding season and when the hatchlings emerge from the eggs.
This behavior protects their eggs and hatchlings from predation. These turtles will tend to feed during this time.

How often do Turtles Eat?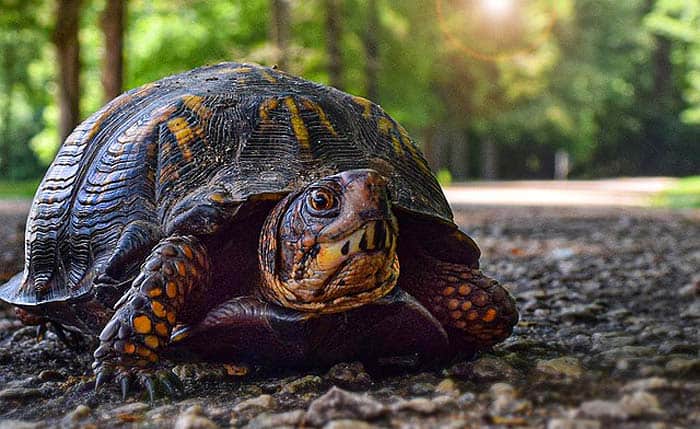 How often turtles eat depends on different factors, including age and the weather.
For instance, younger turtles have more dietary needs, so that feeding will be noted frequently.
During colder temperatures like winter, daylight hours and food supply are reduced. As a result, some turtle species reduce their activities. Hence, their feeding frequency will tend to reduce during this time.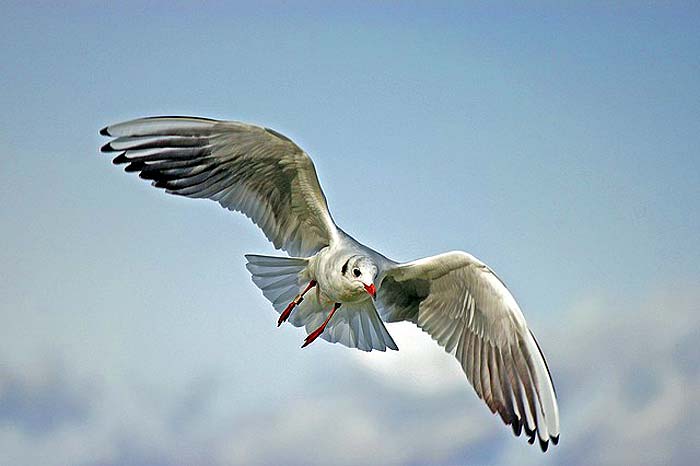 Some of the organisms that feed on turtles include birds with the example of crows and seagulls, mammals like raccoons, coyotes, domestic cats, ferrets, weasels, skunks, crocodiles, and opossums.
Other predators include adult alligators, Nile monitors, mature frogs, the great white shark, ghost crabs, and killer whales.

Where do Turtles fit in the Animal Food Chain?
Turtles are essential to the animal food chain because they promote a healthy ecosystem, especially when looking at the condition of water bodies and the surrounding land.
Turtles prey on organisms that feed on them, thus promoting their survival. This is especially true when considering the predators that feed on turtles' different lifecycle (egg, juvenile, and adult) stages.
Turtles also prey on other smaller organisms, thus keeping their population under check. These magnificent creatures are also scavengers, feeding on dead organisms.
As such, they help rid the ecosystem of the bodies of dead creatures.

Given the above, it is evident that the presence of turtles in the food chain is priceless, especially in promoting a thriving ecosystem.

Frequently Asked Questions
What foods do turtles eat?
Turtles are omnivores, with their diet varying by species. Land-dwelling turtles also known as tortoises (namely Gopher Tortoise, Radiated Tortoise, Leopard Tortoise, etc. ) tend to be more herbivorous, consuming grasses, leaves, and fruits, while aquatic turtles (such as Red-eared Slider, Painted Turtle, Alligator Snapping Turtle, more) are more carnivorous, feeding on mollusks, worms, fish, and other aquatic organisms. Some species have specialized diets, like the hawksbill turtle (Eretmochelys imbricata) that eats sponges or the leatherback turtle (Dermochelys coriacea) that feeds on jellyfish.
What is a turtle's favorite food?
Turtles don't have a universal "favorite" food as their preferences vary by species and habitat. However, many turtles enjoy eating leafy greens, fruits, insects, and worms in captivity. Aquatic turtles often prefer small fish, crustaceans, and aquatic plants. Providing a diet that resonates with their natural food sources in the wild is essential for optimal health.
Will turtles eat carrots?
Yes, turtles can eat carrots. Carrots are rich in vitamins and minerals beneficial for turtles, including vitamin A, fiber, calcium, and phosphorus. These nutrients support a turtle's immune system and the health of their bones and shell. Feeding turtles raw and cutting carrots for optimal benefits is recommended. Many turtles enjoy their flavor and nutritional value.
Do turtles eat snacks?
Yes, turtles can be given "snacks" or treats apart from their regular diet. These can include earthworms, crickets, aquatic snails, leafy greens like collard greens and kale, aquatic plants, and fresh vegetables like carrots. However, it's essential to ensure these snacks are suitable for the specific species and are given in moderation to maintain a balanced diet.
What can you feed wild turtles?
Wild pond turtles (aka freshwater turtles such as Western Pond Turtle) eat both plants and animals. You can feed them earthworms, crickets, aquatic snails, leafy greens like kale, aquatic plants, and fresh vegetables like carrots and squash. Avoid oily foods, dairy, and sugary snacks. Always wash hands after interacting with wild turtles due to Salmonella risks. It's best to let them find most of their food naturally.
What can turtles not eat?
Turtles should not consume human-processed foods like fried items or sweets. Raw meats and fish can contain parasites, making them risky. While some turtles can eat fruits, it should be moderated. Often used as treats, feeder fish can be fatty and carry diseases. It's essential to understand the specific dietary needs of the turtle species before offering any food. Always prioritize natural and species-appropriate diets.
What do turtles eat in the water?
Aquatic turtles have an omnivorous diet, feeding on both animal-based foods and plant material. They often consume fish, various invertebrates like snails and crickets, and occasionally amphibians such as tadpoles. In addition to animal sources, they nibble on floating vegetables, including romaine lettuce and collard greens, and enjoy aquatic plants like water hyacinth. It's vital to provide them with a diverse diet for nutritional balance, ensuring the foods suit the specific turtle species and avoiding raw grocery store meats.
What do wild tortoises eat?
Wild tortoises, like the Mediterranean species, primarily consume herbaceous and succulent vegetation, including leaves, grasses, flowers, and occasionally fallen berries. They are almost exclusively herbivores, rarely consuming animal protein. They browse various seasonally available foods in their natural habitat, sometimes consuming up to 200 different plant types yearly. Their diet varies seasonally, with changes in moisture and protein content. By wandering over vast areas and consuming diverse foods, they ensure a balanced intake, providing essential minerals and nutrients for reproduction and healthy bone development.
Cite This Page