Have you ever wondered about the diverse array of wildlife living in rainforests? Believe it or not, more than half of the world's species reside in these vibrant habitats. In this blog post, we'll dive into the intricate ecosystem of rainforests and spotlight some incredible creatures that inhabit them. Keep reading to embark on an adventurous tour through tropical canopies teeming with life!
Overview of rainforest animal diversity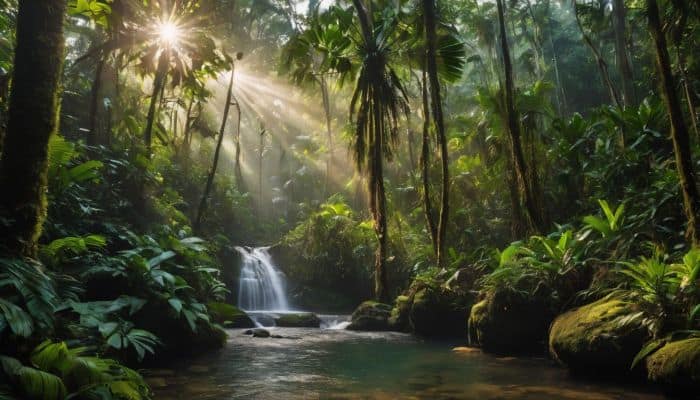 What Animals Live In Rainforests? Rainforests are full of many kinds of animals. These places have many plants and trees to eat, hide in, or live on. Some rainforest animals are the jaguar, pink river dolphin, or poison dart frog.
There are more than we can count! This great mix makes every rainforest special or "diverse". One cool thing is that some rainforests, like Borneo and New Guinea, have even more plants and animals than others! Every rainforest has so much life buzzing around at all times during the year.
Animals here never get bored because changes happen slowly over time in these ecosystems.

Unique adaptations of rainforest animals
Rainforest animals show unique skills to live where they are. A sloth, for example, sleeps during the day and wakes up at night. This is a way of life named "nocturnal". Some others act only in specific time frames.
Camouflage helps many species merge with trees or leaves so predators won't see them. Climbing and swimming traits have developed, too, which let some move better in their homes high above ground or deep in rivers.
Scary poisonous skin wards off attackers among several small animals. These special changes mean rainforest animals can survive in diverse places full of food sources and threats.
Suggested Reading:

Mammals in Rainforests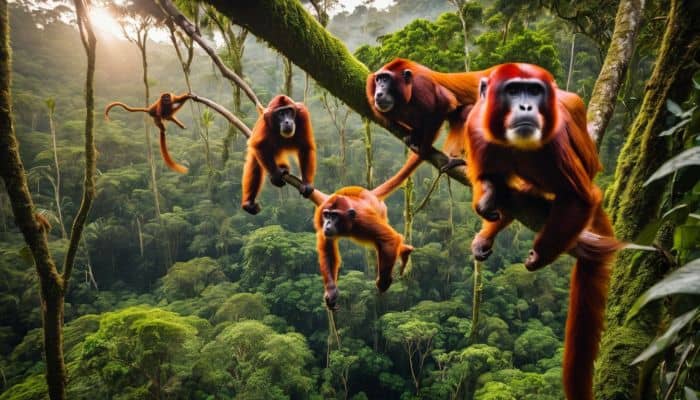 Dive into the lush, humid world of rainforests, and you'll meet fascinating mammals like jaguars stalking their prey silently or Giant River otters sliding effortlessly in waterways.
You'd see a Red howler monkey emitting calls that resound across the canopy. You might find a Capybara relaxing near a marshland. Wouldn't it be delightful to observe a Black-capped squirrel monkey swinging skillfully among branches or witness the slow-paced life of an adorable Sloth hanging lazily on trees? Picture yourself spotting Pink River Dolphins amidst sparkling waters while Puma prowls stealthily nearby, waiting for its chance to pounce.
With curious eyes peeking from behind dense foliage is the Bearded Emperor tamarin – assuredly one encounter you won't forget! Please tune in for intriguing stories about these amazing creatures who call our planet's most complex ecosystem home! By reading further, learn more about their unique adaptations to life in this intricate environment!
Suggested Reading:
Jaguar

Giant River Otter

Red Howler Monkey

Capybara

Black-capped Squirrel Monkey

Sloth

Collared Anteater

Puma

Bearded Emperor Tamarin

Pink River Dolphin

Birds in Rainforests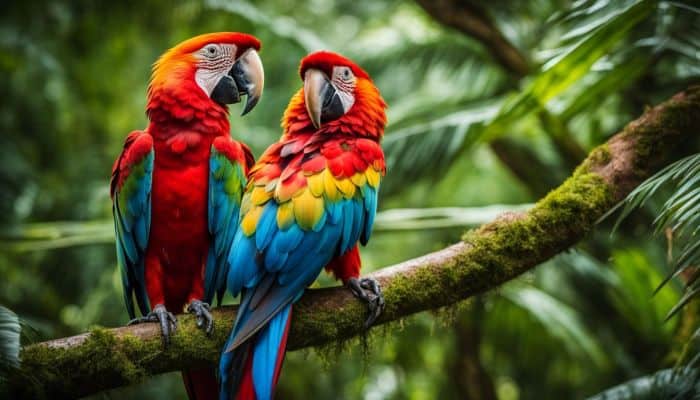 This section explores the birds that inhabit the dense canopies of rainforests, including colorful and charismatic species like Macaws and Toucans. The Harpy Eagle, one of the world's largest raptors, resides in these woodlands.
Also highlighted is the Spangled Cotinga, displaying vibrant plumage matching their lush habitat. Meet the Royal Flycatcher with its striking crest and peculiar habits, such as the Potoo Bird with excellent camouflage to blend within tree barks.
Lastly, discover Paradise Tanager – a bird revered for its iridescent coloration symbolizing rainforest diversity.
Macaw

Harpy Eagle

Spangled Cotinga

Royal Flycatcher

Potoo Bird

Toucan

Paradise Tanager

Reptiles & Amphibians in Rainforests
Many reptiles and amphibians call the rainforest their home, showcasing nature's otherworldly forms and colors. Among the most notorious is the colorful yet dangerous poison dart frog, which gets its name from indigenous tribes using its toxic secretions to poison their blowgun darts.
The awkward-looking side-necked turtle can also be found near rivers or in ponds in the rainforest, thriving due to the abundance of food sources. Residing in deeper waters is a formidable predator – black caiman – noted for its impressive size and fierce hunting tactics.
With the highest note hit by any animal, bicolored tree frogs amplify their songs into night heavens, searching for a mate before laying eggs on leaves overhanging water bodies; when hatched, they drop right into the middle of streams.
Completing this list is the green anaconda- the world's largest snake- whose sheer strength strangles prey with a death grip before consuming it whole, hiding beneath the water surface untouched by human presence.
Poison Dart Frog

Side-necked Turtle

Black Caiman

Bicolored Tree Frog

Green Anaconda

Insects and Other Invertebrates
Rainforests are rich with diverse species of insects and other invertebrates, including the leafcutter ant, known for its cooperative behavior and complex social organization. Pink-toe tarantulas make their homes among tree branches while serving as predators of pests.
The Blue Morpho Butterfly stands out with its stunning iridescent blue wings that play tricks on potential predators. Urodid Moth cocoons hang from rainforest trees, showcasing unique beauty, while the Brazilian Wandering Spider roams free on the rainforest floor, earning it a spot among the world's most venomous spiders.
Leafcutter Ant

Pink Toe Tarantulas

Blue Morpho Butterfly

Urodid Moth Cocoon

Brazilian Wandering Spider

Conclusion
Rainforests are full of amazing animals. Each one adds to the life and color of the forest. From big cats, monkeys, and frogs to ants, each has a role in keeping rainforests healthy. This mix makes rainforests some of our most precious places on Earth.
Frequently Asked Questions