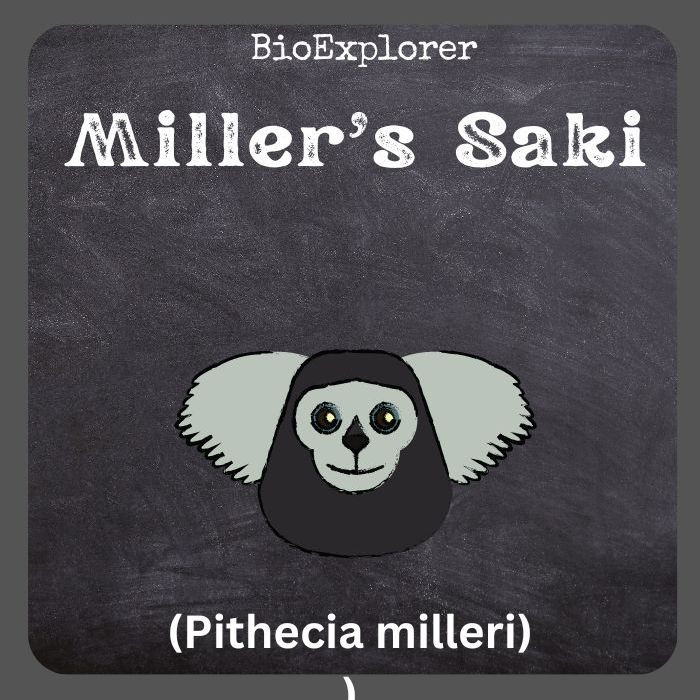 | | | | | |
| --- | --- | --- | --- | --- |
| Animalia | Primates | Pitheciidae | Pithecia | Pithecia milleri |

Common Name: Miller's Saki
Taxonomy Classification Year: 1914
Monkey Size: 30 to 50 cm (12 to 20 in)
Skin Color(s): Gray to grizzled black
Habitat: Forest, rainforest
Diet: Omnivorous

Miller's Saki Distribution

Miller's Saki Characteristics
Miller's saki[1] (Pithecia milleri), also called Miller's monk saki, is a species of saki family, a type of New World Monkey.
Its range includes parts of northeastern Ecuador, southwestern Colombia, and possibly adjacent areas in Peru.
The Miller's saki belongs to the Pithecia monkey family. Species in this group are characterized as medium-sized monkeys with long, coarse hairs that swell up (known as piloerection) when approached in the wild, making them appear larger than they really are.
The hair on their head is directed forward like a hood.
Like other sakis, the males and females of this species have different colored fur, with the females being grayer on the face and overall and the males a darker grayish-black but with brown on the face and the forearms.

Miller's Saki Facts
Miller's sakis are diurnal and quadrupedal leapers. They usually move on all fours but can be seen swinging bipedally on large branches before leaping to another tree.
During the day, these sakis move in pairs or small family groups around their home range.
These species vocalize in growls, squeaks, hisses, and low calls.
Due to their diet, Miller's sakis disperse the seeds of the fruits they eat, which benefits the local ecosystem.
Populations of this monkey are threatened by hunting and habitat loss.

Cite This Page