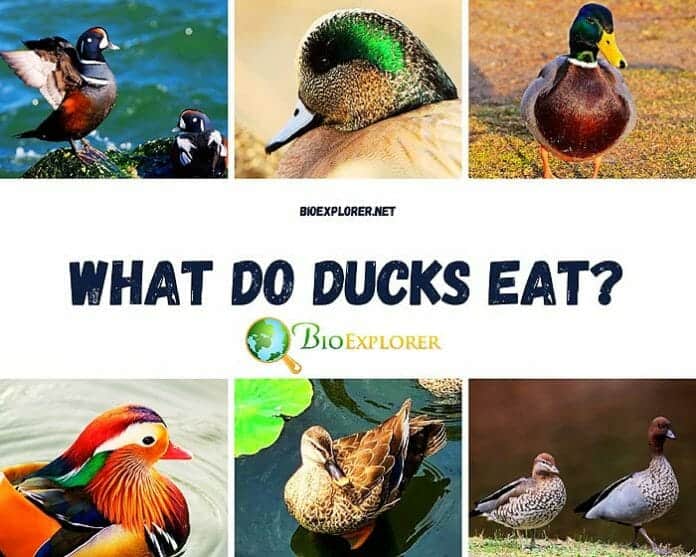 What Do Ducks Eat? Different kinds of ducks exist, all of them inhabiting various parts of the world. Ducks are omnivorous. This means that they can eat any plant or animal matter that is within their reach.
The focal point of this page would be to shed light on some of the duck species, primarily covering information on what they eat, how they hunt, when they eat, how often and how much they eat, their predators, and their role in the animal food chain.
Types of Ducks
Ducks are classified under the family Anatidae, alongside swans and geese. The below section will provide deep insight into the diets of the following duck species drawn from a myriad of genera Northern pintail, Mallard Duck, Wood Duck, American Wigeon, the Mandarin Duck, and the Harlequin duck.

What Do Northern Pintails Eat?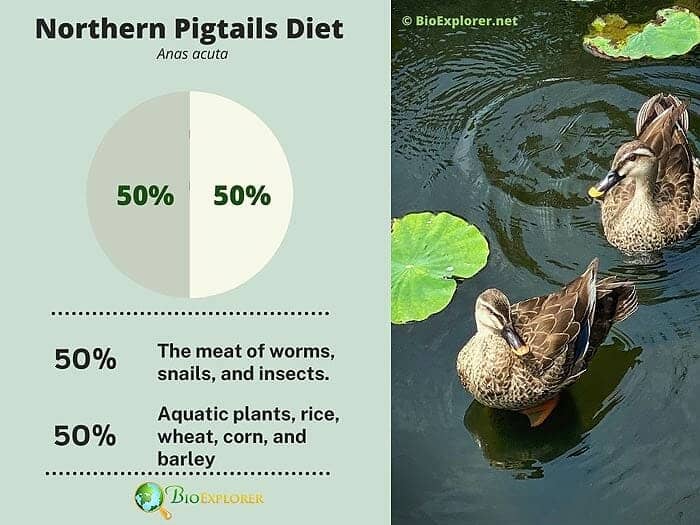 Diet: Northern pintails are omnivores, feeding on a diet of meat and plant matter, depending on their availability. About 50% of their diet is made up of meat, while the other 50% is supplemented by plant materials. They draw their nutrients from eating the following items: worms, snails, insects, aquatic plants, rice, wheat, corn, and barley.
| | | | | |
| --- | --- | --- | --- | --- |
| Animalia | anseriformes | Anatidae | Anas | Anas acuta |
Hunting Techniques:

Filter-feeding is the feeding strategy used by northern pintails.Their bills are serrated, making them perfect for sifting food from the water.
Where can it be spotted?

Northern pintails breed in Alaska, to the Great Lakes, Northern New England, and the Central Great Plains.This bird is also likely to be found in southern Asia, Northern Africa, and southern Europe.Its preferred habitat is open country with wetlands.These bird winters in freshwater locations like streams, marshes, ponds, lakes, rivers, and canals.

What Do Mallard Ducks Eat?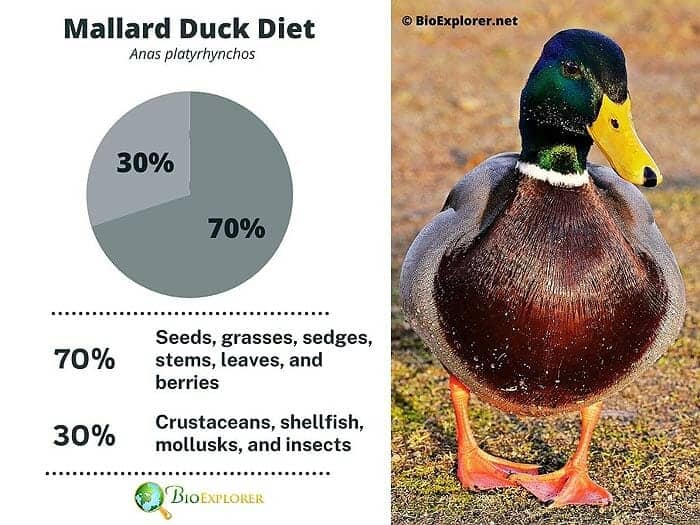 Diet: Mallards are omnivorous, whose diet includes seeds, grasses, sedges, stems, leaves, berries, insects, and shellfish. Thus, about 70% of their diet is made up of plant matter. The other 30% comprises crustaceans, mollusks, and insects, which it occasionally consumes, especially when it is young.
| | | | | |
| --- | --- | --- | --- | --- |
| Animalia | Anseriformes | Anatidae | Anas | Anas platyrhynchos |
Hunting Techniques:

The strategy used by this bird to look for food is dabbling over water.
Where can it be spotted?

Mallards can commonly be spotted in North America, Europe, and Asia, mainly freshwater habitats.However, these ducks also inhabit brackish and saltwater.

What Do Wood Ducks Eat?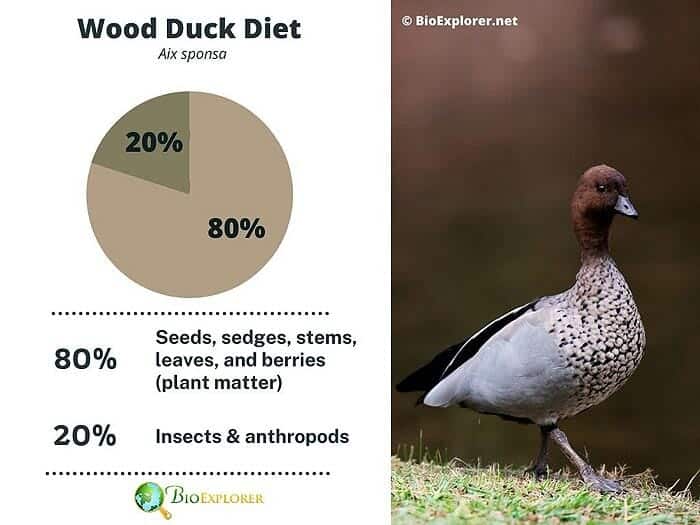 Diet: The wood duck's diet comprises seeds, insects, fruits, and arthropods. Thus, about 80% of their diet is made up of plant matter, while the other 20% is supplemented by nutrients from meat.
| | | | | |
| --- | --- | --- | --- | --- |
| Animalia | Anseriformes | Anatidae | Aix | Aix sponsa |
Hunting Techniques:

Wood ducks find their food by dabbling or making short dives into the water to capture their prey.
Where can it be spotted?

The wood duck can be spotted in North America.However, it is most common in the eastern parts of the Great Plains, British Columbia, and the Pacific Coasts' states.

What Do American Wigeon Ducks Eat?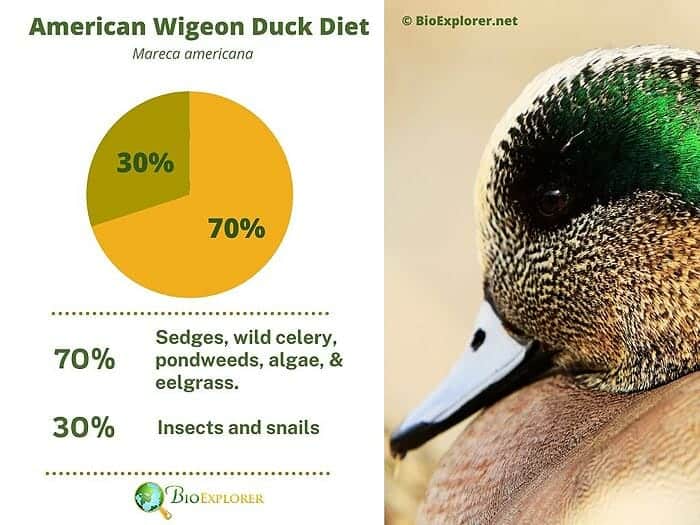 Diet: Their diet is mainly composed of plant material. They eat sedges, wild celery, pondweeds, algae, and eelgrass, which constitutes about 70% of their diet. The other 30% of their nutrients are obtained from insects and snails. Younger ducklings eat more of the insects, which is strategic because it helps them get the energy to grow.
| | | | | |
| --- | --- | --- | --- | --- |
| | | | | Mareca americana |
Hunting Techniques:

American wigeons can immerse themselves in the water, chasing after their prey.
Where can it be spotted?

The American wigeon can be spotted in Alaska, Canada, Mexico, and Northern parts of South America.This bird is common in slow-moving rivers, freshwater wetlands, lakes, bays, marshes, estuaries, and flooded fields.

What Do Mandarin Ducks Eat?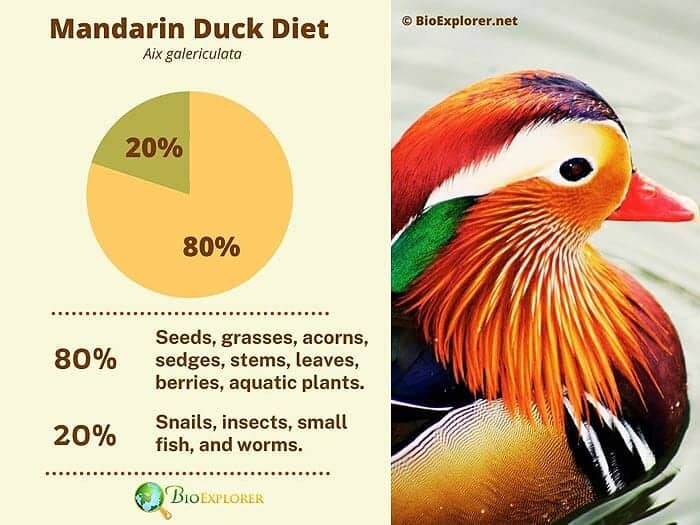 Diet: The Mandarin ducks are omnivores. They feed on small fruits, seeds, and acorns. They also consume snails, insects, and small fish. About 80% of their diet comprises seeds and plants, while the other 20% is supplemented by meat. One key fact about the Mandarin ducks is that they change their diets depending on the season. During the harsh cold winters, when insects, worms, and snails are hard to find, these ducks tend to eat plant matter, and in the warmer seasons, they mostly eat aquatic plants and meat from fish, snails, worms, and insects.
| | | | | |
| --- | --- | --- | --- | --- |
| Animalia | Anseriformes | Anatidae | Aix | Aix galericulata |
Hunting Techniques:

Mandarin ducks find their food by dabbling.These ducks have also been observed to stalk their prey on land.
Where can it be spotted?

The Mandarin duck can be found in the far east, like China, Korea, Japan, and some parts of Russia. In these countries, this duck inhabits temperate forests near wetlands, such as marshes, bogs, streams, freshwater lakes, and rivers.

What Do Harlequin Ducks Eat?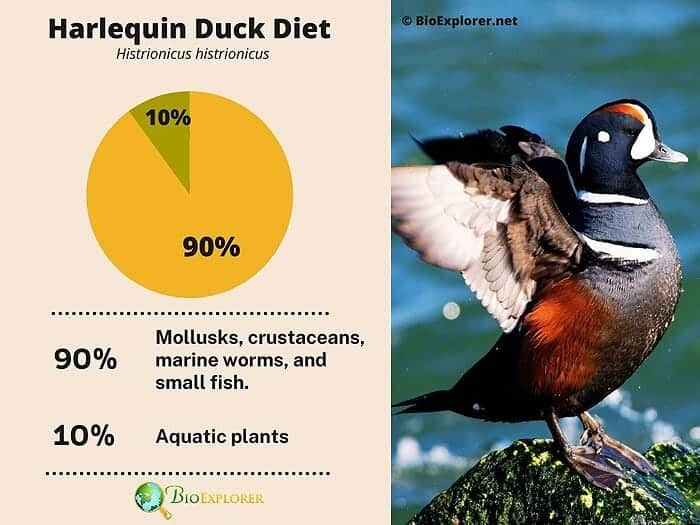 Diet: Harlequin ducks are omnivorous. They mainly eat mollusks and crustaceans, which comes as no surprise because they are the most abundant at sea, where this duck commonly inhabits. They also eat some small fish and marine worms. For the ducks commonly found next to rivers, their diet entails aquatic insects and some aquatic plants. In this regard, it is pretty evident that about 90% of this duck's diet is composed of meat protein, while the other 10% is supplemented by aquatic plants.
| | | | | |
| --- | --- | --- | --- | --- |
| Animalia | Anseriformes | Anatidae | Histrionicus | Histrionicus histrionicus |
Hunting Techniques:

The harlequin duck tends to dive into the water to find prey.In other cases, they dabble and sieve food.
Where can it be spotted?

The harlequin duck occupies two ranges, the Pacific coast (Maryland, Idaho, Wyoming, northern Yukon, and western Alaska) and the Atlantic coast (Baffin Island, Iceland, Greenland, eastern Quebec, and Northern Newfoundland).This duck inhabits small cliffs in these areas, tree stumps found along the rocky shores, and tree cavities.

When Do Ducks Eat?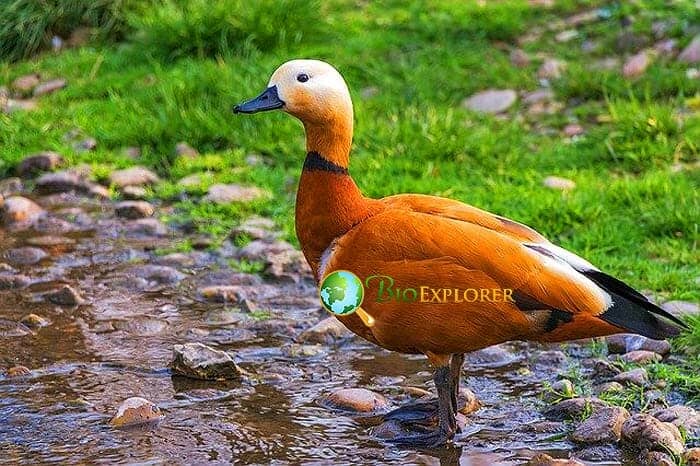 The different duck species do not have the same feeding tendencies. Some are crepuscular or nocturnal during the winter and diurnal during the breeding season. Others, like the American Wigeon, display diurnal tendencies.

How Much Do Ducks Eat?
The amount of food ducks eat depends on many factors, including their gender and the stage in their lifecycle. For example, egg-laying ducks require the right amount of nutrients in the form of proteins and minerals to lay an egg. In this case, female ducks, for example, mallards, must consume about 75g of food a day.

How Often Do Ducks Eat?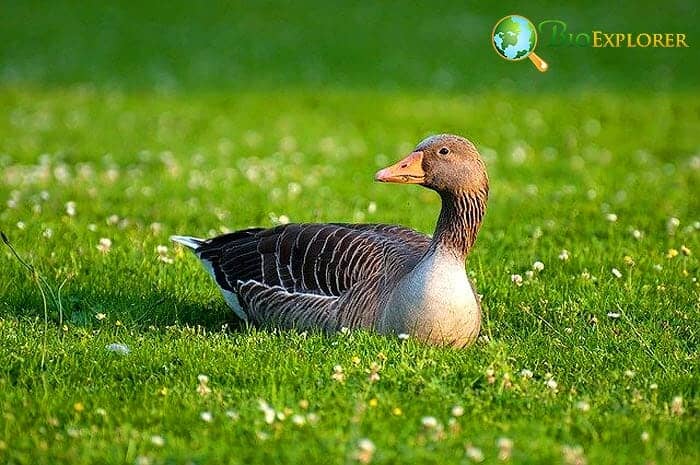 How often ducks eat will primarily be determined by food availability. When the grounds are frozen during winter, invertebrates become scarce; they feed less often.

What Eats Ducks?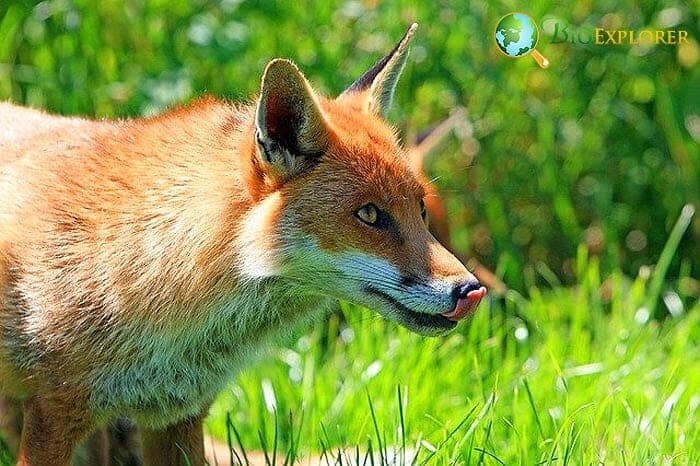 The different duck species fall prey to meat-eating organisms. The predators of the duck species studied above include the following:
Northern pintail: The eggs in the nests of these ducks are targeted by skunks, foxes, coyotes, raccoons, badgers, magpies, crows, and gulls. Adults are predated by bobcats and coyotes.
Mallards: These ducks are predated by humans. Mallard eggs are targeted by crows and magpies.
Wood ducks: This duck's eggs are predated by woodpeckers, minks, raccoons, and rat snakes, while the adults are eaten by the great horned owl, gray fox, and raccoons.
American Wigeon: This duck and its eggs are predated by American badgers, striped skunks, red foxes, short-tailed weasels, and the northern harriers.
Mandarin Duck: Mandarin ducklings are predated by pine martens, grey heron, tawny owls, carrion crows, predatory fish, magpies, foxes, and weasels.
Harlequin Duck: The ducklings are targeted by minks and goshawks, among other predators.

Ducks in Animal Food Chain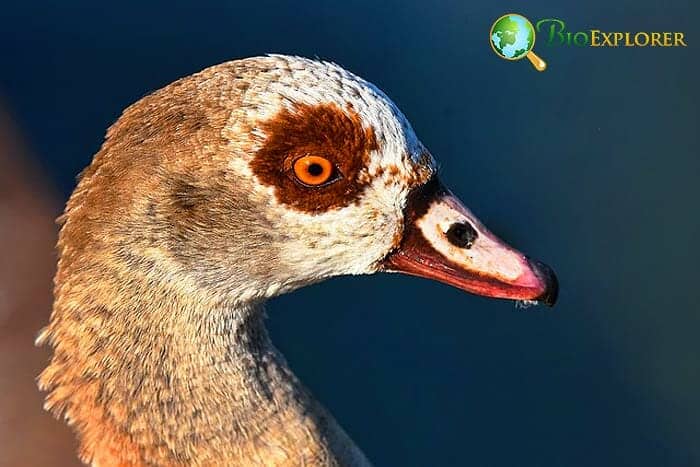 Ducks play an essential role in the animal food chain as predators and prey.
In their role as predators, these organisms feed on insects, snails, slugs, and worms, among other small animals. In this capacity, they help control the local population of these organisms.
In their role as prey, ducks provide a great source of protein to various organisms like raccoons, snakes, minks, red foxes, coyotes, badgers, and corvids that rely on them for food.
The role of these water birds in the food chain is undisputed because their absence can result in an imbalance in the number of organisms in related trophic levels.

Why do ducklings have a higher niacin dietary need?
Young ducklings grow at a higher rate, and so a diet rich in niacin is essential to help them have the energy to grow.

What is the role of duck gizzards in food digestion?
Duck gizzards contain grit that functions as the duck's "teeth" to help facilitate the mechanical breakdown of food.

How important are foraging conditions to ducks?
Foraging conditions, among other factors, influence the survival ability of broods. The lack of food sources can increase the mortality of many members.

Classified in the Family Anatidae, which includes swans and geese, ducks are well-adapted to aquatic life, making them essential to their specific ecosystems. The above article has been instrumental in understanding critical diet information of some duck species that live in different parts of the world.
\ The article also provided more insight into the role of ducks in the animal food chain, which is an important area of study, particularly with the present need to protect our biodiversity, which supports the existence of functioning ecosystems.

Cite This Page
[shemedia_ad type="medrec"]