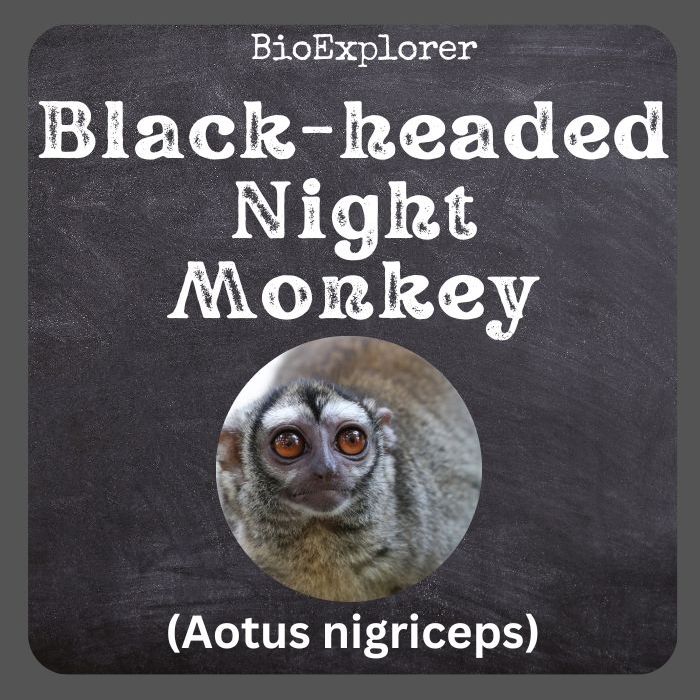 | | | | | |
| --- | --- | --- | --- | --- |
| Animalia | Primates | Aotidae | Aotus | Aotus nigriceps |

Common Name: Black-headed Night Monkey
Taxonomy Classification Year: 1909
Monkey Size: 24 to 37 cm (9.4 to 14.5 in)
Skin Color(s): Grey-black
Habitat: Forest, rainforest
Diet: Herbivorous
Native Countries: Brazil, Bolivia, Peru

Black-headed Night Monkey Distribution

Black-Headed Night Monkey Characteristics
The black-headed night monkey[1] is a nocturnal monkey species native to South America. The monkeys are small primates about the size of a small squirrel.
Their coats are thick and short. The adult Aotus nigriceps has dark gray-black agouti fur on the upper back and front legs and orange-tan fur on the tail, outer hind legs, and lower back.
They also have three distinctive black bands that almost converge on the forehead.
Two of these bands follow the sides of the face to the upper jaw, with the central band extending to the bridge of the nose.
In addition, they have white patches above each eye, under the mouth, and on the cheeks.

Black-Headed Night Monkey Facts
The black-headed night monkeys in Peru have mainly inhabited degraded areas. Sometimes, these areas have been disturbed by human activities or natural phenomena in the ecosystem.
It is known as nu'nu' in the Shawi language of Peru and ausisiti in the Kwaza language of Rondônia, Brazil.
Although there is little data on the mass of Aotus nigriceps in particular, both male and female, Aotus species weigh an average of 750 g when fully grown, reaching this size by 14 months of age.
These primates are serially monogamous; mates can be evicted due to violence by a same-sex intruder.
Aotus nigriceps individuals are very territorial and defend their range with sexually specific vocalizations and aggression.

Cite This Page