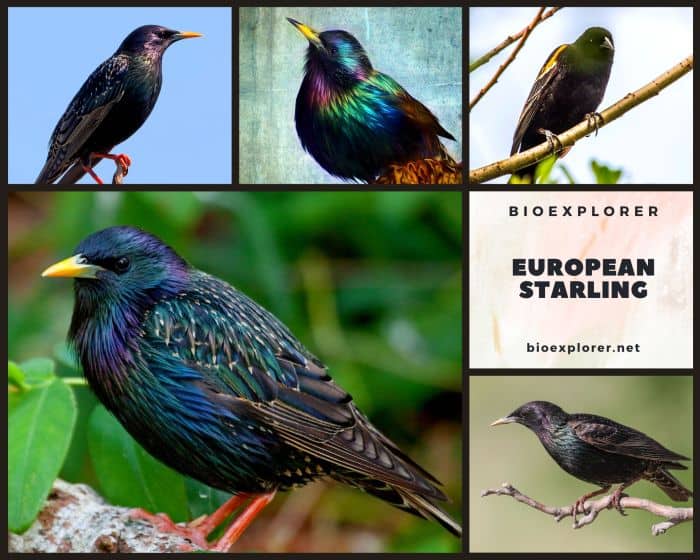 | | | | | |
| --- | --- | --- | --- | --- |
| Animalia | Passeriformes | Sturnidae | Sturnus | Sturnus vulgaris |
European Starlings (Sturnus vulgaris), first introduced to North America by Shakespeare enthusiasts in the nineteenth century, are now among the continent's most common songbirds. They have short tails, triangular wings, and long, pointed bills. They are stocky black birds.

European Starling Physical Characteristics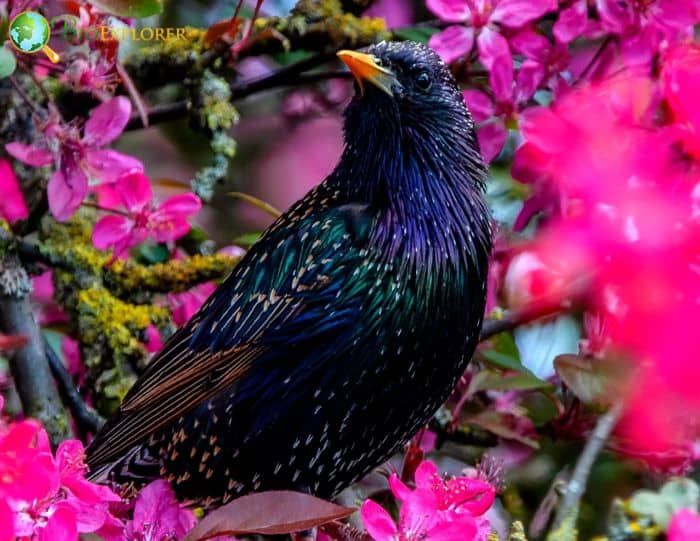 In the 1890s, European Starlings were deliberately introduced to North America.
The European starling is a small, black songbird with a short tail, short, triangular wings, and speckled plumage.
They have a pointed, yellow bill that turns dark in the autumn and are about six inches long, about the same size as an American Robin.
The starling has incredibly vibrant feathers. The head and chest have a purplish-black iridescence.
The color of the wings is green, but the end of the wings is brownish black. Every part of their body is covered in pale markings. Legs are a pinkish-red color.

European Starling changes its appearance every season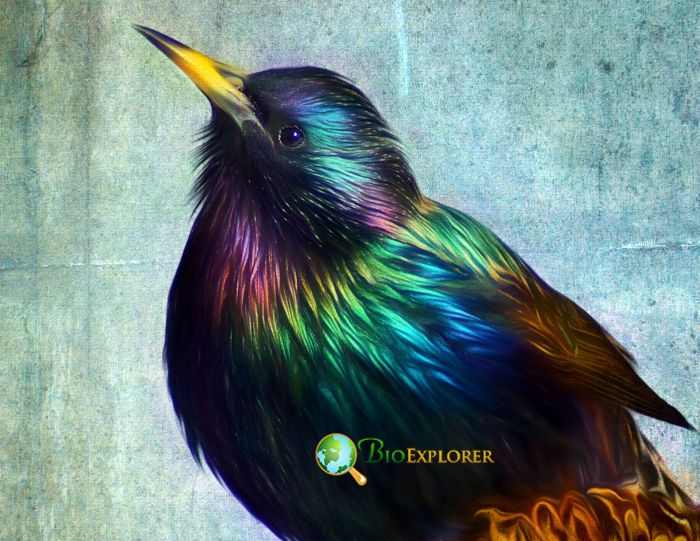 The stocky body of a European Starling has distinctive white spots in the winter.
The bird's body color, except the upper wings, darkens and shimmers as summertime approaches.
In addition, the bird's shorter tail remains short while its less pointed wings change into a triangle shape while in flight.
The bird's long, sharp beaks change from grey to yellow as winter approaches.
A European Starling weighs between 55 and 101 grams and measures 7-9 inches long in size and length.

European Starlings communicate loudly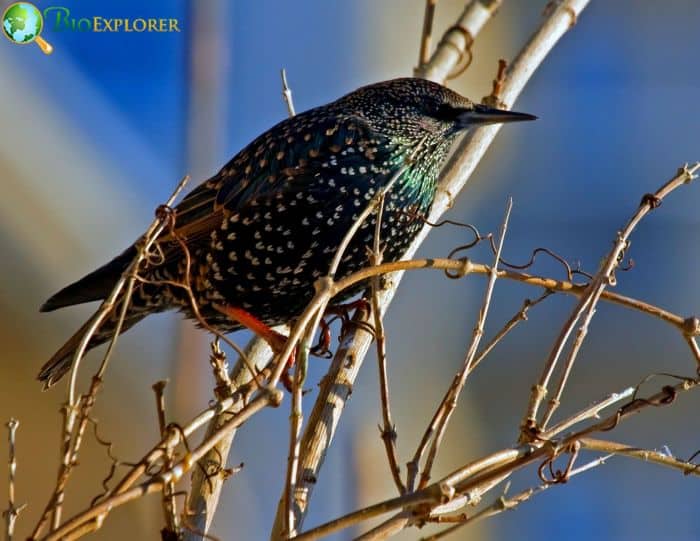 European Starlings are among the loudest birds on Earth.
They are very talkative and only go silent when molding. The warbling, gurgling, and creaking noises male birds make are their favorite.
Birds enjoy making chattering, whistling, rattles, and liquid noises. European Starlings can accurately mimic the sounds of other birds and are skilled mimics.
They use a variety of tones and pitches to produce warning sounds when they need to make a call[1].

European Starling can cause infestation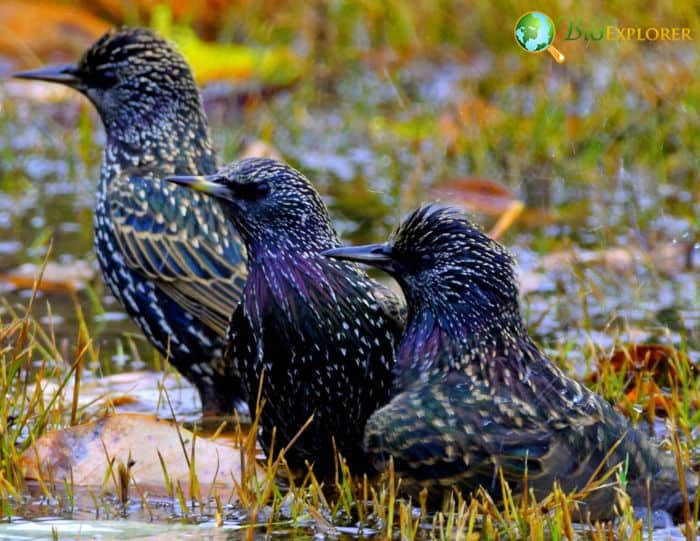 These birds appear to be innocent, but they are perfectly suited to spread infestation.
If you notice them flying around your property, it is time to take action because they view human homes as the ideal location to build their nest.
Unfortunately, these birds' droppings contain fungi that can be extremely hazardous to your health.
Over time, these droppings can damage the structure of your building. Therefore, if you see a nest close to your home, it is best to take action to remove it because the birds may be planning to take over.

gradually

European Starling undergoes a process of molting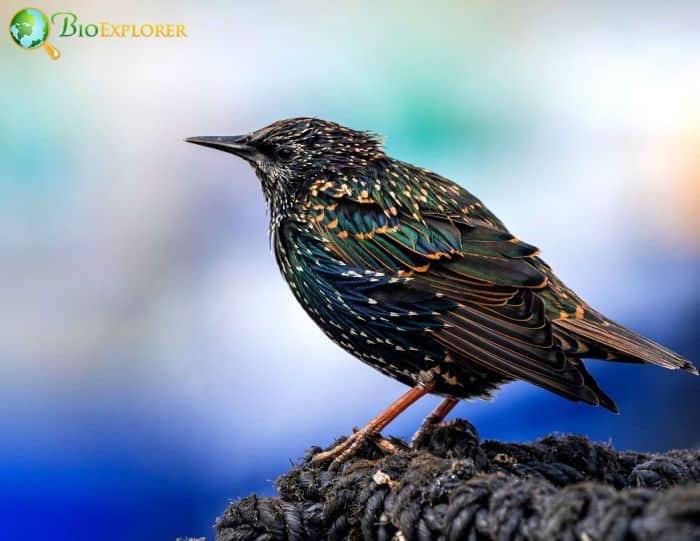 Each year, starlings shed none of their feathers as they transition from being spotted and white to glossy and dark.
Their spots are created by the prominent white tips on the new feathers that they grow in the autumn.
These tips have disappeared by spring, leaving behind a dark, iridescent brown feather. Scientists refer to this peculiar act of changing as a "wear molt."
Thus, the European Starling is a very social bird that does not defend territory beyond its nest site, but because of its rapid spread, it is held responsible for the extinction of many Bird Species.

What Do European Starlings Eat?
The European Starling consumes several organic matters including but not limited to[¶]:
Northern Spicebush (Lindera benzoin).
Asian Bittersweet (Celastrus orbiculatus).
Bullbriar (Smilax rotundifolia)
Chinese Honeysuckle (Lonicera japonica).
Eastern Poison Ivy (Toxicodendron radicans).
Flowering Dogwood (Cornus florida).
Fig (Ficus)
Common Juniper (Juniperus communis).
Dwarf Elder (Sambucus ebulus).
Blackthorn (Prunus spinosa)
Sicilian Sumac (Rhus coriaria).
Asparagus (Asparagusus officinalis)
Wild Asparagus (Asparagus acutifolius).
Phoenician Juniper (Juniperus phoenicea).
Mahaleb Cherry (Prunus mahaleb).
English Holly (Ilex aquifolium).
Oneseed Hawthorn (Crataegus monogyna).
Dog Rose (Rosa canina).
Buckthorn (Rhamnus)
Wayfaring Tree (Viburnumum lantana).
Bitter Nightshade (Solanumum dulcamara).
European Privet (Ligustrum vulgare).
American Black Nightshade (Solanum americanum).
Etruscan Honeysuckle (Lonicera etrusca).
European Hackberry (Celtis australis).
European Spindletree (Euonymus europaeus).
Alpine Currant (Ribes alpinum).
Bloodtwig Dogwood (Cornus sanguinea).
Black Elderberry (Sambucus nigra).
Servicetree (Sorbus domestica)
Rough bindweed (Smilax aspera).
Hairy Nightshade (Solanum villosum).
Cyprus Turpentine (Pistacia terebinthus).
Mastic Tree (Pistacia lentiscus).
Chess-Apple (Sorbus aria)
Common Fig (Ficus carica).
Italian Buckthorn (Rhamnus alaternus).
Checkertree (Sorbus torminalis)
Strawberry Tree (Arbutusus unedo).
English Ivy (Hedera helix).
Cornejo Macho (Cornus mas).
Laurustinus (Viburnum tinus)
Woodland Strawberry (Fragaria vesca).
Sweet Bay (Laurus nobilis).
Cade Juniper (Juniperus oxycedrus).
Creeping Mirrorplant (Coprosma repens).
Whitey Wood (Melicytus ramiflorus).
Matai (Prumnopitys taxifolia)
Totara (Podocarpus totara)
Pepper Tree (Piperer excelsum).
European Blackberry (Rubus vestitus).
Ngaio Tree (Myoporum laetum).
Miro (Prumnopitys ferruginea)
Common Crabapple (Malus domestica).
Tawhiwhi (Pittosporumum tenuifolium)
Darwin's Berberis (Berberis darwinii).
Australian Cheesewood (Pittosporum undulatum).
Fox Grape (Vitis vulpina).
American Ivy (Parthenocissus quinquefolia).
Bristly Greenbrier (Smilax tamnoides).
Olive (Olea europaea)
American Pokeweed (Phytolacca americana).
Earleaf Nightshade (Solanum mauritianum).
Largeleaf Lantana (Lantana camara).
Canadian Moonseed (Menispermum canadense).
European Mountain-Ash (Sorbus aucuparia).
English Yew (Taxus baccata).
European Plum (Prunus domestica).
European Bird Cherry (Prunus padus).
Dwarf Honeysuckle (Lonicera xylosteum).
Alder Buckthorn (Rhamnus frangula).
Sweet Cherry (Prunus avium).
European Cranberrybush (Viburnum opulus).
Cretan Bryony (Bryonia cretica).
European Red Elder (Sambucus racemosa).
Common Pear (Pyrus communis).
English Hawthorn (Crataegus laevigata).
Hollyberry Cotoneaster (Cotoneaster bullatus).
Carolina Buckthorn (Rhamnus cathartica).
Graybark Grape (Vitis cinerea).
Angelicatree (Aralia spinosa)
Black Cherry (Prunus serotina).
Sassafras (Sassafras albidum)
European Mistletoe (Viscum album).
European Honeysuckle (Lonicera periclymenum).
Italian Woodbine (Lonicera caprifolium).
Cuckoo Pint (Arum maculatum).
European Black Currant (Ribes nigrum).
American Red Raspberry (Rubus idaeus).
European Crab Apple (Malus sylvestris).
February Daphne (Daphne laureola).
Cabbage Tree (Cordyline australis).
Himalayan Honeysuckle (Leycesteria formosa).
Three Kings Titoki (Alectryon excelsus).
Passionflower (Passiflora)
Arthropodes (Arthropoda)
Anelídeo (Annelida)
Hexapoda (Insecta)
Jewelled Lizard (Timon lepidus).
Fringe-Fingered Lizard (Acanthodactylus erythrurus).
Sundevall's Jird (Meriones crassus).
European Frog (Rana temporaria).
Anatolian Rock Lizard (Anatololacerta anatolica).
Alpine Newt (Ichthyosaura alpestris).
House Mouse (Mus musculus).
Subalpine Warbler (Sylvia cantillans).
Beyşehir Frog (Pelophylax caralitanus).
Tavas Frog (Rana tavasensis).
Meadow Pipit (Anthus pratensis).
Southern Banded Newt (Ommatotriton vittatus).
Eurasian Rock Pipit (Anthus petrosus).
Pool Frog (Pelophylax lessonae).
Brandt's Persian Lizard (Iranolacerta brandtii).
Troodos Wall Lizard (Phoenicolacerta troodica).
Algerian Psammodromus (Psammodromus algirus).
Macedonian Mouse (Mus macedonicus).
Central Asian Racerunner (Eremias velox).
Armenian Lizard (Darevskia armeniaca).
Sharp-Snouted Rock Lizard (Dalmatolacerta oxycephala).
Dalmatian Wall Lizard (Podarcis melisellensis).
Aralo-Caspian Racerunner (Eremias persica).
Rosy Starling (Pastor roseus).
Lebanon Lizard (Phoenicolacerta laevis).
Erhard's Wall Lizard (Podarcis erhardii).
Skyros Wall Lizard (Podarcis gaigeae).
European Tree Frog (Hyla arborea).
Rana Patilarga (Rana iberica).
Albanian Water Frog (Pelophylax shqipericus).
Strauch's Racerunner (Eremias strauchi).
Palmate Newt (Lissotriton helveticus).
Corsica Painted Frog (Discoglossus montalentii).
Tyrrhenian Painted Frog (Discoglossus sardus).
Brusa Frog (Rana macrocnemis).
Green Toad (Bufotes viridis).
Cyprus Warbler (Sylvia melanothorax).
Rüppell's Warbler (Sylvia ruppeli).
Pyrenean Rock Lizard (Iberolacerta bonnali).
Rock Lizard (Darevskia saxicola).
Balkan Water Frog (Pelophylax kurtmuelleri).
Common Wall Lizard (Podarcis muralis).
Dahl's Jird (Meriones dahli).
Eastern Broad-Toothed Field Mouse (Apodemus mystacinus).
Greek Keeled Lizard (Algyroides moreoticus).
Zagrosian Lizard (Timon princeps).
Striped Field Mouse (Apodemus agrarius).
Alpine Field Mouse (Apodemus alpicola).
Caucasian Toad (Bufo verrucosissimus).
Vinogradov's Jird (Meriones vinogradovi).
Marbled Newt (Triturus marmoratus).
Canaryan Cylindrical Skink (Chalcides viridanus).
Western Mediterranean Mouse (Mus spretus).
Graceful Prinia (Prinia gracilis).
European Toad (Bufo bufo).
Gorrión Casero (Passer domesticus).
Italian Wall Lizard (Podarcis siculus).
Antelope Rat (Tatera indica).
Red-Bellied Lizard (Darevskia parvula).
Pyrenean Brook Salamander (Calotriton asper).
Southern Crested Newt (Triturus karelinii).
Caucasus Field Mouse (Apodemus ponticus).
Sand Lizard (Lacerta agilis).
Dead Sea Sparrow (Passer moabiticus).
Olive Tree-Pipit (Anthus hodgsoni).
Bruant Zizi (Emberiza cirlus).
White-Bellied Lizard (Darevskia unisexualis).
Common Field Mouse (Apodemus sylvaticus).
Spanish Psammodromus (Psammodromus hispanicus).
Lavandera Blanca (Motacilla alba).
Iberian Wall Lizard (Podarcis hispanicus).
Common Starling (Sturnus vulgaris).
Van Lizard (Darevskia sapphirina).
Smooth Newt (Lissotriton vulgaris).
Wagner's Dipodil (Dipodillus dasyurus).
Carpathian Newt (Lissotriton montandoni).
Italian Newt (Lissotriton italicus).
Sharp-Ribbed Salamander (Pleurodeles waltl).
Black Redstart (Phoenicurus ochruros).
Cyren's Rock Lizard (Iberolacerta cyreni).
Lesser Whitethroat (Sylvia curruca).
Italian Agile Frog (Rana latastei).
Great Crested Newt (Triturus cristatus).
Bosca's Newt (Lissotriton boscai).
Twin-Striped Skink (Ablepharus bivittatus).
Iberian Three-Toed Skink (Chalcides striatus).
Balkan Emerald Lizard (Lacerta trilineata).
Galan's Rock Lizard (Iberolacerta galani).
Mound-Building Mouse (Mus spicilegus).
Iberian Emerald Lizard (Lacerta schreiberi).
Gran Canaria Skink (Chalcides sexlineatus).
Clarks' Lizard (Darevskia clarkorum).
Bosc's Fringe-Toed Lizard (Acanthodactylus boskianus).
Sicilian Wall Lizard (Podarcis waglerianus).
Montseny Brook Newt (Calotriton arnoldi).
Harvest Mouse (Micromys minutus).
Marsh Frog (Pelophylax ridibundus).
Southern Marbled Newt (Triturus pygmaeus).
Stripeless Treefrog (Hyla meridionalis).
Ajarian Lizard (Darevskia mixta).
Bisbita Garganta Roja (Anthus cervinus).
Cyprus Spiny Mouse (Acomys nesiotes).
Iberian Midwife Toad (Alytes cisternasii).
Mosor Rock Lizard (Dinarolacerta mosorensis).
Sapo Partero Común (Alytes obstetricans).
Prokletije Rock Lizard (Dinarolacerta montenegrina).
Cylindrical Skink (Chalcides chalcides).
Hyrcanian Field Mouse (Apodemus hyrcanicus).
Medium Lizard (Lacerta media).
Great Gerbil (Rhombomys opimus).
Karpathos Frog (Pelophylax cerigensis).
Bendimahi Lizard (Darevskia bendimahiensis).
Perez's Frog (Pelophylax perezi).
Spectacled Warbler (Sylvia conspicillata).
Common Spadefoot (Pelobates fuscus).
European Greenfinch (Chloris chloris).
Western Spadefoot (Pelobates cultripes).
Peloponnese Wall Lizard (Podarcis peloponnesiacus).
Caspian Green Lizard (Lacerta strigata).
Barred Warbler (Sylvia nisoria).
Spanish Keeled Lizard (Algyroides marchi).
Persian Jird (Meriones persicus).
Milos Wall Lizard (Podarcis milensis).
Zitting Cisticola (Cisticola juncidis).
Fuerteventura Skink (Chalcides simonyi).
Menetries's Warbler (Sylvia mystacea).
Crimean Wall Lizard (Podarcis tauricus).
Brown Tree-Pipit (Anthus trivialis).
Pyrenean Frog (Rana pyrenaica).
Wagtails (Motacilla)
Yellow-Necked Field Mouse (Apodemus flavicollis).
Charnali Lizard (Darevskia dryada).
Giant Fringe-Fingered Lizard (Acanthodactylus grandis).
Snake-Eyed Lizard (Ophisops elegans).
Rock Sparrow (Petronia petronia).
Greenbelly Lizard (Darevskia chlorogaster).
Vaucher's Wall Lizard (Podarcis vaucheri).
Danube Crested Newt (Triturus dobrogicus).
Italian Sparrow (Passer italiae).
Agile Frog (Rana dalmatina).
Jirds (Meriones)
Filfola Wall Lizard (Podarcis filfolensis).
Lilford's Wall Lizard (Podarcis lilfordi).
Greek Rock Lizard (Hellenolacerta graeca).
Tyrrhenian Wall Lizard (Podarcis tiliguerta).
Bocage's Wall Lizard (Podarcis bocagei).
Syrian Spadefoot (Pelobates syriacus).
Bedriaga's Frog (Pelophylax bedriagae).
European Common Lizard (Zootoca vivipara).
Western Green Lacerta (Lacerta bilineata).
Greek Stream Frog (Rana graeca).
Dagestan Lizard (Darevskia daghestanica).
Eurasian Blackcap (Sylvia atricapilla).
Spanish Sparrow (Passer hispaniolensis).
Little Chinese Jird (Meriones meridianus).
Anatolian Lizard (Apathya cappadocica).
Tawny Pipit (Anthus campestris).
Aurelio's Rock Lizard (Iberolacerta aurelioi).
Snake-Eyed Skink (Ablepharus budaki).
Caucasian Lizard (Darevskia caucasica).
Chardonneret Élégant (Carduelis carduelis).
African Green Toad (Bufotes boulengeri).
Pleske's Racerunner (Eremias pleskei).
Iberian Mountain Lizard (Iberolacerta monticola).
Canaries (Serinus)
Greek Snake Skink (Ophiomorus punctatissimus).
Common Stonechat (Saxicola torquatus).
Water Pipit (Anthus spinoletta).
Racerunner (Eremias arguta)
Epirus Water Frog (Pelophylax epeiroticus).
Sardinian Tree Frog (Hyla sarda).
Moor Frog (Rana arvalis).
Spotless Starling (Sturnus unicolor).
Uzzell's Lizard (Darevskia uzzelli).
Aralo-Caspian Racerunner (Eremias intermedia).
Italian Stream Frog (Rana italica).
Horvath's Rock Lizard (Iberolacerta horvathi).
Steppe Field Mouse (Apodemus witherbyi).
Sardinian Warbler (Sylvia melanocephala).
Eastern Green Lizard (Lacerta viridis).
Eurasian Sparrow (Passer montanus).
Rostombekow's Lizard (Darevskia rostombekowi).
Dwarf Lizard (Parvilacerta parva).
Tamarisk Gerbil (Meriones tamariscinus).
Cretan Frog (Pelophylax cretensis).
Northern Banded Newt (Ommatotriton ophryticus).
Danford's Lizard (Anatololacerta danfordi).
Meadow Lizard (Darevskia praticola).
Italian Crested Newt (Triturus carnifex).
Gray Wagtail (Motacilla cinerea).
Libyan Jird (Meriones libycus).
Madeira Wall Lizard (Teira dugesii).
Berthelot's Pipit (Anthus berthelotii).
Ibiza Wall Lizard (Podarcis pityusensis).
Citrine Wagtail (Motacilla citreola).
Italian Pool Frog (Pelophylax bergeri).
Italian Tree Frog (Hyla intermedia).
Martinez-Rica's Rock Lizard (Iberolacerta martinezricai).
Tracheophytes (Tracheophyta)
Animal (Animalia)
Borboleta (Lepidoptera)
Gongolo (Diplopoda)
Charançons (Curculionidae)
Crickets (Orthoptera)
Beetles (Coleoptera)
Scarab Beetles (Scarabaeidae)
Graminées (Poaceae)
Carabes (Carabidae)
Common Hackberry (Celtis occidentalis).
Cicadellids (Cicadellidae)
Flat Bark Beetles (Cucujidae).
Caracol (Gastropoda)
Hollies (Ilex)
Clown Beetles (Histeridae)
Wolf spiders (Lycosidae)
Milkpea (Galactia)
Crickets (Gryllidae)
Blister Beetles (Meloidae)
Blackberry (Rubus)
Click Beetles (Elateridae)
Arpenteuses (Geometridae)
Coccinelles (Coccinellidae)
Robber Flies (Asilidae)
Darkling Beetles (Tenebrionidae)
Ants (Formicidae)
Cutworms (Noctuidae)
Black Gum (Nyssa sylvatica).
Notodontid Moths (Notodontidae)
Grasshoppers (Acrididae)
Admirals (Nymphalidae)
Katydids (Tettigoniidae)
Bess Beetles (Passalidae)
Blueberries (Vaccinium)
Tent Caterpillar Moths (Lasiocampidae).
Orbweavers (Araneidae)
Crab Spiders (Thomisidae)
Checkered Beetles (Cleridae)
Chinese Tallow (Triadica sebifera).
Narrow-Winged Damselflies (Coenagrionidae)
Syrphes (Syrphidae)
Barley (Hordeum)
Barata (Blattodea)
American Cockroaches (Blattidae)
Common Skimmers (Libellulidae)
Common Sawflies (Tenthredinidae)
Molluscs (Mollusca)
Midges (Chironomidae)
Chrysomèles (Chrysomelidae)
Hophornbeam (Ostrya)
False Pennyroyal (Hedeoma)
Bristlegrass (Setaria)
Pentatomes (Pentatomidae)
Knotweed (Polygonum)
Aphids (Aphididae)
Damselflies (Odonata)
Braconid wasps (Braconidae)
Grape (Vitis)
Gnats (Diptera)
Abelha (Hymenoptera)
Corn (Zea)
Brome (Bromus)
Araignées (Araneae)
Longlegged Flies (Dolichopodidae)
Aranha Bode (Opiliones)
Digger Wasps (Sphecidae)
Bulrush (Scirpus)
Oat (Avena)
Rye (Secale)
Wheat (Triticum)
Goosegrass (Eleusine)
Crabgrass (Digitaria)
Pokeweed (Phytolacca)
Water Horehound (Lycopus)
Corn (Zea mays)
Chêne (Quercus)
Canada Cocklebur (Xanthium strumarium).
Eastern Red-Cedar (Juniperus virginiana).
Sumac (Rhus)
Centipedes (Chilopoda)
Staghorn Sumac (Rhus typhina).
Climbing Euonymus (Euonymus fortunei).
Marsh Crabs (Grapsidae)
Japanese Persimmon (Diospyros kaki).
Multiflora Rose (Rosa multiflora).
Persimmons (Diospyros)
Apple (Malus)
Ténébrion Meunier (Tenebrio molitor).
Ivy Palm (Schefflera actinophylla).
European Earwig (Forficula auricularia).
Insects Ailés (Pterygota)
Pear (Pyrus)
Algerita (Berberis)

What Eats European Starlings?
European Starlings have several natural enemies including but limited to[§]:
Eurasian Sparrowhawk (Accipiter nisus).
Caracaras (Falconidae)
Wild Cat (Felis silvestris).
Black-Shouldered Kite (Elanus caeruleus).
Red Kite (Milvus milvus).
Black Kite (Milvus migrans).
Pallid Harrier (Circus macrourus).
Common Buzzard (Buteo buteo).
Aguililla Ártica (Buteo lagopus).
Busard Saint-Martin (Circus cyaneus).
Harriers (Circus)
Autour Des Palombes (Accipiter gentilis).
Falcão-Peregrino (Falco peregrinus)
Booted Eagle (Hieraaetus pennatus).
Bonelli's Eagle (Aquila fasciata).
Alcotán Europeo (Falco subbuteo).
Cernícalo Vulgar (Falco tinnunculus).
Eleonora's Falcon (Falco eleonorae).
Faucon Sacre (Falco cherrug).
Alfaneque (Falco biarmicus)
Esmerejón (Falco columbarius)
Arctic Skua (Stercorarius parasiticus).
Labbe À Longue Queue (Stercorarius longicaudus).
Labbe Pomarin (Stercorarius pomarinus).
Alcaide (Stercorarius skua)
Barn Owl (Tyto alba).
Tawny Owl (Strix aluco).
Little Owl (Athene noctua).
Eurasian Wryneck (Jynx torquilla).
Eurasian Scops Owl (Otus scops).
Syrian Woodpecker (Dendrocopos syriacus).
Ural Owl (Strix uralensis).
Middle Spotted Woodpecker (Dendrocopos medius).
Chouette Épervière (Surnia ulula).
Pallid Scops Owl (Otus brucei).
Great Spotted Woodpecker (Dendrocopos major).
Iberian Grey Shrike (Lanius meridionalis).
Búho Cara Café (Asio otus).
Chouette Lapone (Strix nebulosa).
Eurasian Pygmy Owl (Glaucidium passerinum).
Búho Cuerno Corto (Asio flammeus).
Red-Backed Shrike (Lanius collurio).
Eurasian Jay (Garrulus glandarius).
Great Grey Shrike (Lanius excubitor).
Black-Billed Magpie (Pica pica).
Woodchat Shrike (Lanius senator).
Choucas Des Tours (Coloeus monedula).
Carrion Crow (Corvus corone).
Common Raven (Corvus corax).
Rook (Corvus frugilegus)
Eurasian Golden Jackal (Canis aureus).
Asian Garden Dormouse (Eliomys melanurus).
Jungle Cat (Felis chaus).
Garden Dormouse (Eliomys quercinus).
Forest Dormouse (Dryomys nitedula).
Gray wolf (Canis lupus).
Woolly Dormouse (Dryomys laniger).
Common Starling (Sturnus vulgaris).
Arctic fox (Vulpes lagopus).
Common Genet (Genetta genetta).
Egyptian Mongoose (Herpestes ichneumon).
Sable (Martes zibellina)
Steppe Polecat (Mustela eversmanii).
Fat Dormouse (Glis glis).
Beech Marten (Martes foina).
Common Dormouse (Muscardinus avellanarius).
European Pine Marten (Martes martes).
Eurasian Red Squirrel (Sciurus vulgaris).
Siberian Flying Squirrel (Pteromys volans).
Siberian Chipmunk (Tamias sibiricus).
Tree squirrels (Sciurus)
Marbled Polecat (Vormela peregusna).
Red Fox (Vulpes vulpes).
Steppes Ratsnake (Elaphe dione).
Corsac Fox (Vulpes corsac).
Four-Lined Ratsnake (Elaphe quatuorlineata).
Collared Dwarf Racer (Platyceps collaris).
Ladder Snake (Zamenis scalaris).
Horseshoe Snake (Hemorrhois hippocrepis).
Dark Green Snake (Hierophis viridiflavus).
Balkan Racer (Hierophis gemonensis).
Western Green Lacerta (Lacerta bilineata).
Eastern Green Lizard (Lacerta viridis).
Jewelled Lizard (Timon lepidus).
Montpellier Snake (Malpolon monspessulanus).
Cyclades Blunt-Nosed Viper (Macrovipera schweizeri).
Levantine Viper (Macrovipera lebetina).
Caucasus Viper (Montivipera raddei).
Coastal Viper (Montivipera xanthina).
Dahl's Whip Snake (Platyceps najadum).
Desert Monitor (Varanus griseus).
European Cat Snake (Telescopus fallax).
European Glass Lizard (Pseudopus apodus).
Adder (Vipera berus)
Mountain Viper (Montivipera albizona).
Nose-Horned Viper (Vipera ammodytes).
Mount Bulgar Viper (Montivipera bulgardaghica).
Dinnik's Viper (Vipera dinniki).
Portugese Viper (Vipera seoanei).
Algerian Whip Snake (Hemorrhois algirus).
Large Whip Snake (Dolichophis jugularis).
Large Whip Snake (Dolichophis caspius).
Asian Racer (Hemorrhois nummifer).
Lataste's Viper (Vipera latastei).
East-Four-Lined Ratsnake (Elaphe sauromates).
Black-Headed Snake (Telescopus nigriceps).
Diadem Snake (Spalerosophis diadema).
Spotted Whip Snake (Hemorrhois ravergieri).
Red-Bellied Racer (Dolichophis schmidti).
Tecolote Occidental (Megascops kennicottii).
Búho Cornudo (Bubo virginianus).
Falcão-Das-Pradarias (Falco mexicanus)
Eastern Screech Owl (Megascops asio).
Northern Grey Shrike (Lanius Borealis).
Aguililla De Swainson (Buteo swainsoni).
American Kestrel (Falco sparverius).
Aguililla Cola Roja (Buteo jamaicensis).
Cooper's Hawk (Accipiter cooperii).
Águila Cabeza Blanca (Haliaeetus leucocephalus).
Brown Bear (Ursus arctos).
Aguililla Pecho Rojo (Buteo lineatus), Epervier Brun (Accipiter striatus).

Cite This Page