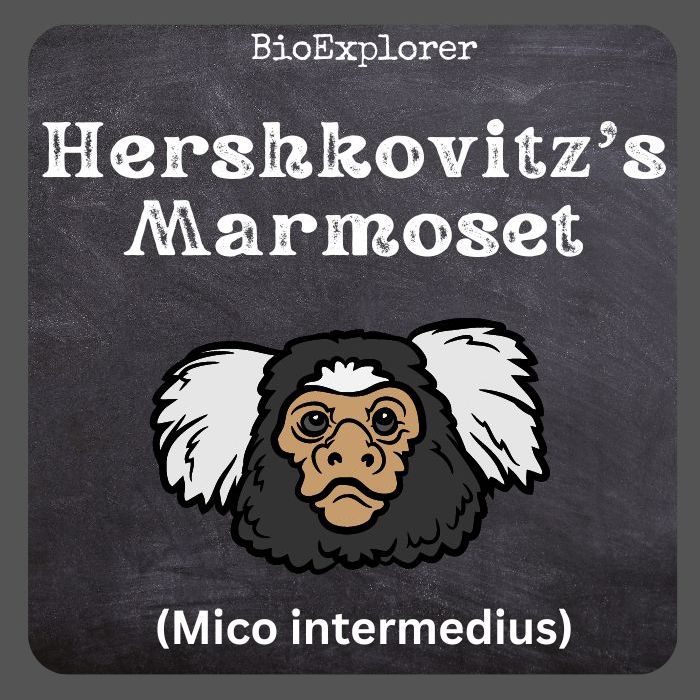 [shemedia_ad type="medrec"]
| | | | | |
| --- | --- | --- | --- | --- |
| Animalia | Primates | Callitrichidae | Mico | Mico intermedius |

Common Name: Hershkovitz's Marmoset
Taxonomy Classification Year: 1977
Monkey Size: 24 to 24 cm (9.4 to 9.4 in)
Skin Color(s): Creamy white and brown
Habitat: Forest, rainforest
Diet: Herbivorous
Native Countries: Brazil

Hershkovitz's Marmoset Distribution

Hershkovitz's Marmoset Characteristics
The Hershkovitz marmoset[1] (Mico intermedia), also called the Aripuanã marmoset, is endemic to the Amazon rainforest of south-central Brazil.
Like all relatively small primates, Hershkovitz marmosets reach a weight of 400 to 450 grams.
The upper half of the body is creamy white, while the lower half is brown.
In addition, the hind legs and tail are brown, and there is a yellow band on the thighs.
The head is also creamy white; the face is hairless and gray or flesh-colored.
There are small ear tufts on the ears.

Hershkovitz's Marmoset Facts
The common name references Philip Hershkovitz, an American zoologist.
These monkeys are diurnal and sleep amidst lush vegetation or in tree cavities at night.
Hershkovitz marmosets have been observed feeding on swarms of army ants (Eciton burchelli).
Scent marks are distributed throughout their home range but more in peripheral areas and more frequently when encountering neighboring groups.
Mating is not limited to a single pair; however, multiple adult females and males have been observed mating.

Cite This Page