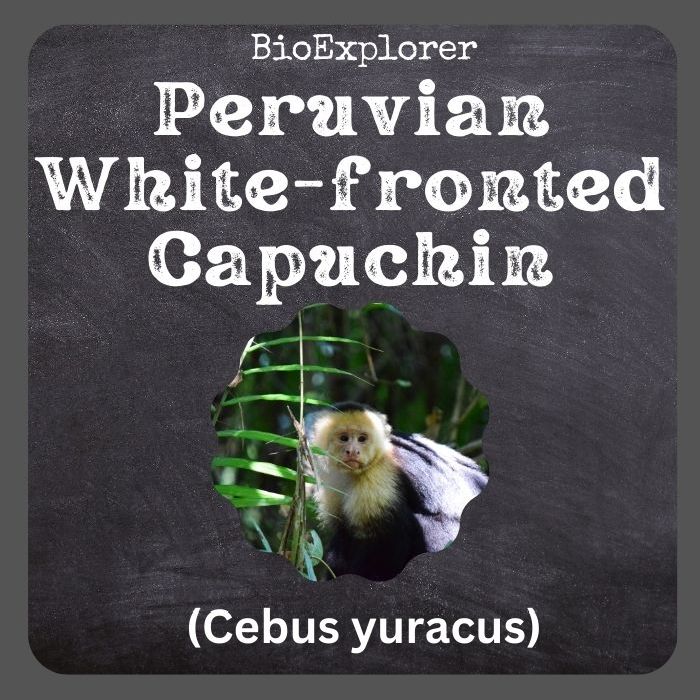 | | | | | |
| --- | --- | --- | --- | --- |
| Animalia | Primates | Cebidae | Cebus | Cebus yuracus |

Common Name: Peruvian White-fronted Capuchin
Taxonomy Classification Year: 1949
Monkey Size: 37 to 43 cm (15 to 17 in)
Skin Color(s): Ochre brown
Habitat: Rainforest
Diet: Omnivorous

Peruvian White-fronted Capuchin Distribution

Peruvian White-fronted Capuchin Characteristics
The Peruvian white-fronted capuchin[1] or Marañón white-fronted capuchin (Cebus yuracus) is a species of gracile capuchin monkey native to the upper Amazon basin.
It was synonymous with the shock-headed capuchin (Cebus cuscinus), later considered a subspecies of the Humboldt's white-fronted capuchin, but was classified as a separate species by Mittermeier and Rylands based on Boubli's genetic studies.
The Peruvian white-fronted capuchin is gray on the forehead, the sides of the face, the chest, and the outer sides of the arms.
It resembles Spix's white-fronted capuchin (Cebus unicolor). Still, its overall color is ochre-brown, contrasting strongly with the gray or buff on the outside of the forelegs.
The flanks are lighter. Male species have a head and body length of around 43 cm (17 in) with a tail length of around 47 cm (19 in) while female metrics are 37 cm (15 in) and 45 cm (18 in), respectively.

Peruvian White-Fronted Capuchin Facts
Peruvian white-fronted capuchin monkeys live in multi-male, multi-female groups of 5 to 18 individuals, with approximately equal numbers of males and females.
They are most active during the day and cover an estimated range of around 500 ha (1200 acres).
They thrive in mature forested areas at high elevations with low slopes and nearby streams.
Like all other capuchin species, male Peruvian white-fronted capuchins move from their natal group to a new group as adults.
Capuchin groups are relatively stable as the dominance hierarchy tends to be static, and a rank reversal is rare or non-existent.

Cite This Page