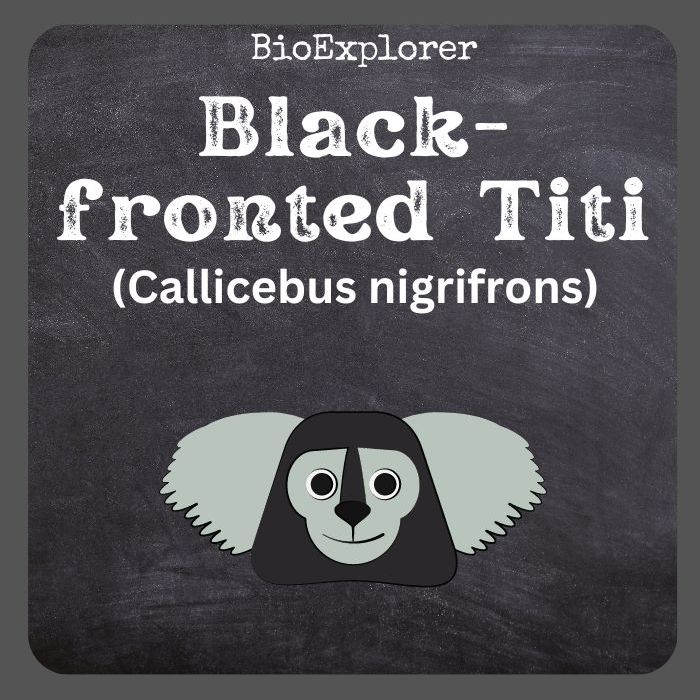 | | | | | |
| --- | --- | --- | --- | --- |
| Animalia | Primates | Pitheciidae | Callicebus | Callicebus nigrifrons |

Common Name: Black-fronted Titi
Taxonomy Classification Year: 1823
Monkey Size: 23 to 46 cm (9.1 to 18.1 in)
Skin Color(s): Gray
Habitat: Rainforest
Diet: Omnivorous
Native Countries: Brazil

Black-fronted Titi Distribution

Black-fronted Titi Characteristics
The black-fronted titi[1] is a New-World monkey native to Brazil. Black-fronted titi monkeys have short faces, fluffy bodies, long legs, and long fluffy tails.
Compared to other platyrrhines, they have sharp canines with little or no sexual dimorphism.
These monkeys have long skulls and relatively short snouts with single molars compared to other platyrrhines.
Its skeletal anatomy resembles Aotus's and is believed to closely resemble the ancestral Platyrrhine.
The black-fronted titi monkey's tail is non-prehensile.

What Do Black-fronted Titis Eat?

Black-Fronted Titi Facts
The black-fronted titi monkey is listed as Near Threatened by the IUCN due to extensive habitat loss and fragmentation in the remnant Atlantic Forest in southeastern Brazil.
Hunting pressure and captures for the pet trade does not appear to be a significant threat to the species due to their small size and shy behavior.
This primate is territorial and monogamous and lives in small family groups of 2 to 6 monkeys.
Black-fronted titi monkey is relatively active compared to other Titi species, spending only 29 to 35% of its time resting while foraging and feeding account for 26 to 40%, locomotion 24 to 33%, and less than 6% of social behavior.
The species is found in both mature rainforest and disturbed fragments and may inhabit isolated forest fragments.

Cite This Page