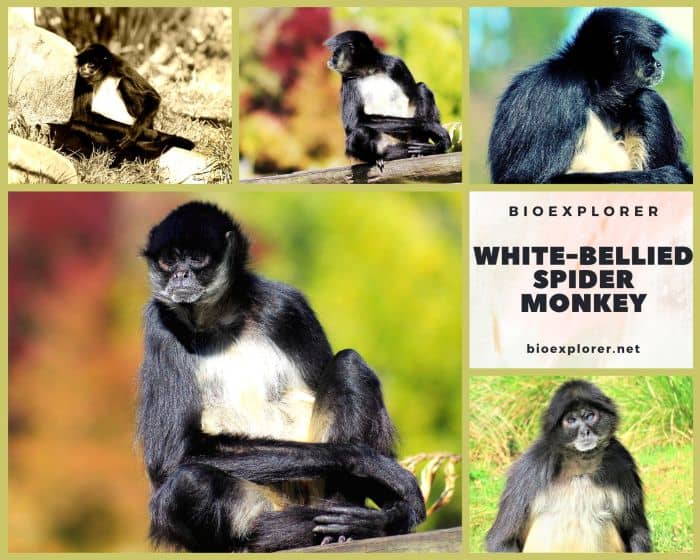 | | | | | |
| --- | --- | --- | --- | --- |
| Animalia | Primates | Atelidae | Ateles | Ateles belzebuth |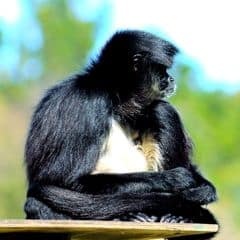 Common Name: White-bellied Spider Monkey
Taxonomy Classification Year: 1806
Monkey Size: 34 to 59 cm (13.39 to 23.23 in)
Skin Color(s): Black and yellow-creamy
Habitat: Rainforest
Diet: Herbivorous
Native Countries: Colombia, Ecuador, Venezuela, Peru, Brazil

White-bellied Spider Monkey Distribution

White-Bellied Spider Monkey Characteristics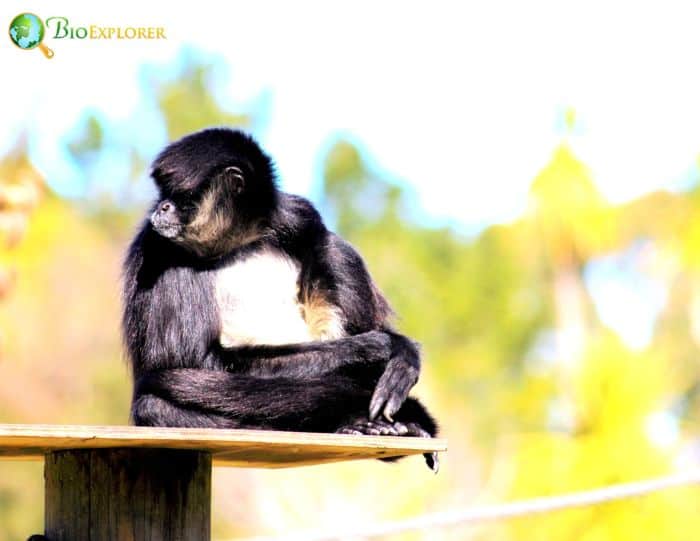 The white-bellied spider monkey[1] (Ateles belzebuth), also called the long-haired or white-fronted spider monkey, is an endangered species of spider monkey, a species of New-World monkey.
It is found in the northwestern Amazon in Brazil, Colombia, Venezuela, Ecuador, and Peru, extending south to the lower Ucayali River and east to the Branco.
The limbs of white-bellied spider monkeys are long, muscular, and very strong. In addition, its shoulders are such that its arms can fully rotate.
The elbows allow the forearms to pronate, and the large carpal tendons make their wrists extremely flexible.
Its hands are long, thin, and thumbless. Instead, their four long fingers form a perfect hook to help them swing on branches.
Its torso is short. All of these characteristics perfectly match this monkey's supportive mode of locomotion.
Its long, muscular tail is broad at the base, thin at the tip, and can bend, twist, and curl. It's prehensile and tactile.
The underside is bare with ridges like those found on the undersides of the feet and hands. They have a narrow face with a tiny chin, narrow snout, and large sockets in which almond-shaped brown eyes are fixed.
The skull is round, and its ears are similar to ours. White-bellied spider monkeys, which live in lowland forests, have blackish fur on their backs and front legs and creamy-yellow fur on their abdomens; those from mountain forests have a greater variety of colors.

What Do White-bellied Spider Monkeys Eat?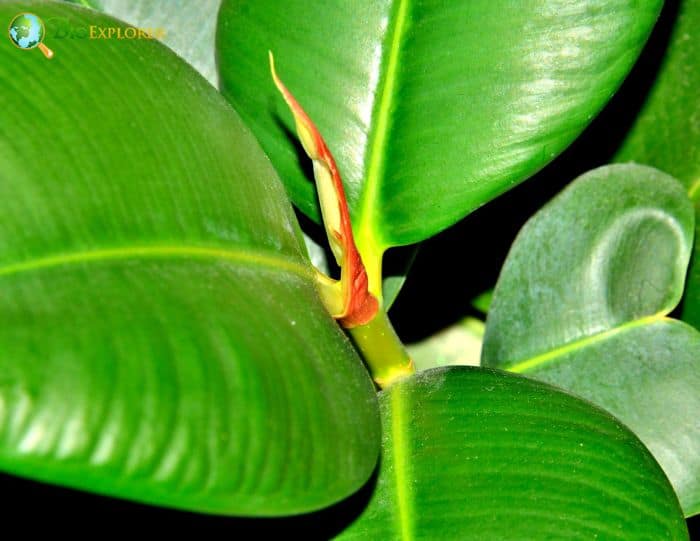 The White-bellied Spider Monkey diet includes[¶]:
Amarillo (Guatteria punctata)
Rabo De Ranton (Casearia aculeata).
Pachiuba (Socratea exorrhiza)
Fig (Ficus)
Guamo (Inga acreana)
Cuero De Rana (Laetia procera).
Abiu (Pouteria caimito)
Breadnut (Brosimum alicastrum)
Caucho Rubber (Castilla ulei).
Trichilia (Trichilia)
Hinchahuevos (Sapium laurifolium)
Maraximbé (Trichilia tuberculata)
Guiana Brosimum (Brosimum guianense).
Chalahuite (Inga acrocephala)
Pacae Colorado (Inga alba).
American Muskwood (Guarea guidonia).
Hogplum (Spondias mombin)
Figueira-Acreana (Ficus sphenophylla)
Icecreambean (Inga edulis)
Sweetwood (Nectandra membranacea)
Maripa Palm (Attalea maripa).

White-Bellied Spider Monkey Facts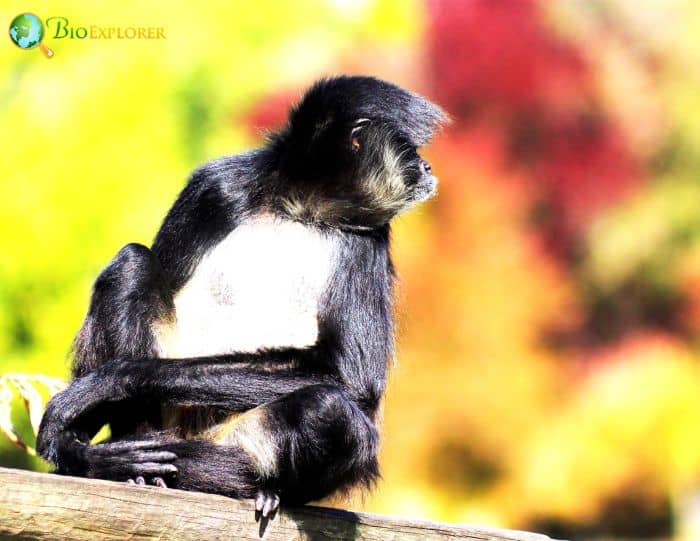 These arboreal monkeys spend most of their time in the canopy. They rarely go down. When they do, they drink water, eat dirt, traverse a treeless area, or run away from an aggressive opponent.
In the treetops, white-bellied spider monkeys move freely between branches. They can cover large distances quickly using various modes of locomotion.
White-bellied spider monkeys live in groups of 6-25 individuals, sometimes more. Group size varies by area, with larger groups found in undisturbed patches of woodland.
Male white-bellied spider monkeys patrol the boundaries of the group's territory to repel potential invaders and can cause serious injury if they bite by an intruder.
These spider monkeys also rub leaves on their bodies. The scents can be used as a natural insect repellent, but they can also signal social status and attract a mate.

Cite This Page