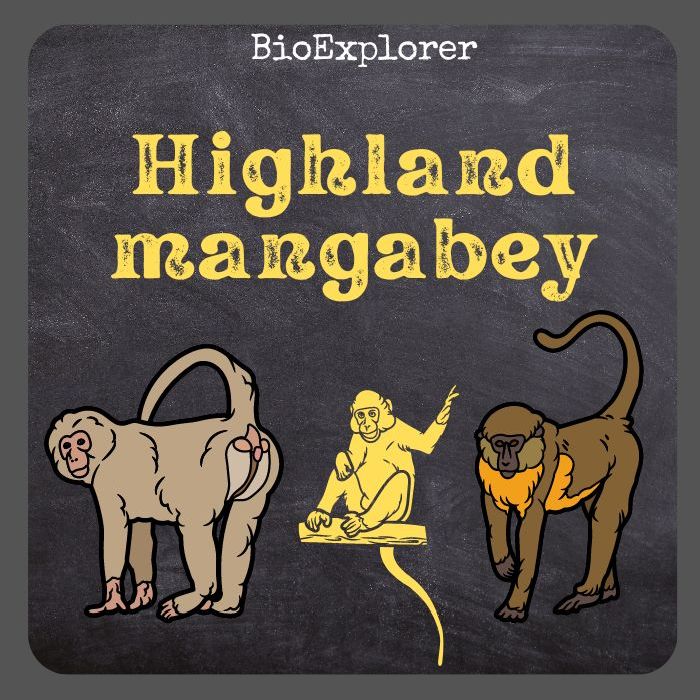 | | | | | |
| --- | --- | --- | --- | --- |
| Animalia | Primates | Cercopithecidae | Rungwecebus | Rungwecebus kipunji |

Common Name: Highland mangabey
Taxonomy Classification Year: 2005
Monkey Size: 85 to 90 cm (33.46 to 35.43 in)
Skin Color(s): Light or medium brown
Habitat: Forest, rainforest
Diet: Omnivorous
Native Countries: Tanzania

Highland mangabey Distribution

Highland Mangabey Characteristics
The kipunji[1] (Rungwecebus kipunji), also called the highland mangabey, is an Old World monkey inhabiting the upland forests of Tanzania.
Sexual dimorphism is not apparent from adult coat color. In general, the fur is relatively long, which may be an adaptation to the low temperatures of the Rungwe-Livingstone forest.
The back is light to medium brown, while the center of the abdomen is whitish. The center of the tail is also whitish at the tip end.
The lower front legs are dark brown to black, and the hands and feet are black. The long, wide crest of hair along the Crown is a unique feature.
The eyes are brown, but the eyelids are black with the rest of the face. The muzzle is relatively long with elongated whiskers.

Highland Mangabey Facts
The kipunji has a distinctive call referred to as "horn bark", which distinguishes it from its relatives, the Gray-cheeked mangabey and Black-crested mangabey, whose calls are referred to as "whoop-gobbles".
Kipunji is the first species of New World Monkey to be discovered since Allen's Swamp Monkey in 1923.
It is a social species found in groups of about 30-36 males and females with a maximum of two offspring.
Head shaking has been observed in males just before the animal flees.
Kipunji is active during the day and mostly confine their activity to trees and rarely reach the ground.

Cite This Page