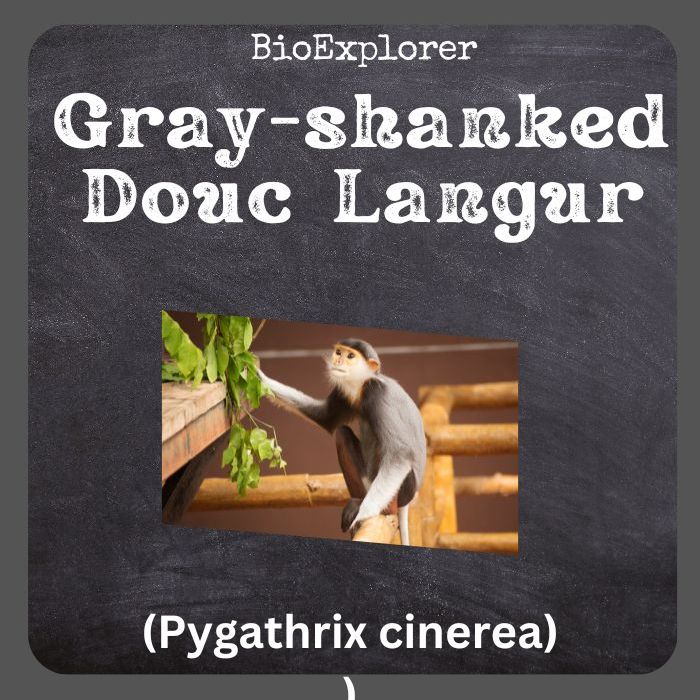 | | | | | |
| --- | --- | --- | --- | --- |
| Animalia | Primates | Cercopithecidae | Pygathrix | Pygathrix cinerea |

Common Name: Gray-shanked Douc
Taxonomy Classification Year: 1997
Monkey Size: 56 to 59 cm (22.04 to 22.23 in)
Skin Color(s): Light gray
Habitat: Rainforest
Diet: Herbivorous
Native Countries: Vietnam

Gray-shanked Douc Distribution

Gray-shanked Douc Langur Characteristics
The gray-shanked douc langur[1] (Pygathrix cinerea) is a species of douc endemic to the Vietnamese provinces of Gia Lai, Quảng Ngãi, Kon Tum, Bình Định, and Quảng Nam.
Gray-shanked Douc langur's body, crown, and arms are mottled light gray with a lighter underside.
The shoulders, thighs, and part of the rump are marked with white spots. In addition, the feet and hands are black, while the lower legs are mottled dark grey.
The bare skin of the face is yellowish brown, except for the areas around the chin and mouth, which are white.
Long white fur covers the sides of the face. This colorful monkey has a white throat with a band of orange collar outlined by a black line connecting the black spots on their shoulders.
Gray-shanked douc langur tails are almost the same length as the total length of the head and body.
Genetically, Gray-shanked douc langurs are similar to Red-shanked douc langurs (Pygathrix nemaeus); however, they are considered separate species based on morphological differences.

Gray-Shanked Douc Langur Facts
Male species are the dominant sex, and dominance hierarchies have been observed in captivity.
In the past, they have been found in groups of up to 50 individuals. Still, this number has been significantly reduced to between 4 and 15 individuals.
Gray-shanked douc langurs are also dedicated to grooming to remove parasites and create and strengthen bonds between group members. This typically happens before bedtime.
Group members will usually spar with one another. Sparring is aggressive behavior in which participants grab, pull, and slap each other.
Facial expressions include grimaces used to show submission, a playful face used to play with another group member, and stares that suggest aggression or curiosity.

Cite This Page