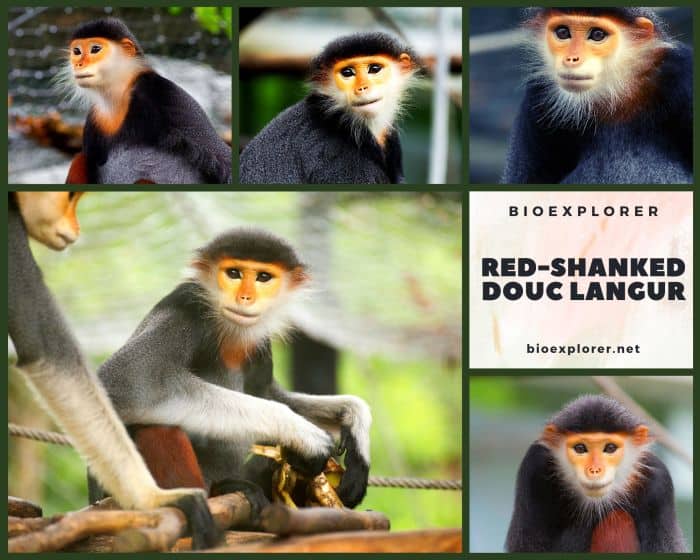 | | | | | |
| --- | --- | --- | --- | --- |
| Animalia | Primates | Cercopithecidae | Pygathrix | Pygathrix nemaeus |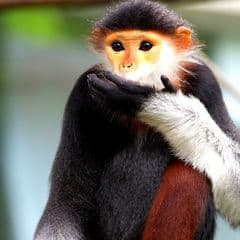 Common Name: Douc langur
Taxonomy Classification Year: 1771
Monkey Size: 61 to 76.2 cm (24.02 to 30.00 in)
Skin Color(s): Gray
Habitat: Rainforest
Diet: Herbivorous
Native Countries: Vietnam, Cambodia, China

Douc langur Distribution

Red-Shanked Douc Langur Characteristics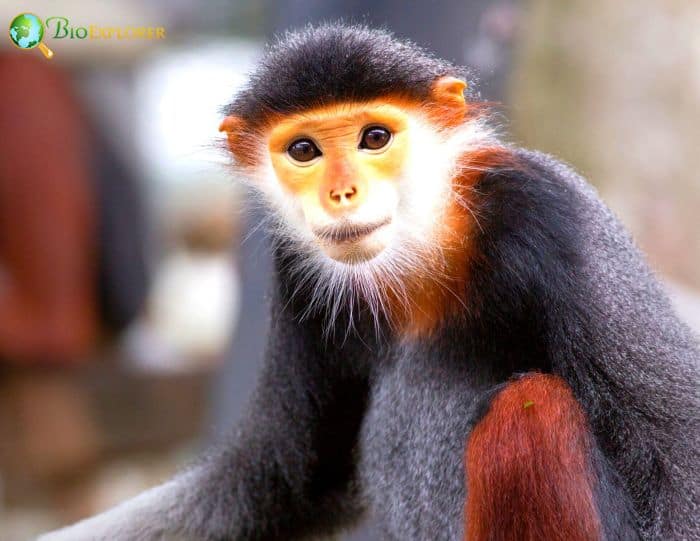 The red-shanked douc langur[1] is an Old-World monkey species that is one of the most colorful primates.
Different Douc langur species can be distinguished by the color of their shanks or legs.
Sometimes called "the costumed monkey, " the red-shanked douc langur is one of the most colorful primates.
The monkey's orange and yellow face and ears are dusted with theatrical makeup, and the eyelids are dusted with light blue eyeshadow.
Dark almond eyes see the world, and small nostrils inhale the scent of the forest habitat from a modest nose.
Long, white whiskers (more prominent in males) adorn the chin and frame the alien face of the monkey. A wide black stripe runs across the monkey's forehead.

Red-Shanked Douc Langur Facts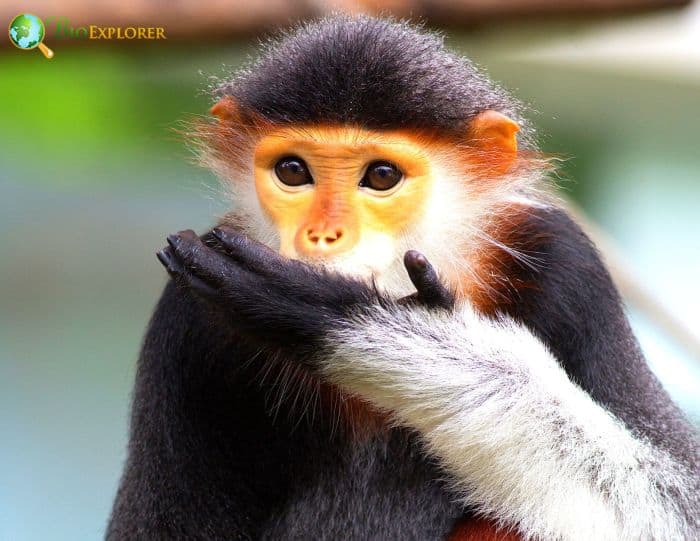 Red-shanked douc langurs are genetically similar to gray-shanked douc langurs; however, they are considered a different species due to their different biological characteristics.
Like other douc langur species, red-shanked douc langurs leap from branch to branch, pushing off with their legs and landing their feet-first on the next branch.
The red-shanked Douc langur has a multi-chambered stomach and breaks down its food with bacteria through a process known as fermentation.
Adult males take the lead in foraging in a group, females and babies take the middle position, and young males in the group follow at the back.
In terms of mating, males and females "stare" at each other by thrusting their jaws forward, lowering and raising their eyebrows, and shaking their heads.

Cite This Page