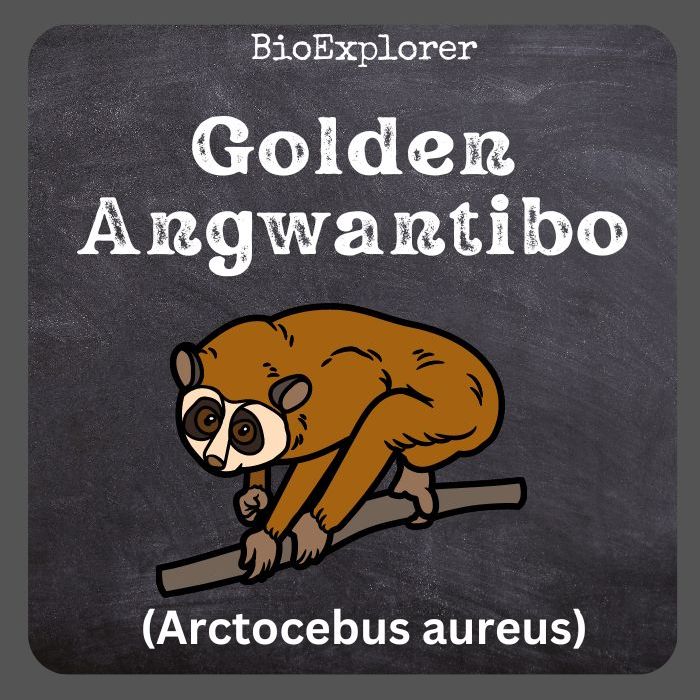 [shemedia_ad type="medrec"]
| | | | | |
| --- | --- | --- | --- | --- |
| Animalia | Primates | Lorisidae | Arctocebus | Arctocebus aureus |

Common Name: Golden Angwantibo
Taxonomy Classification Year: 1902
Monkey Size: 22 to 30 cm (8.7 to 11.9 in)
Skin Color(s): Rose Gold
Habitat: Forest, Rainforest
Diet: Carnivorous (insectivorous)
Native Countries: Cameroon, Democratic Republic of Congo, Equatorial Guinea, Gabon

Golden Angwantibo Distribution

Golden Angwantibo Characteristics
The golden angwantibo[1] is a strepsirrhine primate of the Lorisidae family.
It shares the Arctocebus genus with the Calabar angwantibo; they are commonly known as the golden pottos.
Has this curious-looking little prosimian swallowed a bowling ball? No. But its burly physique suggests it likes the buffet table.
Or perhaps the Golden angwantibo's stooped posture contributes to this effect. The thick, shaggy fur covering this primate's shoulders, back, and lanky limbs are reddish-gold.
The frosted tips make one wonder if the Golden angwantibo has visited a rainforest barbershop.
They are lighter "guard hairs" that protect the coat from moisture and abrasion. Cream-colored pelage drapes the underside of the prosimian.
Large brown eyes and a long-pointed nose dominate the face. Darker fur encircles the eyes, and a band of white fur runs across the nose. Small, bare, scalloped ears protrude from each side of the head.

Golden Angwantibo Facts
Bärenmaki, meaning "lemur bear", is the German name for the golden angwantibo due to its bear-like appearance. However, we see no resemblance.
Excellent night vision thanks to an adaptation called the tapetum lucidum, a thin, light-reflecting membrane behind the eye's retina, colloquially known as the "eye glare, " allows these prosimians to navigate in the dark easily.
The dense scrub and undergrowth of the forest offer them security, especially during the day when they curl up to sleep, hidden from predators in the tangle of vines.
With long, narrow, downward-pointing snouts guided by a keen sense of smell, these prosimians are silent and stealthy when hunting insects. Still, they react with incredible speed and agility when reaching out to unsuspecting creatures.
Before devouring the poisonous caterpillars, the Angwantibos use a strange technique. They "massage" the spine of the crawling insect, thereby removing poisonous hair follicles.

Cite This Page