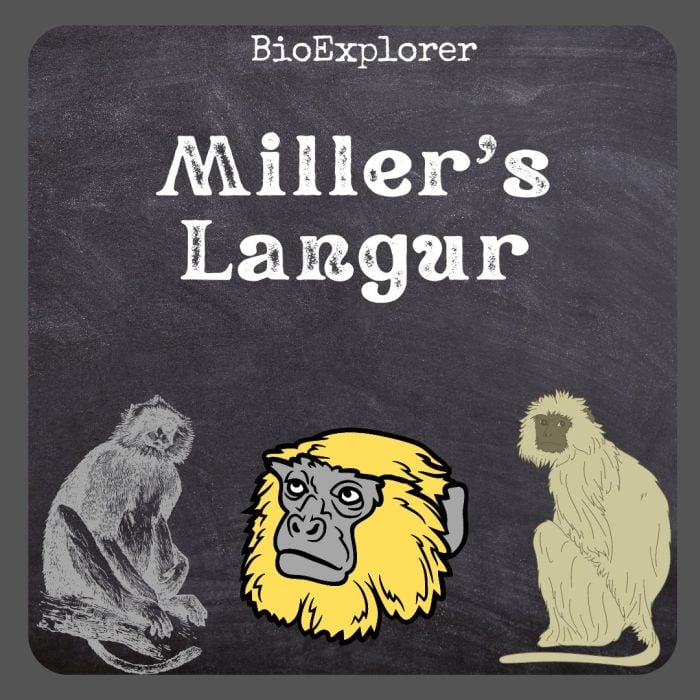 | | | | | |
| --- | --- | --- | --- | --- |
| Animalia | Primates | Cercopithecidae | Presbytis | Presbytis canicrus |

Common Names: Miller's Langur, Kutai Gray Langur, Miller's Grizzled Langur
Taxonomy Classification Year: 1934
Monkey Size: 48 to 56 cm (19 to 22 in)
Skin Color(s): Gray
Habitat: Forest, rainforest
Diet: Herbivorous
Native Countries: Indonesia

Miller's Langur Distribution

Miller's Langur Characteristics
Miller's Langur[1] (Presbytis canicrus), also called the Kutai Gray Langur or Miller's Grizzled Langur, is the rarest of the four Hosei subspecies, all of which are native to the island of Borneo.
Miller's langur ranges from 48 centimeters (19 inches) to 56 centimeters (22 inches) in length without the tail and has a tail length of 65 centimeters (26 inches) to 84 centimeters (33 inches).
Males weigh between 6 and 7 kilograms, while females weigh between 5.5 and 6 kilograms.
Miller's langur's back fur is grayish with a grizzly appearance, while the fur on its belly is whitish.
The upper part of the face is black, while the lower part is whitish, with the whitish part forming a U under the nose.

Miller's Langur Facts
One of the world's most endangered primates, Miller's langur, was once considered extinct until it was rediscovered in 2013.
It usually lives in groups of 5-12, including 1 adult male, with an average group size of 8 monkeys.
It is sympatric with two other leaf monkeys of the Presbytis genus, the white-fronted surili, and the maroon leaf monkey.
It is diurnal and arboreal, spending most of its time in the middle to upper canopy.
Although this langur is known to display a calmer demeanor than other primates in its responses and gestures towards conspecifics, competition within groups has been observed.

Cite This Page