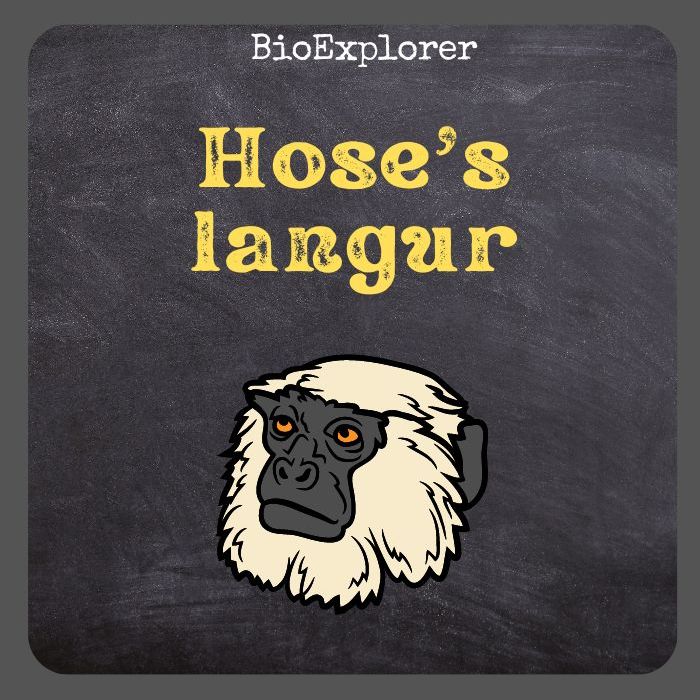 | | | | | |
| --- | --- | --- | --- | --- |
| Animalia | Primates | Cercopithecidae | Presbytis | Presbytis hosei |

Common Name: Gray leaf monkey
Taxonomy Classification Year: 1889
Monkey Size: 48 to 56 cm (19 to 22 in)
Skin Color(s): Gray
Habitat: Forest, rainforest
Diet: Herbivorous

Gray leaf monkey Distribution

Hose's Langur Characteristics
The Hose's langur[1] (Presbytis hosei) is a primate species in the Cercopithecidae family native to the island of Borneo, which includes Brunei, Kalimantan (Indonesia), and eastern Malaysia.
Hose's langur is a relatively small and slender primate, characterized by a high forehead and a prominent forward-sloping crest in the center of the crown.
Coat color varies between subspecies but is gray mainly on the back, white on the chest and stomach, and blackish on the feet and hands.
The face is pink, with a distinctive black stripe marking each cheek.
Babies are easy to tell apart as white with black lines down their backs and shoulders.
Groups (probably adult males) often emit a unique gurgling vocalization.

Hose's Langur Facts
The species was first identified in 1985 in Sangkulirang Peninsula and Kutai National Park in East Kalimantan, Indonesia.
Its natural habitat is tropical or subtropical dry forests.
This tree-dwelling monkey moves primarily through the intermediate levels of the forest canopy, and to descend to visit natural mineral springs.
The loss of its natural habitat threatens these langurs.
Hose's langur densities correlated positively with tree height, first bough height, tree diameter, and canopy and negatively with soil and subsoil vegetation cover.

Cite This Page