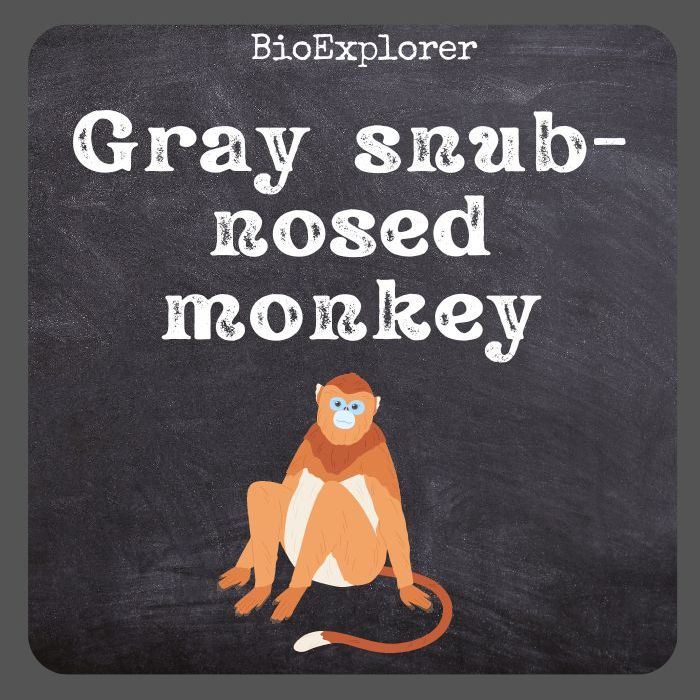 | | | | | |
| --- | --- | --- | --- | --- |
| Animalia | Primates | Cercopithecidae | Rhinopithecus | Rhinopithecus brelichi |

Common Name: Gray Snub-nosed Monkey
Taxonomy Classification Year: 1903
Monkey Size: 64 to 73 cm (25.2 to 28.7 in)
Skin Color(s): Brown to gray
Habitat: Forest, mountains
Diet: Herbivorous
Native Countries: China

Gray Snub-nosed Monkey Distribution

Gray Snub-Nosed Monkey Characteristics
The gray snub-nosed monkey[1] (Rhinopithecus brelichi), also called Guizhou Golden monkey, Brelich's snub-nosed monkey, and Guizhou snub-nosed monkey is a species of primate in the Cercopithecidae family.
It is native to China, where it is called the Guizhou golden-haired monkey or gray golden-haired monkey.
Adults are draped in long, fine hair, usually brown on the upper body to gray on the lower body, with a patch of white between the shoulder blades.
Its neck, head, and the extremities of its limbs are black, save for a golden forehead. It has a golden chest and brown fur on the insides of the knees and the insides of the arms.
The face is bluish-white bare skin and pink around the mouth and eyes, and it has a regal forehead and restricted nasal bones, giving it a snub-nosed look.
Juveniles are shades of gray with patterns that change with age. Adult males are lighter in color than adult females and have white fur on the prominent nipples.

Gray Snub-Nosed Monkey Facts
The confirmed range of the gray snub-nosed monkey is endemic to China(Fanjingshan National Nature Reserve in Wuling Mountains of Guizhou Province).
The diurnal species is considered semi-terrestrial and, when available, mainly inhabits trees.
Locomotion combines "quadrupedal walking, leaping, climbing, semi-brachiation, and occasional full brachiation".
Their social structure is based on small groups forming large squads of 400 individuals or more that travel, feed, and sleep together.
Of the 3 species of snub-nosed monkeys in China, the gray snub-nosed monkey is the most endangered, with the population estimated at fewer than 400 individuals.

Cite This Page