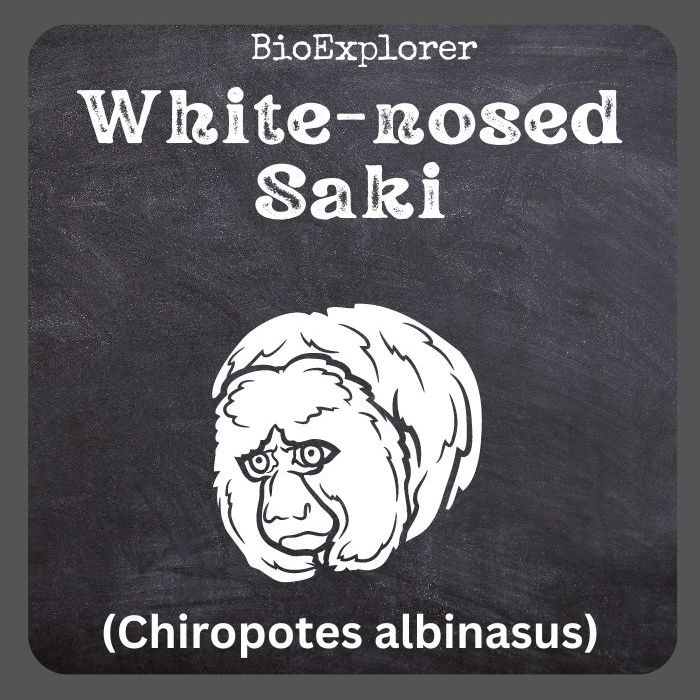 | | | | | |
| --- | --- | --- | --- | --- |
| Animalia | Primates | Pitheciidae | Chiropotes | Chiropotes albinasus |

Common Name: Red-nosed Bearded Saki
Taxonomy Classification Year: 1848
Monkey Size: 38 to 42 cm (15 to 17 in)
Skin Color(s): Black
Habitat: Forest, rainforest
Diet: Omnivorous
Native Countries: Brazil

Red-nosed Bearded Saki Distribution

White-nosed Saki Characteristics
The white-nosed saki[1] (Chiropotes albinasus) is bearded, a New World Monkey species native to the Amazon rainforest of south-central Brazil.
The common and scientific names are due to authors working with dead specimens in which the skin on and around the nose has turned whitish.
In living individuals, it is light pink (but with fine, barely visible white hair) and has black fur.
Male white-nosed sakis weigh an average of 3.1 kg (6.8 lb), and females weigh 2.5 kg (5.5 lb). Males have a total length of about 42 cm (17 in), and females have a total length of 38 cm (15 in).
They have dark black fur, a red nose, and an upper lip covered in white fur. White-nosed sakis have a long, bushy tail that they use for balance.

White-Nosed Saki Facts
White-nosed sakis are sometimes found in large social groups of 18-30 individuals. Their main reason for traveling is the food search.
They use tail flicking and piloerection to communicate when a person's hair stands on end.
They are also a social species, organizing themselves into large groups for many reasons, such as roosting, gathering food, and arranging outings.
They are seasonal breeders, breeding only certain months of the year.
No other species in the Chiropotes genus has a brightly colored nose.

Cite This Page