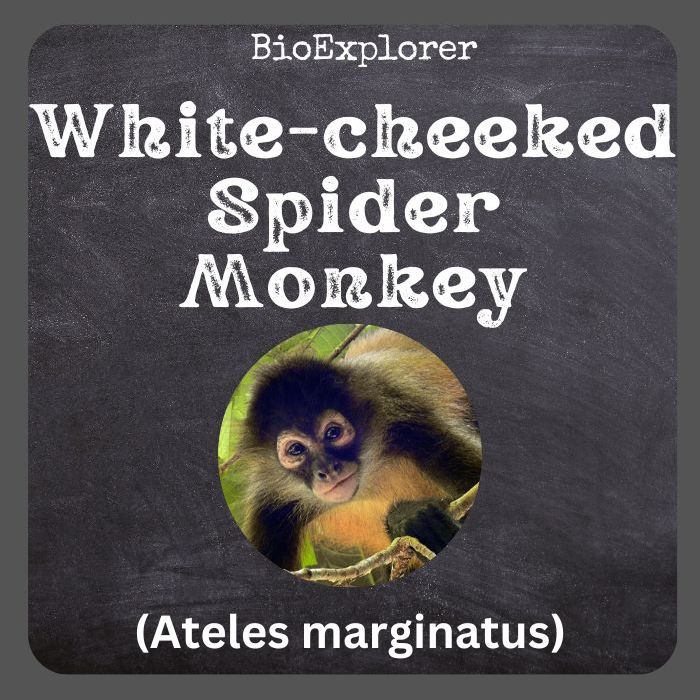 | | | | | |
| --- | --- | --- | --- | --- |
| Animalia | Primates | Atelidae | Ateles | Ateles marginatus |

Common Name: White-cheeked Spider Monkey
Taxonomy Classification Year: 1809
Monkey Size: 34 to 51 cm (13 to 20 in)
Skin Color(s): Dark brown or black
Habitat: Rainforest
Diet: Herbivorous
Native Countries: Brazil

White-cheeked Spider Monkey Distribution

White-cheeked Spider Monkey Characteristics
The white-cheeked spider monkey[1] (Ateles marginatus), also known as the white-whiskered spider monkey, is a New World Monkey native to the Amazon Basin of central Brazil.
Its range is limited by the Xingu River, the Teles Pires River, the Tapajós River, and the Amazon River.
They live in the highly biodiverse lush lowland rainforests for which the region is known. White-cheeked spider monkeys are primarily black or dark brown, with white fur on their chins, foreheads, and, as their name suggests, cheeks.
Like all spider monkeys, they have incredibly long legs, arms, and a prehensile tail that helps them swing gently from branches.
Spider monkey tails have more vertebrae than non-prehensile tails of other primates, and the vertebrae are smaller.
As a result, the tail is more flexible and extends more than other primates' tails.
To help them keep their balance, the underside of their tail is furless and textured like a fingerprint; in fact, their tails are so helpful that they are often called the "fifth limb" or "third hand" of monkeys.
Unlike most other primates, they do not have an external thumb but instead use their hands as hooks.
This is actually a peculiar adaptation to their arboreal lifestyle: their ancestors had opposable thumbs, but spider monkeys evolved so that their thumb bones tapered, so they were not visible from the outside.
Like other spider monkeys, white-cheeked spider monkeys do not exhibit much sexual dimorphism.

White-Cheeked Spider Monkey Facts
White-cheeked spider monkeys are diurnal and exclusively arboreal. Consequently, they spend most of their lives in the upper levels of the canopy.
These spider monkeys are known to be suspensive, meaning they spend most of their time hanging from branches.
White-cheeked spider monkeys live in large groups with an average size of 25 individuals.
They fend off predators by barking and shaking near branches. If the predator is not frightened by this, it breaks off and throws small branches at it.
They are considered polygamous, with males mating with multiple females but females mating with only one male.

Cite This Page