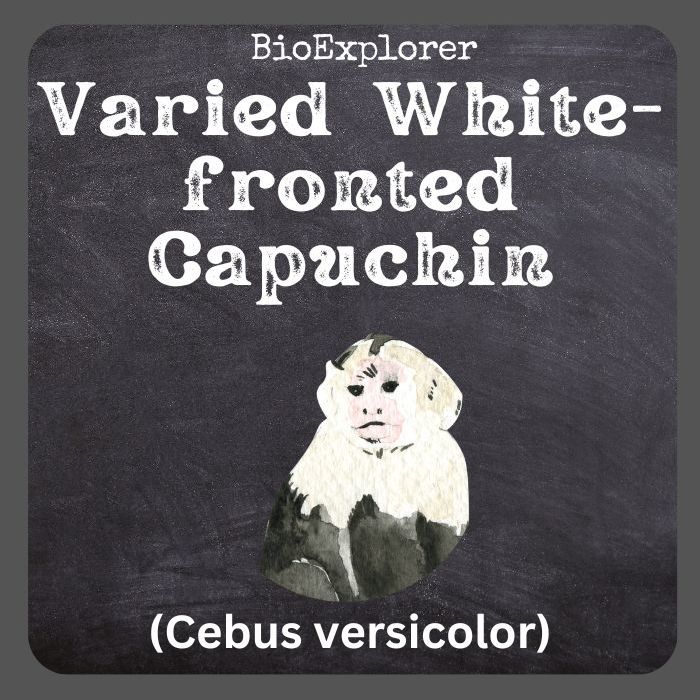 | | | | | |
| --- | --- | --- | --- | --- |
| Animalia | Primates | Cebidae | Cebus | Cebus versicolor |

Common Name: Varied White-fronted Capuchin
Taxonomy Classification Year: 1845
Monkey Size: 45 to 50.5 cm (17.7 to 19.9 in)
Skin Color(s): Red
Habitat: Forest, rainforest
Diet: Omnivorous
Native Countries: Colombia

Varied White-fronted Capuchin Distribution

Varied White-fronted Capuchin Characteristics
The Varied white-fronted capuchin[1] (Cebus versicolor) is a species of gracile capuchin monkey endemic to Colombia.
It has been classified as a subspecies of the white-fronted capuchin (Cebus albifrons). However, a genetic analysis by Jean Boubli in 2012 revealed that it is a different species.
Some authors consider the Rio Cesar white capuchin a subspecies of the varied white-fronted capuchin.
These Colombian primates have reddish fur on their back, forearms, and front legs, contrasting with the lighter fur overall.
With head and body lengths between 45 and 50.5 cm (17.7 and 19.9 inches) with a tail length between 42 and 45.5 mm (1.65 and 1.79 inches), these New-World Monkeys have a dark brown crown on their heads, contrasting with light-colored fur on its temples, forehead, chin, neck, and sides of its face and neck.

Varied White-Fronted Capuchin Facts
The Varied white-fronted capuchin lives in the lowland rainforests and palm swamps of the Magdalena River Valley in northern Colombia.
These capuchin monkeys are diurnal (active during the day), spending time in the canopy and on the ground.
Like all capuchin monkeys, they exhibit self-anointing behavior: rubbing mud, plants, or insects on their bodies.
All capuchin monkeys also practice urine rubbing, including Varied white-fronted capuchins. The anointing could serve as a fungicide, repellent, or self-medication.
The rubbing of the chest, muzzle, and anogenital area against the shafts have a different purpose; Capuchins mark their territory by spreading glandular secretions, saliva, or other pungent substances.

Cite This Page