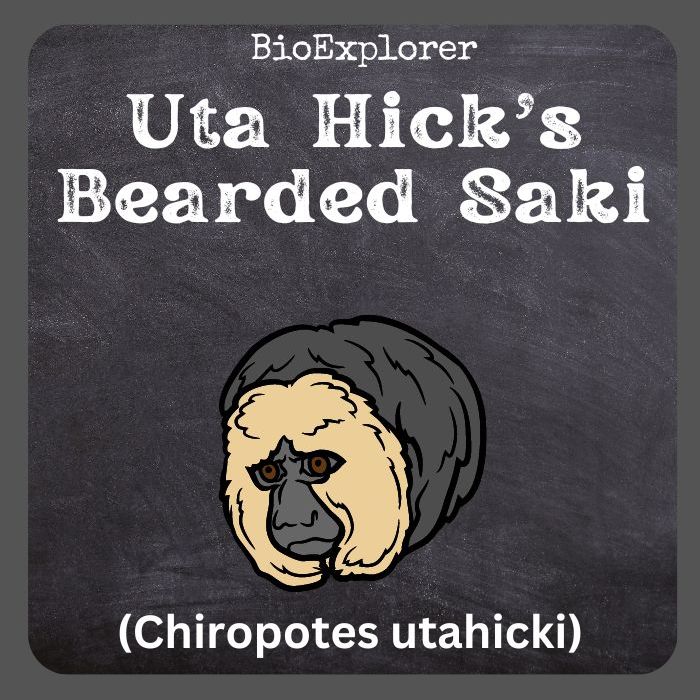 Uta Hick's bearded saki Distribution

Uta Hick's Bearded Saki Characteristics
Uta Hick's bearded saki[1] (Chiropotes utahicki) is an endangered species of bearded saki, a New World Monkey species.
It is native to Brazil and is restricted to the Amazon between the Tocantins and Xingu rivers.
Like other saki monkeys, they vary in body weight and length. For example, male Uta Hick's bearded saki monkey weighs 6.8 pounds (3.1 kg) with a body length of 15.35 inches (39 cm).
Females weigh 5.5 pounds (2.5 kg) with a body length of 14.41 (36.6 cm). Uta Hick's bearded saki monkeys have bushy beards and fox-like tails, a trait common to the genus Chiropotes.
Uta Hicks' bearded saki has reddish-brown fur, dark limbs, and long arms, much larger than marmosets and tamarins. Compared to these two, they are also better climbers.

Uta Hick's Bearded Saki Facts
It was named after Uta Hick, a German primatologist who cared for bearded sakis at Cologne Zoo.
The specific name utahicki is often corrected to utahickae, since -ae is the proper suffix for the genitive of an honored lady's name (meaning "Uta Hicks") under ICZN rules.
Members of this genus are considered hand drinkers, which defines its generic name. Uta Hick's bearded saki monkeys are most commonly seen scooping up water to drink.
Fights between male species are observed, although infrequent. But, in general, Uta Hick's bearded monkeys live in peace, play among themselves, groom themselves and even sleep with other group members.
Uta Hicks' bearded saki monkeys are social animals that live in a group of about 22 individuals. Of course, this may change, but the most significant determinant is food availability.

Cite This Page