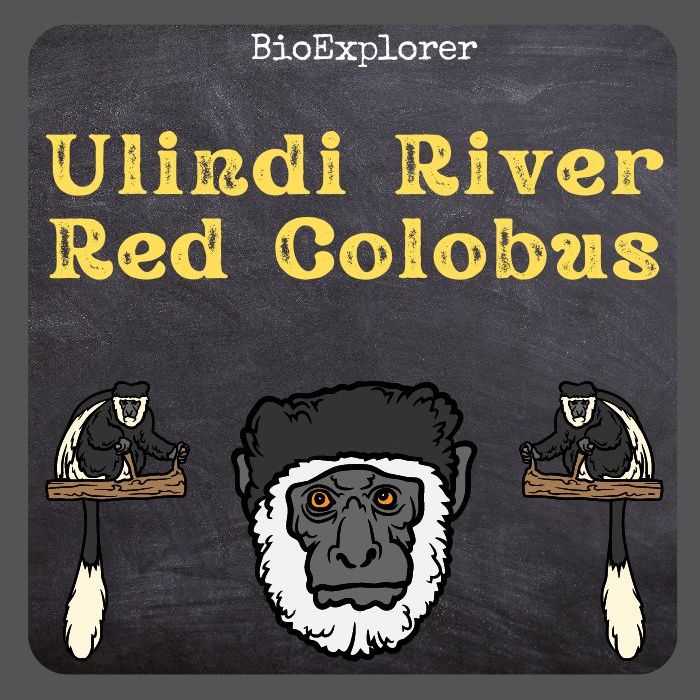 | | | | | |
| --- | --- | --- | --- | --- |
| Animalia | Primates | Cercopithecidae | Piliocolobus | Piliocolobus lulindicus |

Common Name: Ulindi River Red Colobus
Taxonomy Classification Year: 1914
Monkey Size: 50 to 69 cm (20 to 27 in)
Skin Color(s): Red and black
Habitat: Forests
Diet: Herbivorous
Native Countries: Democratic Republic of Congo

Ulindi River Red Colobus Distribution

Ulindi River Red Colobus Characteristics
The Ulindi River red colobus[1] (Piliocolobus lulindicus) is native to the Democratic Republic of the Congo.
It was previously considered conspecific with the foa red colobus (Piliocolobus foai). However, it has been tentatively recognized as a separate species by the American Society of Mammalogists and the IUCN Red List.
The Ulindi River red colobus has long black and red fur on its head and back with light-colored underparts.
All other physical characteristics of Ulindi River Red Colobus are identical to Foa's Red Colobus monkeys.
Like Foa's Red colobus, the Ulindi River Red Colobus also has smaller teeth than most other red colobus species.

Ulindi River Red Colobus Facts
This Red Colobus species is named after the Ulindi River.
It is primarily found in the lowland forest east of the Lualaba River. The Albertine Rift serves as the eastern barrier to the species' range.
Like all other Colobus monkeys, the Ulindi River red colobus is agile while moving between the trees.
Generally, these red colobus monkeys are found in large groups of 20-90 individuals.
It is threatened by habitat loss and hunting, as its large size means it is often hunted for bushmeat, and much of its habitat is cleared for farmland.

Cite This Page