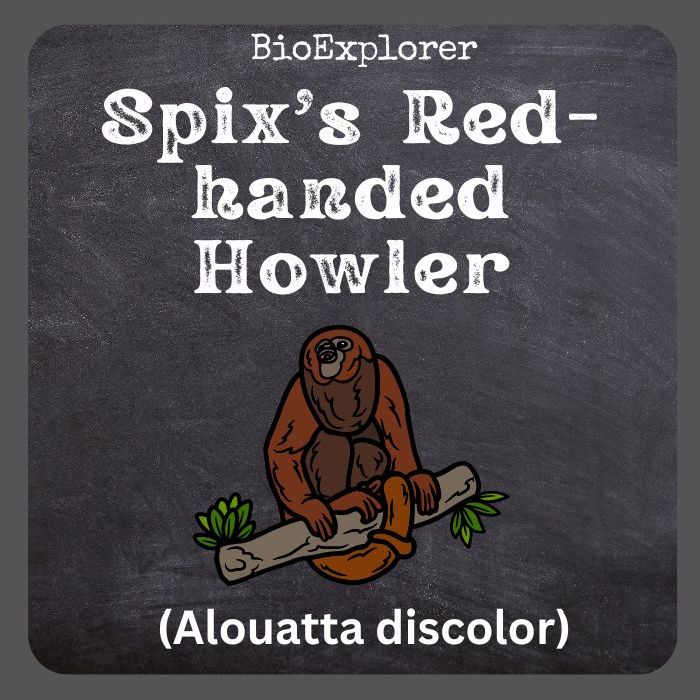 | | | | | |
| --- | --- | --- | --- | --- |
| Animalia | Primates | Atelidae | Alouatta | Alouatta discolor |

Common Name: Spix's Howler
Taxonomy Classification Year: 1823
Monkey Size: 40.0 to 91.5 cm (15.75 to 36.02 in)
Skin Color(s): Yellowish-brown to reddish-brown
Habitat: Forest, rainforest
Diet: Herbivorous
Native Countries: Brazil

Spix's Howler Distribution

Spix's Red-handed Howler Characteristics
Spix's red-handed howler[1] (Alouatta discolor) is a species of howler monkey endemic to the southeastern Amazon in Brazil.
As the name suggests, Spix's red-handed howler monkeys have hands (and feet) that lack the same inky black, reddish, or yellowish-brown fur that covers the rest of their bodies.
They have a thick, prehensile tail, a patch of bare skin on the tip, coarse, shaggy hair, and a deep jaw surrounding an enlarged larynx and hyoid bone.
All species of Alouatta have a schizodactylous or zygodactylous grip, which means that their first two digits are opposite the other three.

Spix's Red-Handed Howler Facts
The primary food sources of this species are ripe and unripe fruits. Of all the species in this genus, Spix's red-handed howler is the most dependent on this food source.
They typically travel in groups of 4 to 11 individuals and have relatively small home ranges of 5 to 45 ha.
Spix's Red-headed Howler is currently on the International Union for Conservation of Nature's Endangered Species List based on a population decline of more than 30% over the last 3 generations, mainly due to habitat loss.
The enlarged larynx and hyoid bone are highly specialized, helping them produce their infamous growls, howls, barks, and roars.
Alouatta species are also the only New World Monkey genus to have full trichromatic vision, allowing them to perceive the world across the spectrum of visible light.

Cite This Page