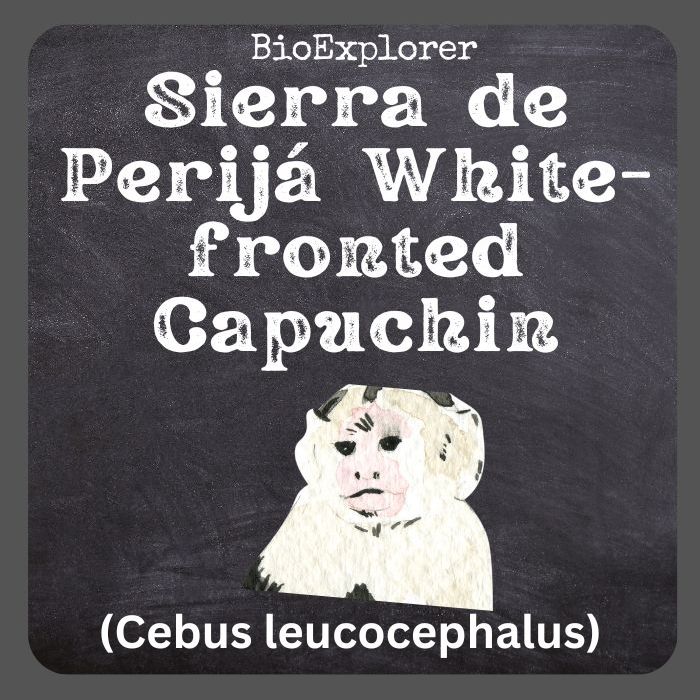 | | | | | |
| --- | --- | --- | --- | --- |
| Animalia | Primates | Cebidae | Cebus | Cebus leucocephalus |

Common Name: Sierra de Perijá White-fronted Capuchin
Taxonomy Classification Year: 1865
Monkey Size: 37 to 40.7 cm (14.6 to 16.0 in)
Skin Color(s): Black-brown
Habitat: Forest
Diet: Herbivorous
Native Countries: Colombia, Venezuela

Sierra de Perijá White-fronted Capuchin Distribution

Sierra de Perijá White-fronted Capuchin Characteristics
The Sierra de Perijá white-fronted capuchin monkey[1] (Cebus leucocephalus) is a species of gracile capuchin monkey native to Venezuela and Colombia.
It was formerly considered a subspecies of Humboldt's white-fronted capuchin. Still, it was reclassified as a distinct species by Rylands and Mittermeier in 2013 based on genetic studies by Jean Boubli.
Males have a head and body that vary between 37 and 40.7 cm (14.6 and 16.0 in) with a tail length of between 39.2 and 49.9 mm (1.54 and 1.96 in).
Sierra de Perijá white-fronted capuchins have a dark brown body with lighter hair on the ventral side (belly area) and around the face.
Their expressive faces are pink, with dark brown eyes and large nostrils above their mouths.
Their front and hind legs are roughly the exact sizes, which is considered an adaptation since they are more ground-traveling than other New World primates.
Its tail is semi-prehensile and fully covered in hair. Their fingers are short with pseudo-opposable thumbs, and they can move all their fingers independently of the others.

Sierra De Perijá White-Fronted Capuchin Facts
The Sierra de Perijá white-fronted capuchin range is restricted to northwestern Venezuela and northern Colombia forests.
They have strong jaws and teeth. Male canines are about 16 percent larger than females. In fact, their tooth enamel is the thickest of any non-human primate, allowing these tiny creatures to pierce the hard shells of palm nuts.
Unlike spider monkeys, Sierra de Perijá white-fronted capuchin monkeys cannot hang by their tails, which cannot support their body weight. Instead, they use it for support, often wrapping it around a branch as they search for balance food.
The size of their brain is large compared to the size of their body.
Like all capuchin monkeys, they exhibit self-anointing behavior: rubbing plants, mud, or insects on their bodies.

Cite This Page