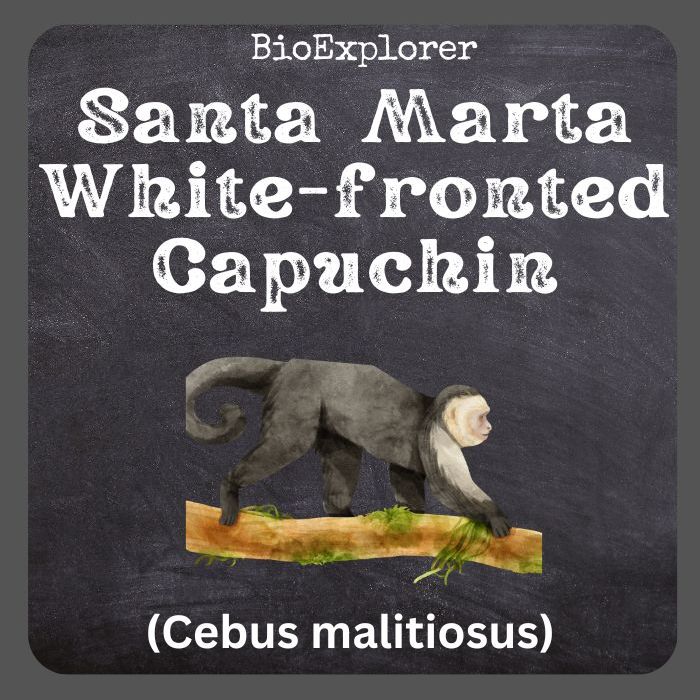 | | | | | |
| --- | --- | --- | --- | --- |
| Animalia | Primates | Cebidae | Cebus | Cebus malitiosus |

Common Name: Santa Marta White-fronted Capuchin
Taxonomy Classification Year: 1909
Monkey Size: 45.7 to 45.7 cm (18.0 to 18.0 in)
Skin Color(s): Dark brown
Habitat: Forest
Diet: Omnivorous
Native Countries: Colombia

Santa Marta White-fronted Capuchin Distribution

Santa Marta White-fronted Capuchin Characteristics
The Santa Marta white-fronted capuchin[1] (Cebus malitiosus) is a species of gracile capuchin monkey native to Colombia.
It was previously considered a subspecies of Cebus albifrons or a synonym of the Columbian white-faced capuchin (Cebus capucinus). Still, Mittermeier and Rylands upgraded it to species status in 2013, following earlier work by Hershkovitz, Rylands, Cooper, and Hernandez-Camacho.
The Santa Marta white-fronted capuchin is characterized by a rather dark brown coloring with yellowish shoulders over most of the body.
A pale area on the dorsal area is less extensive, and upper parts and limbs are paler than in Hypoleucus.
Cap Prout's is brown, mid back is cinnamon brown, and forearm and foreleg are indistinguishable from the back and sides of the body.
Abdominal and chest hair is tan to reddish, cinnamon, and silver.

Santa Marta White-Fronted Capuchin Facts
The Santa Marta white-fronted capuchin range is restricted to forests near northern Colombia's northwestern base of the Sierra de Santa Marta.
These white-fronted capuchins are polygamous. The male mounts the female, grabs her legs with his hind legs, and copulates with her for a few minutes.
Santa Marta white-fronted Capuchins are found in large groups of up to 35 individuals.
Adult males are remarkably tolerant of each other in a group but are very aggressive towards males in other groups.
Perhaps the most important representation is the branch-break behavior performed by all group members. For example, even infants break small branches (or twigs) and knock them to the ground.

Cite This Page