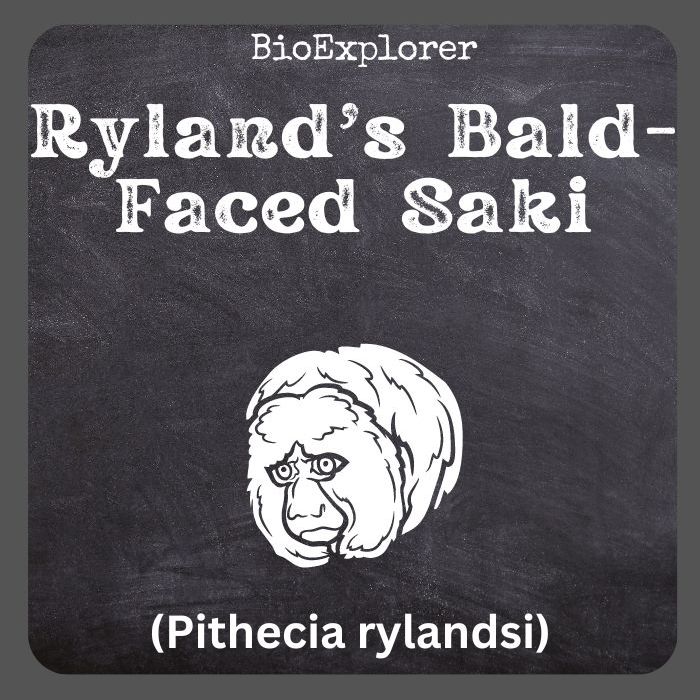 | | | | | |
| --- | --- | --- | --- | --- |
| Animalia | Primates | Pitheciidae | Pithecia | Pithecia rylandsi |

Common Name: Ryland's Bald-Faced Saki
Taxonomy Classification Year: 2014
Monkey Size: 41 to 41 cm (16 to 16 in)
Skin Color(s): Grizzly white
Habitat: Rainforest
Diet: Omnivorous

Ryland's Bald-Faced Saki Distribution

Ryland's Bald-Faced Saki Characteristics
The Ryland's Bald-Faced Saki[1] (Pithecia rylandsi) is a controversial species of saki monkey, a New World Monkey species. It is one of the largest sakis.
This species is easily distinguished from all other sakis by its large size, black, bare face, and highly whitish-gray hair, often making older males appear almost entirely white.
Young males are black with medium gray.
Adult females are nearly as intensely white as males, and their forehead hair may form white "fringes".

Ryland's Bald-faced Saki Facts
This South American monkey was named after Brazilian primatologist Anthony Rylands, a former professor of vertebrate zoology at the Federal University of Minas Gerais and founding editor of the journal Neotropical Primates.
This species is believed to be threatened by deforestation for livestock and poaching, so its population is declining.
Ryland's Bald-Faced Sakis has a prominent hairline above the eyes, giving the impression of "bangs".
These monkeys are known for being solitary due to their calm nature and avoidance of humans.
They exhibit a specific type of frugivore, primarily feeding on unripe fruit seeds.

Cite This Page