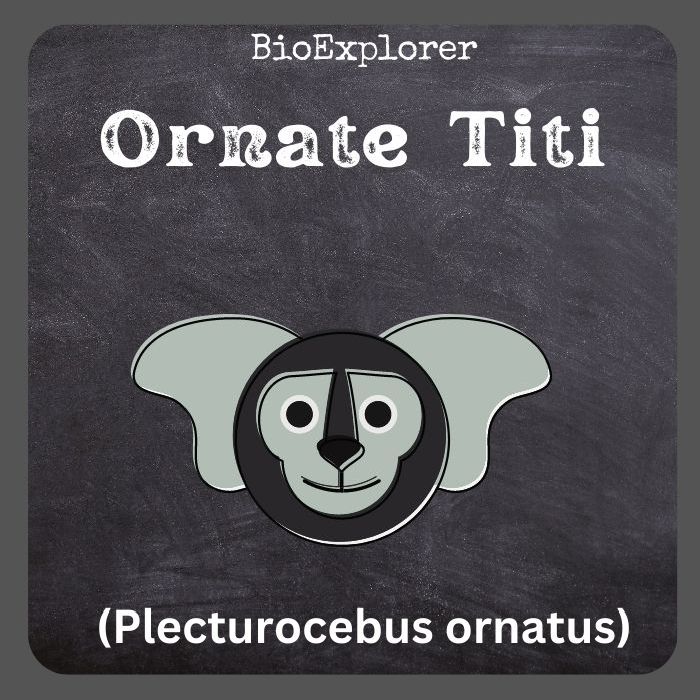 [shemedia_ad type="medrec"]
| | | | | |
| --- | --- | --- | --- | --- |
| Animalia | Primates | Pitheciidae | Plecturocebus | Plecturocebus ornatus |

Common Name: Ornate Titi
Taxonomy Classification Year: 1866
Monkey Size: 63.3 to 75.2 cm (24.9 to 29.6 in)
Skin Color(s): Gray, brown, black, and white
Habitat: Forest
Diet: Herbivorous
Native Countries: Colombia

Ornate Titi Distribution

Ornate Titi Characteristics
The ornate titi[1] (Plecturocebus ornatus) is a species of titi and the smallest member of the Pitheciidae family, including the uakari and saki monkeys.
Ornate titis' fur covers their entire body except for their face, which is covered in tiny, short hairs.
Gray, brown, black, and white streaks of hair alternate with its luxurious gray coat. Also known as agouti, this color combination continues to the tail.
Their thick, dense, fluffy fur makes it difficult to see their small faces until they stare at you with bright brown eyes.
Although their faces may appear stoic and expressionless, they can clarify their intentions through their facial expressions.
Ornate titis have white tufts on their ears and a band of white fur on their foreheads. A unique feature is the burnt red-orange hair on the neck, which looks like a small beard.
Their chests, arms, legs, and lower parts are the same burnt orange color.

Ornate Titi Facts
Ornate titis have a monogamous mating system. A couple has a strong bond and stays together for years.
They prefer to stay together as much as possible and follow each other throughout the day.
Ornate titis are very terrestrial and tend to inhabit lower, denser rainforests.
When maneuvering through their home range, they use all four limbs (known as quadrupedalism) and sporadically leap short distances when necessary.
Like other titi monkeys, the ornate titi is diurnal, rising early in the morning and staying awake and active until sunset.

Cite This Page