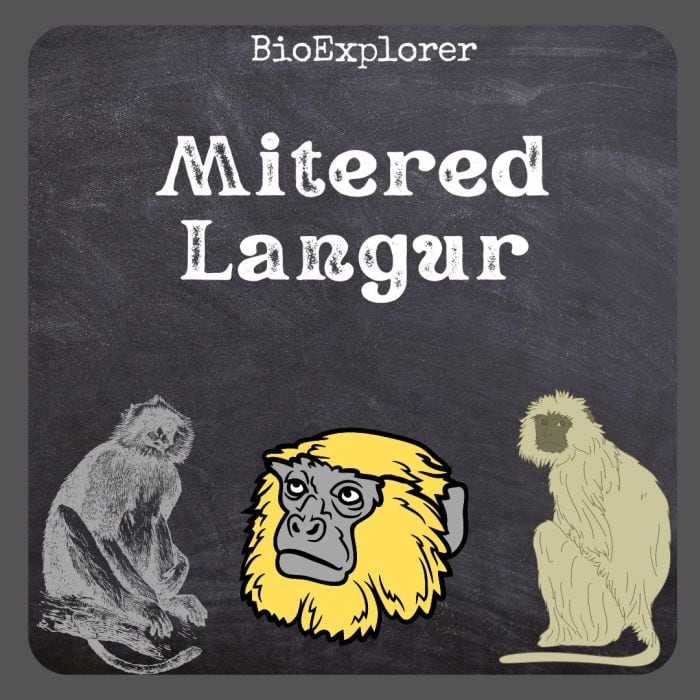 | | | | | |
| --- | --- | --- | --- | --- |
| Animalia | Primates | Cercopithecidae | Presbytis | Presbytis mitrata |

Common Name: Mitered Langur
Taxonomy Classification Year: 1821
Monkey Size: 42 to 57 cm (17 to 22 in)
Skin Color(s): Gray or brown
Habitat: Rainforest
Diet: Herbivorous
Native Countries: Indonesia

Mitered Langur Distribution

Mitered Langur Characteristics
Mitered langur[1] (Presbytis mitrata) is a monkey species in the Cercopithecidae family.
The mitered langur has brown or gray fur on its back, darker, while it is even darker on its belly and the arms, legs, and tail.
Its face is grey, with white ruffs on its cheeks and a white crown surrounded by a black bow on the head.
The length of the head and body is between 42 centimeters (17 in) and 57 centimeters (22 in). The tail size can grow up to 82 cm (32 in).
Mitered langur's average weight is about 5.9 kilograms (13 lbs).

Mitered Langur Facts
Mitered langurs live in groups of 1 male with 5 to 17 females. The single male in the group mates with the females in the group.
Harem males chase away solitary males from females, usually confining them to a wooded area with few resources.
Females determine the movement of their group and are responsible for encounters with another group.
Mitered langurs are tree dwellers. They spend most of their time in the forest undergrowth, hopping between small tree supports, and are mainly diurnal.
Male species make their territory known to other groups in the area with loud calls and distinctive leaps.

Cite This Page