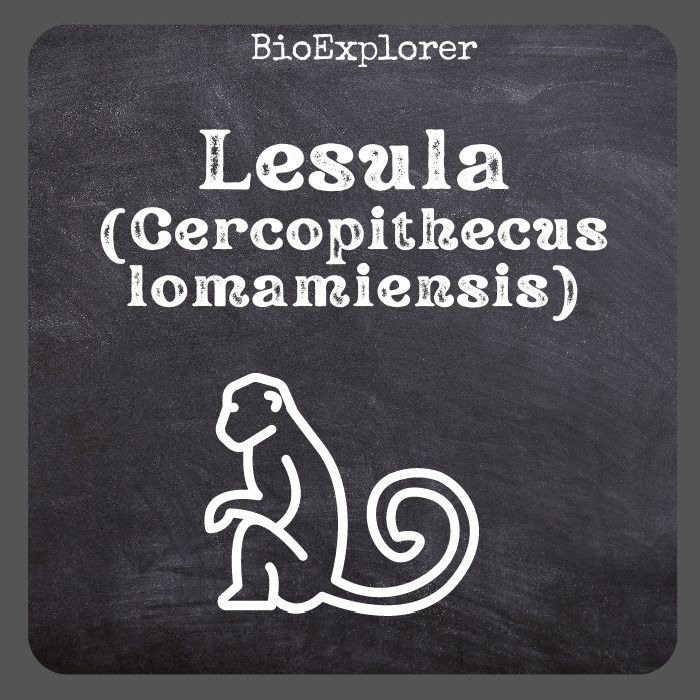 | | | | | |
| --- | --- | --- | --- | --- |
| Animalia | Primates | Cercopithecidae | Cercopithecus | Cercopithecus lomamiensis |

Common Name: Lesula
Taxonomy Classification Year: 2012
Monkey Size: 40 to 65 cm (15.75 to 25.59 in)
Skin Color(s): Blonde
Habitat: Rainforest
Diet: Herbivorous
Native Countries: Democratic Republic of Congo

Lesula Distribution

Lesula Characteristics
The lesula[1] (Cercopithecus lomamiensis) is a species of Old-World monkey occurring in the Lomami Basin of the Congo.
Slender, medium-sized Lesulas feature a strong color contrast in their coat pattern, with blonde fur along the upper chest, throat, and chin.
Black fur covers the lower abdomen and ventral region, fading to silver-gray tones on the thigh's proximal half.
Amber fur grows at the proximal end of their long, thin tails, gradually darkening to black towards the tip.
The fur on the shoulders and long front legs is black. Their face, ears, and eyelids are bare and range in color from pinkish gray to brown.
Lesulas and its sister species, Cercopithecus hamlyni, are distinguished from all other species in the genus Cercopithecus by their vertical nasal stripe, skull shape, and facial mane.

Lesula Facts
This monkey is described as having human eyes and a blue bottom.
Lesulas are shy and semi-arboreal, traveling and resting on the ground and in the treetops.
They travel alone, in conspecific groups (usually 5 members or fewer), or small multi-specific assemblages with other primates.
Lesulas communicate vocally, with the frequency of vocalizations increasing dramatically just before sunrise, from 5:45 to 6:30 a. m.
Upon contact with humans, individuals often fled.

Cite This Page