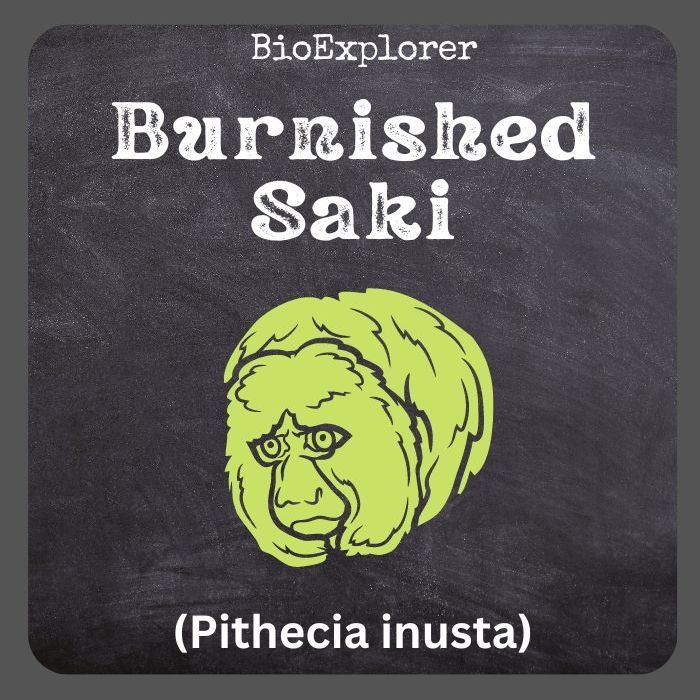 | | | | | |
| --- | --- | --- | --- | --- |
| Animalia | Primates | Pitheciidae | Pithecia | Pithecia inusta |

Common Name: Burnished Saki
Taxonomy Classification Year: 1823
Monkey Size: 30 to 50 cm (12 to 20 in)
Skin Color(s): Burnt tan
Habitat: Rainforest
Diet: Omnivorous
Native Countries: Peru, Brazil

Burnished Saki Distribution

Burnished Saki Characteristics
The Burnished saki[1] is a species of saki monkey, a species of New World Monkey. It is located in central Peru and a small part of adjacent Brazil.
Always needing a haircut, the Burnished saki is a small primate with a dark, woolly coat.
Their partially bald face is surrounded by a thick fringed hairstyle reminiscent of their moniker, a monk.
Adult individuals have their faces covered with burnt light brown fur.
It is distinguished from Pythecia monachus by the facial coloration of the juveniles; juvenile males have densely flattened white hairs, and females have gray-black or tan rosts that fade to white, as opposed to the bicolored brown-white rosts of Pythecia monachus.
Their short hind limbs are designed for fast long-distance jumps, perfect for life in trees. The tail of a Burnished saki is as thick and hairy as the rest of the body.
These South American primates' tails are not prehensile and often sink into the edges of branches like a particularly dirty feather duster.

Burnished Saki Facts
The species was described by Johann Baptist von Spix in 1823 but was later merged with the monk saki (Pythecia monachus). However, a 2014 study revived it as a separate species based on differences in the fur coloration of juvenile individuals.
These Peruvian monkeys are shy and cautious animals entirely arboreal, high up in trees and often descending to lower levels but not to the ground.
Usually moves on all fours but can often walk upright on a large branch and jump over gaps.
The female gives birth to one young per breeding season, with an average family size of 4.5.
This species is believed to be threatened by deforestation and poaching; therefore, its population is in decline.

Cite This Page