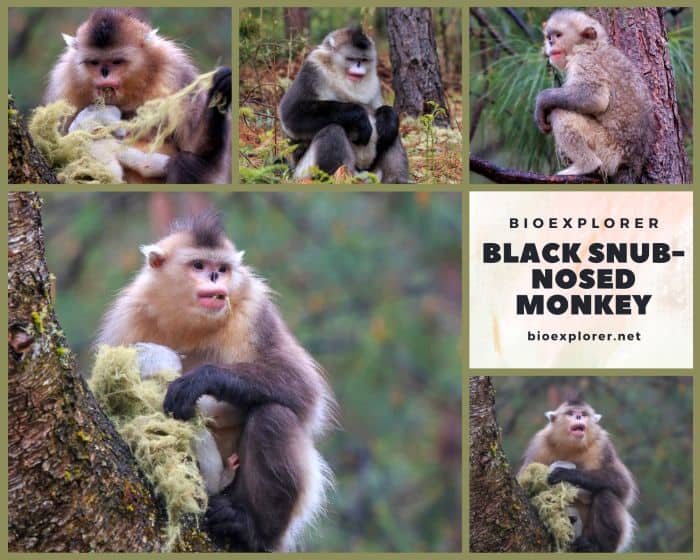 | | | | | |
| --- | --- | --- | --- | --- |
| Animalia | Primates | Cercopithecidae | Rhinopithecus | Rhinopithecus bieti |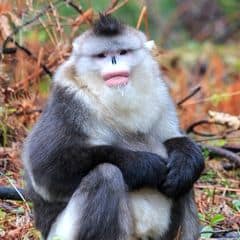 Common Name: Black-and-white snub-nosed monkey
Taxonomy Classification Year: 1897
Monkey Size: 74 to 83 cm (29.13 to 32.68 in)
Skin Color(s): Black
Habitat: Forest, mountains
Diet: Herbivorous
Native Countries: China

Black-and-white snub-nosed monkey Distribution

Black-and-white snub-nosed monkey Characteristics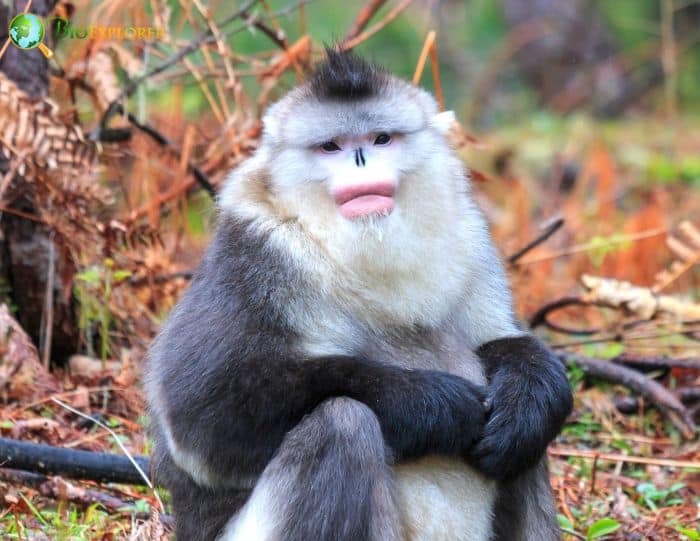 The black-and-white snub-nosed monkey[1], also called the Yunnan snub-nosed monkey, is a large black-and-white primate living only in Yunnan Province in southern China, where it is known to the local population as the Yunnan golden-haired monkey.
Males weigh between 15 and 17 kg, females between 6.5 and 10 kg.
They share characteristics with other snub-nosed monkeys, concave nostrils and thick lips.
However, these monkeys are the only black-and-white snub-nosed monkeys with long hair.
Males have distinctive crowns of dark hair that hang forward and form a crest about 97 to 120 mm (3.7 to 4.7 in) long.
Their faces are white with pink lips and black noses. The fur on the arms, back, and lower legs are black, with white tufts on the elbows.
A whitish-gray fur covers its cheeks to the ventral side and covers the abdomen, neck, and thighs.

Black-and-white snub-nosed monkey Facts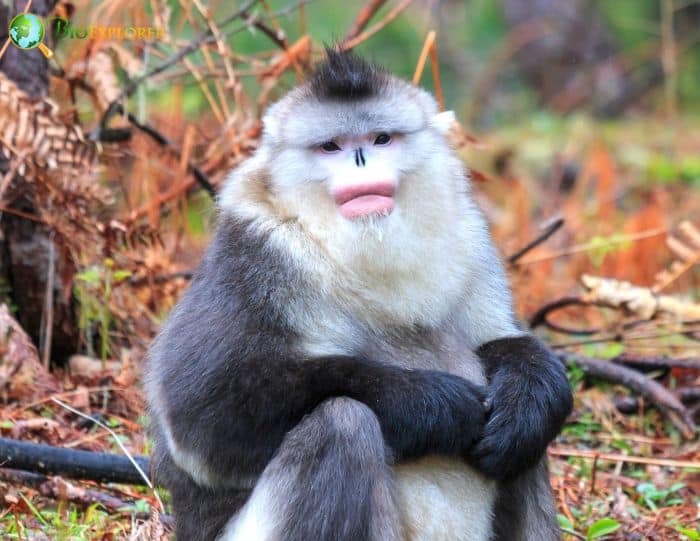 The species gets the "snub-nosed" part of its name due to its lack of nasal bones. This is considered its most distinctive feature.
Black-and-white snub-nosed monkeys are the most sexually dimorphic snub-nosed monkeys, with males being 50 percent larger than females.
Groups of black snub-nosed monkeys are relatively calm, communicating primarily through eye contact and gestures when foraging and resting.
Flocks of black snub-nosed monkeys move in single file to new resting and feeding areas. They move daily and seasonally in response to environmental variables such as slope, temperature, and sunlight.
Compared to males, females and young black snub-nosed monkeys are not as black and have shorter hair on their thighs, crowns, and backs.

Cite This Page