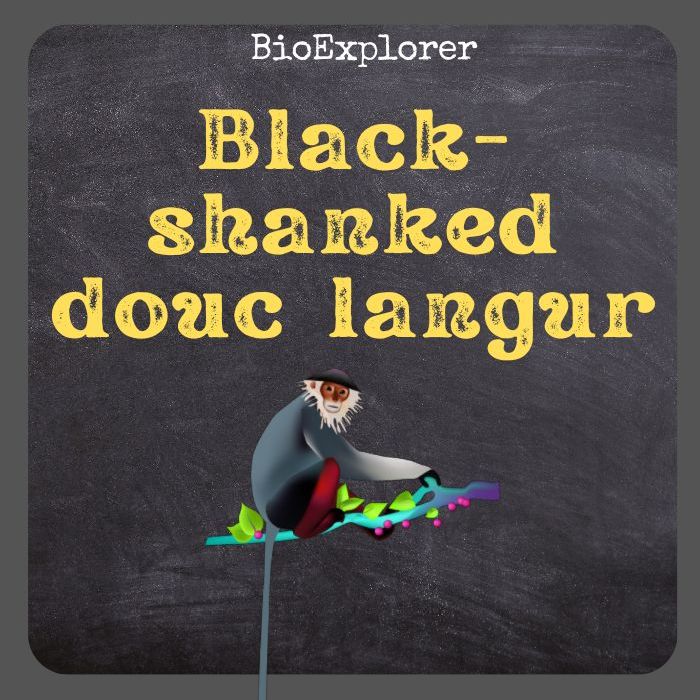 | | | | | |
| --- | --- | --- | --- | --- |
| Animalia | Primates | Cercopithecidae | Pygathrix | Pygathrix nigripes |

Common Name: Black-shanked Douc
Taxonomy Classification Year: 1871
Monkey Size: 55 to 63 cm (21 to 25 in)
Skin Color(s): Light gray
Habitat: Rainforest
Diet: Herbivorous
Native Countries: Cambodia, Vietnam

Black-shanked Douc Distribution

Black-Shanked Douc Langur Characteristics
One of three species of Douc langur (the gray-footed and the red-footed are the other two), the black-shanked douc langur[1] is only found in southwestern Vietnam and eastern Cambodia, inhabiting primary monsoon forests as well as secondary and tropical forests.
Like the gray-footed and red-footed douc langurs, nature has given the black-shanked douc langur a distinctive appearance and an almost odd beauty.
Dark almond-shaped eyes and a heart-shaped hairless face characterize them.
But rather than a golden face like that of the red- and gray-footed douc, nature used a different brush to paint the face of the black-shanked douc langur, painting it blue-gray and drawing yellow rings around the eyes.
Long white whiskers frame their face and tickle their chin. Their feet and hands are black.

Black-Shanked Douc Langur Facts
Active during the day, black-shanked douc langurs are diurnal. Black-shanked douc langurs spend most of their time in the forest canopy (which makes them arboreal).
Like other douc langurs, these species leap from one branch to another, pushing off with their legs and landing feet-first on the next branch.
They live in groups of multiple males and females, with females exceeding males. The group size is affected by human disturbances such as hunting and a habitat's food sources.
Black-shanked douc langurs are very social primates. They travel together, play together, and care for one another.
When one foraging party encounters another during their travels, opposing males threaten each other by slapping their thighs with their hands.

Cite This Page