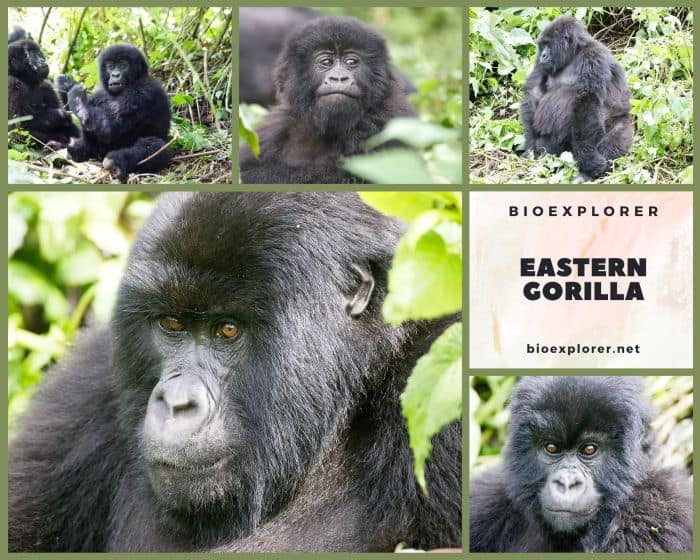 | | | | | |
| --- | --- | --- | --- | --- |
| Animalia | Primates | Hominidae | Gorilla | Gorilla beringei |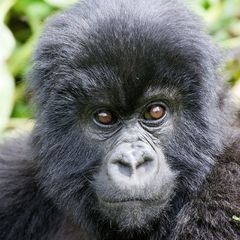 Common Name: Eastern Gorilla
Taxonomy Classification Year: 1903
Monkey Size: 150 to 185 cm (59.06 to 72.83 in)
Skin Color(s): Blue-black to brownish-grey
Habitat: Rainforest, mountains
Diet: Omnivorous
Native Countries: Democratic Republic of Congo, Rwanda, Uganda

Eastern Gorilla Distribution

Eastern Gorilla Characteristics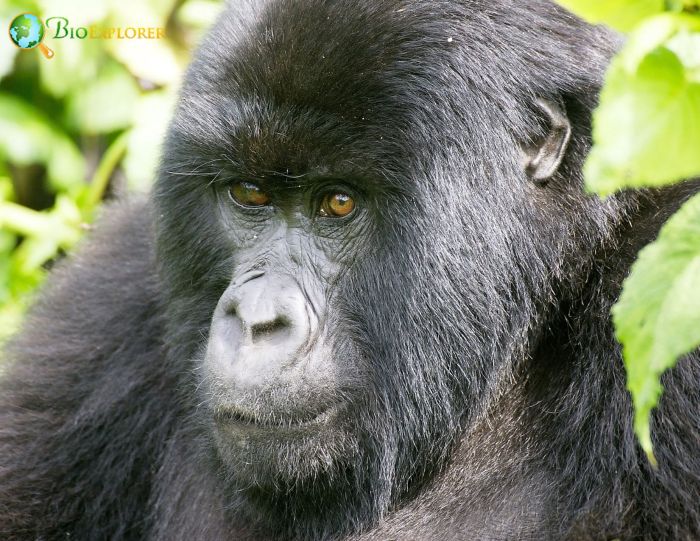 The eastern gorilla[1] is an endangered species of the Gorilla genus and the largest living primate, with an average length of 150 cm for females and 185 cm for males.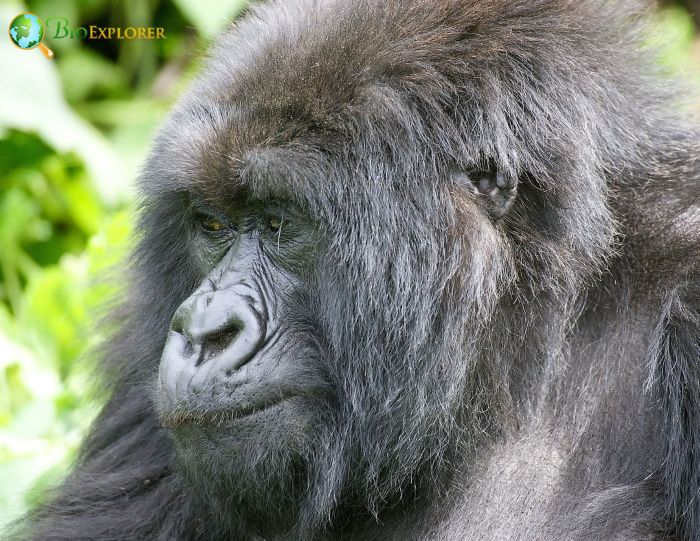 They are very sexually dimorphic, with females weighing between 70 and 114 kg and males weighing, on average 160 kg.
There are two sub-species of Eastern Gorilla: mountain gorilla (G. b. beringei) and eastern lowland gorilla (G. b. graueri).
They have a stocky body, massive heads, long muscular arms, and short legs, and males have large, sharp canines.
The eastern gorilla's fur is long and silky, ranging from bluish-black to brownish-gray.
Adult males develop a large patch of gray or silver fur on their backs, giving them the alternative name silverbacks.
Eastern gorillas are distinguished from other gorillas by having shorter arms, a smaller nose, larger jaws and teeth, and longer hair.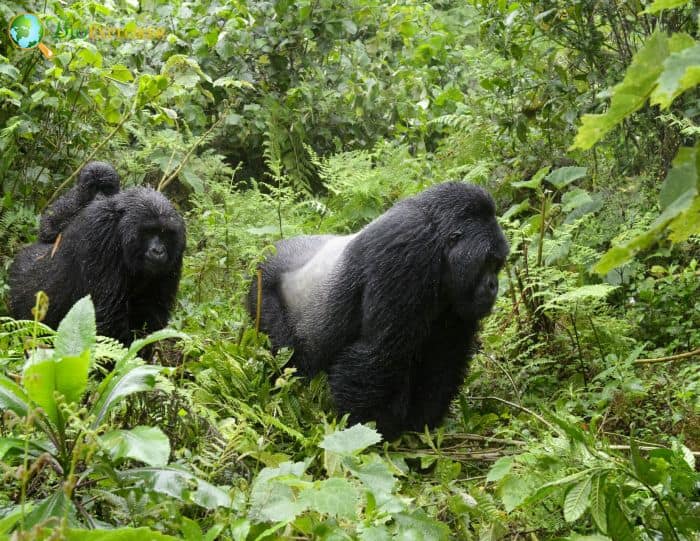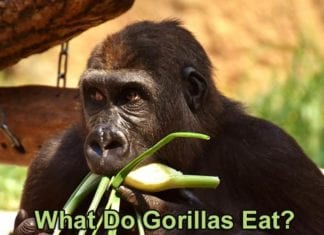 Gorillas are warm-blooded mammals occupy the forest floor layer of the tropical rainforests. What do gorillas eat? Are gorillas herbivores or omnivores? Explore the answers to all these questions & more.

What Do Eastern Gorillas Eat?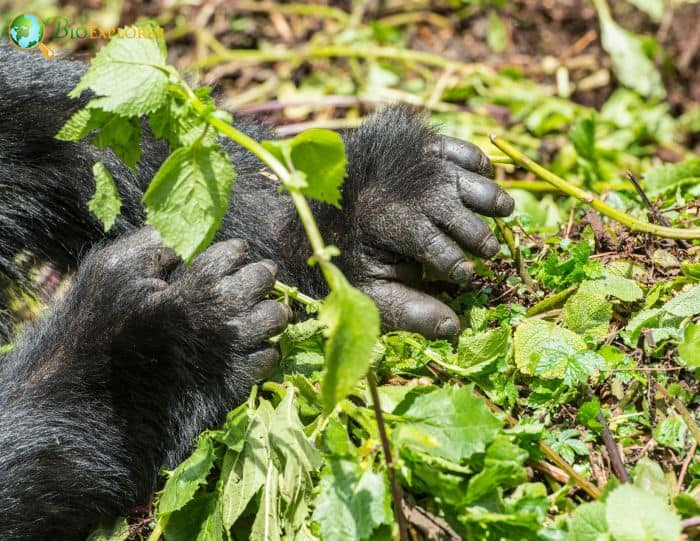 The Eastern Gorilla consumes these animals and plants including[¶]:
Tail Grape (Artabotrys)
Forest Newtonia (Newtonia buchananii).
Chinese Banyan (Ficus thonningii).
St. Johnswort (Hypericum)
Fig (Ficus)
Lemonwood (Xymalos monospora)
Ceylon Spinach (Basella alba).
Aframomum (Aframomum)
Mistletoe (Viscum)
Lyre Gurnard (Piper)
Strawflower (Helichrysum)
Blackberry (Rubus)
Treebind (Cissus)
Touch-Me-Not (Impatiens)
Goldenleaf (Chrysophyllum)
Boarwood (Symphonia globulifera)
African Mammee-Apple (Mammea africana).
Urera (Urera)
Persimmons (Diospyros)
Treefern (Cyathea)
African Breadfruit (Treculia africana).
Cane (Arundinaria)
Rattlebox (Crotalaria)

Eastern Gorilla Facts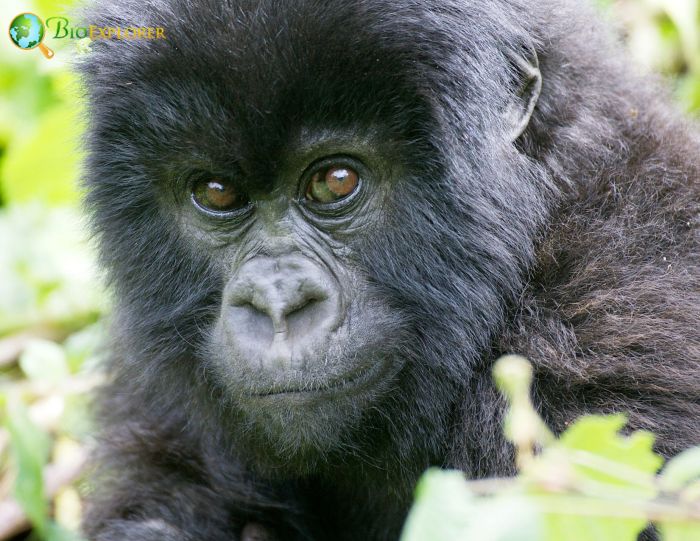 Eastern gorillas live in stable and cohesive family groups led by a dominant silverback male.
They tend to have larger groups than their western relatives, comprising up to 35 individuals.
Males defend their females and young by using their size in intimidating displays of attacks and breast thrusts.
They are diurnal, but most foraging occurs in the morning and late afternoon. At night, they build nests by folding in vegetation, typically on the ground.
These primates are essential in structuring plant communities as they feed on vegetation.

Cite This Page