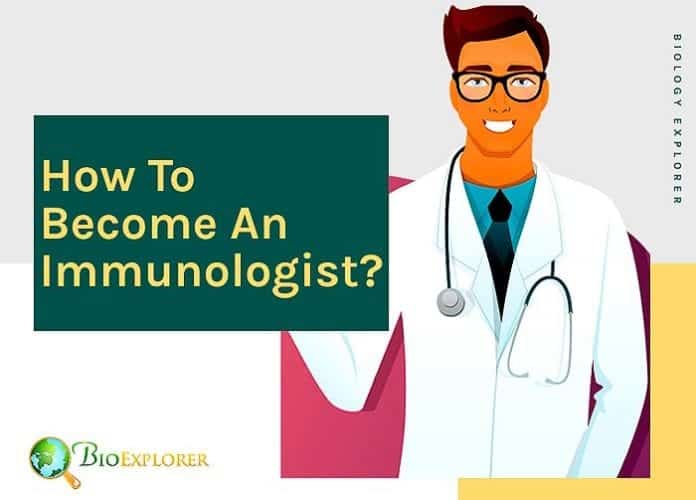 How To Become An Immunologist? There are two kinds of immunologists namely medical immunologists and research immunologists.
Medical immunologists are the specialists who treat the disorders of the immune system whereas Research immunologists also work with the immune system, however, mainly work in the lab and are studying the immune system as a whole, not just the immune system.
A person who is interested in immunology can choose one of the two tracks.
How to become an immunologist?
In order to practice medical immunology, the prospective student has to:
Complete a Bachelor degree with an emphasis on Life Sciences and Physical Sciences;
Maintain a high GPA and volunteer in some research facility or a medical establishment to gain experience;
Pass the Medical College Admission Test (MCAT);
Gain entry to the licensed medical school and complete the 4-year course of study, including the period of internship;
Pass the three-parts of the United States Medical Licensing Exam (USMLE).
Complete a 3-4-year residency in:

Internal medicine;
Pediatrics;
Combined internal medicine and pediatrics (med-peds);

Apply for a 2-year fellowship in Allergy/Immunology. One can join the following types of fellowships:

Pediatric allergy and immunology;
Clinical immunology;
Combined allergy and immunology program;

After completing the fellowship, one has to get certified by the American Board of Allergy & Immunology (ABAI), which is a conjoint board of the American Board of Pediatrics (ABP) and the American Board of Internal Medicine (ABIM).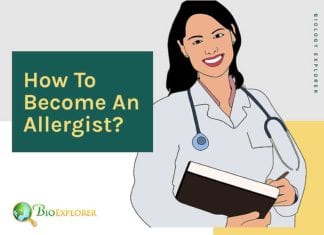 An allergist is a healthcare professional who is specializing in the treatment of allergies. Explore how to become allergist, expected salary & other info.
In order to become a research immunologist, a future scientist has to:
Complete a 4-year Bachelor degree in Biology, physiology, or microbiology;
Complete a 2-years Masters degree in Immunology;
Enter graduate school and achieve a Ph.D. in Immunology.

How much do immunologists make?
Depending on the career type and the place of employment, immunologists can earn from $224,859 to $293,217 per year.

Other Immunology Resources

Cite This Page
Key References
[1] – "A Rewarding Career in Allergy / Immunology | AAAAI". Accessed November 28, 2019. Link.
[2] – "How to Become an Immunologist | EnvironmentalScience.org". Accessed November 28, 2019. Link.
[3] – "Physician – Immunology/Allergy Salary | Salary.com". Accessed November 28, 2019. Link.
[shemedia_ad type="medrec"]