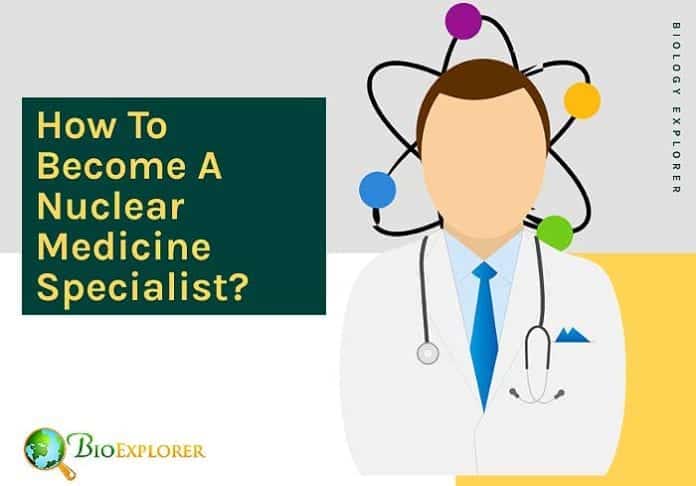 Nuclear medicine specialist (aka nuclear medicine physician) is a medical professional who diagnoses and treats illnesses (cancer) using radioactive materials.
How To Become A Nuclear Medicine Specialist?
In order to become a nuclear physician, one needs to:
Graduate from high school with a high GPA, especially in life sciences and math;
Complete a 4-year pre-med/Biology degree;
Volunteer in a medicine-related facility;
Pass the Medical college admission test (MCAT);
Enter a licensed medical school;
Complete the 4 years of required initial medical training. You would need one of the following degrees:

Doctor of Medicine, M.D.;
Doctor of Osteopathic Medicine, D.O;

Pass the three parts of the United States Medical Licensing Exam (USMLE);
Join a residency in nuclear medicine accredited by the Accreditation Council for Graduate Medical Education (ACGME);
The residency should include:

At least 2 years of preparatory training in internal medicine;
2 or more years of specialized training in nuclear medicine;
Research experience in:

therapy with unsealed sources;
radio-immunoassay techniques and imaging with single-photon emission computed tomography (SPECT);
positron emission radioisotopes.

Get training in allied disciplines:

medical nuclear physics;
radiopharmaceutical chemistry;
radiation biology.
Computer sciences;

Average Salary for Nuclear Medicine Specialist
Nuclear medicine specialists receive an average salary between $144,000 and $216,000 per year in the United States of America.

Cite This Page
Key References
"Nuclear Medicine Professions". Accessed December 06, 2019. Link.
"Physician – Nuclear Medicine Salary | Salary.com". Accessed December 06, 2019. Link.