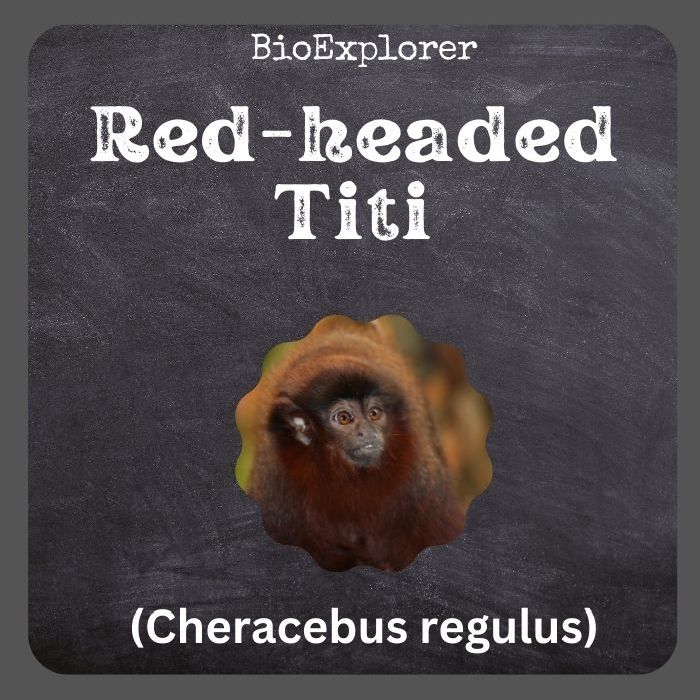 | | | | | |
| --- | --- | --- | --- | --- |
| Animalia | Primates | Pitheciidae | Cheracebus | Cheracebus regulus |

Common Name: Juruá Collared Titi
Taxonomy Classification Year: 1927
Monkey Size: 30 to 45 cm (11 to 17.5 in)
Skin Color(s): Reddish-brown
Habitat: Forest, rainforest
Diet: Omnivorous
Native Countries: Brazil

Juruá Collared Titi Distribution

Red-Headed Titi Characteristics
The red-headed titi[1] (Cheracebus regulus) (also known as Juruá Collared Titi) is a marmoset species of New World Monkey endemic to Brazil.
Initially, it was described as Callicebus regulus in 1927. The red-headed titi monkey's tiny body is draped in a long, soft coat of dark reddish-brown fur.
Two beautiful, expressive brown eyes light their pink triangular faces. Their nose is flat, and their nostrils are slanted.
Their mouths are small and house short canine teeth. Their ears are covered by the thick fur that surrounds its face.
A stripe of creamy white fur extends from the base of the ears to the throat. The Crown of its head is reddish, hence the common name.
Their tails are black or dark brown at the base, ending in reddish hues at the tip.

Red-Headed Titi Facts
Red-headed titi monkeys are diurnal and arboreal, waking up and sleeping with the sun.
These Juruá Collared titis are four-legged, usually found climbing or walking, and move between trees with short leaps.
Their tail is erect and never touches the ground or branch supports when walking.
They tend to occupy the lower levels of the forest, preferring the brush layers and undergrowth. However, they regularly climb into the lower canopy.
Red-headed titis live in small territorial groups of a closely bonded pair and their young.

Cite This Page