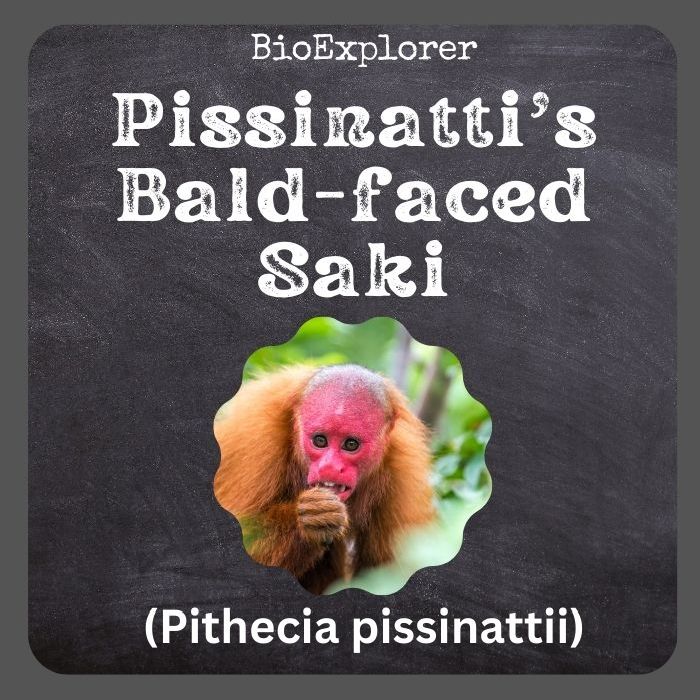 [shemedia_ad type="medrec"]
| | | | | |
| --- | --- | --- | --- | --- |
| Animalia | Primates | Pitheciidae | Pithecia | Pithecia pissinattii |

Pissinatti's Bald-faced Saki Distribution

Pissinatti's Bald-faced Saki Characteristics
Pissinatti's saki[1], or Pissinatti's bald-faced saki (Pithecia pissinattii), is a controversial species of saki monkey, a New World Monkey.
Both sexes have pink to dark red faces, with older females' faces tending towards black, and they also have black fur with a distinctive gray tinge.
Male species have a distinctive orange frill; younger males are very gray, but older males are not as gray.
Females have a lighter brown and grayer back.

Pissinatti's Bald-faced Saki Facts
This species is named after Alcides Pissinatti, a Brazilian veterinarian who pioneered the breeding of endangered Brazilian primates.
Pissinatti's saki is native to Brazil and is found south of the Solimões river between the Madeira and Purús rivers.
This species is believed to be threatened by deforestation and poaching, and its population is declining.
Pissinatti's sakis are very arboreal, rarely reaching the ground, and primarily use quadrupedal locomotion in the trees.
These sakis often use vocalizations to communicate with their peers and to defend territorial boundaries.

Cite This Page