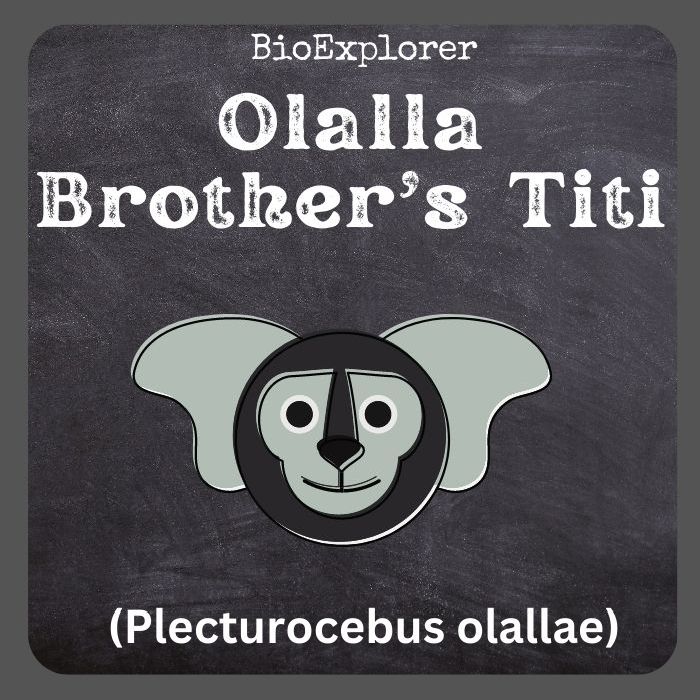 | | | | | |
| --- | --- | --- | --- | --- |
| Animalia | Primates | Pitheciidae | Plecturocebus | Plecturocebus olallae |

Common Name: Olalla Brother's Titi
Taxonomy Classification Year: 1939
Monkey Size: 33.3 to 33.3 cm (13.1 to 13.1 in)
Skin Color(s): Orange to brown-orange
Habitat: Rainforest
Diet: Omnivorous
Native Countries: Bolivia

Olalla Brother's Titi Distribution

Ollala Brothers' Titi Characteristics
The Ollala Brothers' titi (Plecturocebus olallae) is a marmoset species of New World Monkeys native to Bolivia.
There are about 110 to 150 individuals in the wild. The Ollala brothers' Titis are small monkeys averaging 333 mm in length.
Males are slightly larger than females, weighing an average of 991 grams, while females weigh 909 grams.
These titi monkeys have long tails that are non-prehensile. In addition, they have long hind legs with an intermembrane index of 75.
The chest and abdomen of the Ollala brothers' titi are entirely orange to orange-brown. At the same time, the dorsal surface and limbs range from gray to agouti.
The tail can be black or gray, with white tufts on the ears.

Ollala Brothers' Titi Facts
Like all Neotropical primates (except Aotus), the Ollala brothers' titi monkeys are highly diurnal.
They usually sleep together in a vine-covered tree, often returning to the same tree night after night.
Family groups are strongly territorial. A family group consists of an adult male and female and their young from several seasons.
Family members groom themselves frequently, especially at midday rest. Within a family group, a pair of Titi monkeys will often sit with their tails intertwined.
These animals are threatened by the rapid destruction of their habitat.

Cite This Page