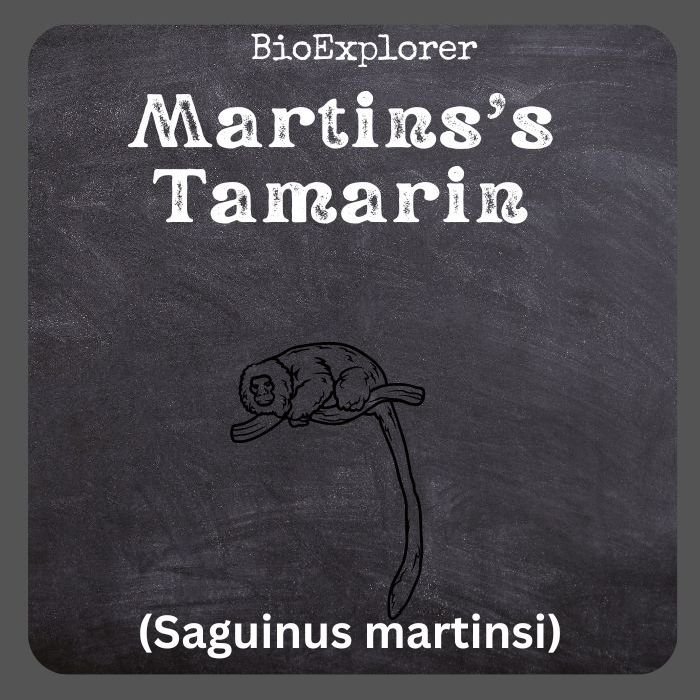 | | | | | |
| --- | --- | --- | --- | --- |
| Animalia | Primates | Callitrichidae | Saguinus | Saguinus martinsi |

Common Name: Martins' Bare-faced Tamarin
Taxonomy Classification Year: 1912
Monkey Size: 20.8 to 28.3 cm (8.19 to 11.14 in)
Skin Color(s): Brown, black, or silver
Habitat: Forest
Diet: Omnivorous
Native Countries: Brazil

Martins' Bare-faced Tamarin Distribution

Martins' Tamarin Characteristics
Martin's tamarin[1] (Saguinus martinsi), or Martin's ochraceous bare-faced tamarin, is native to Brazil.
Martin's ochraceous bare-faced tamarins are named for their black, hairless face and ears, which contrast with various coat colors such as silver, brown, or black, depending on the subspecies.
The body length varies from 20.8 to 28.3 cm, and the tail length from 33.5 to 42 cm.
Males and females weigh an average of 430 g.
These primates have non-opposable thumbs with claw-like digits except for the first finger of each toe.

Martins' Tamarin Facts
Locomotion is four-legged, jumping and hanging from branches.
They live in multi-male, multi-female family groups of 2 to 8, with one dominant female.
These tamarins are distinguished from other New World Monkeys by their small size and modified claws instead of nails on all digits except the big toe.
They can help pollinate and disperse seeds by eating the fruits, nectars, and pods of various plants and trees.
Martin's tamarin is considered Near Threatened as it is primarily threatened by ongoing deforestation.

Cite This Page