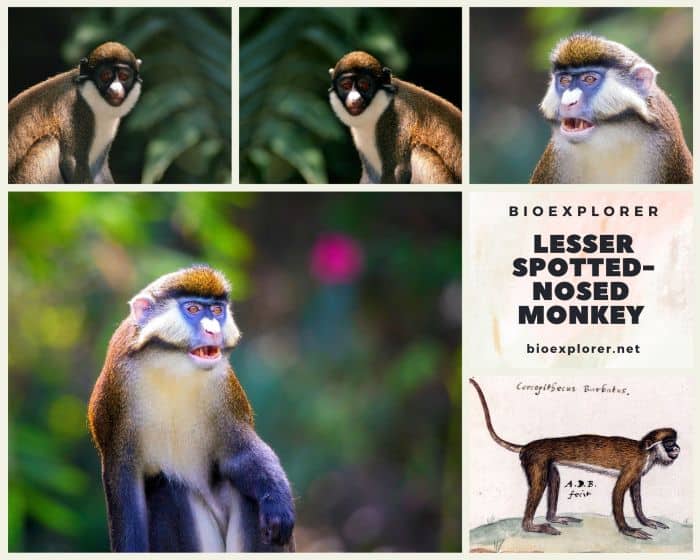 | | | | | |
| --- | --- | --- | --- | --- |
| Animalia | Primates | Cercopithecidae | Cercopithecus | Cercopithecus petaurista |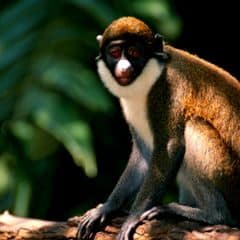 Common Names: Lesser Spot-nosed Monkey, Lesser Spotted Monkey, and Lesser White-nosed Monkey
Taxonomy Classification Year: 1774
Monkey Size: 100.58 to 115.82 cm (39.6 to 45.6 inches)
Skin Color(s): Olive green
Habitat: Forest, rainforest
Diet: Omnivorous
Native Countries: Ivory Coast, Ghana, Guinea, Liberia, Sierra Leone, Togo, Guinea-Bissau, Senegal

Lesser Spot-nosed Monkey Distribution

Lesser Spotted-nosed Monkey Characteristics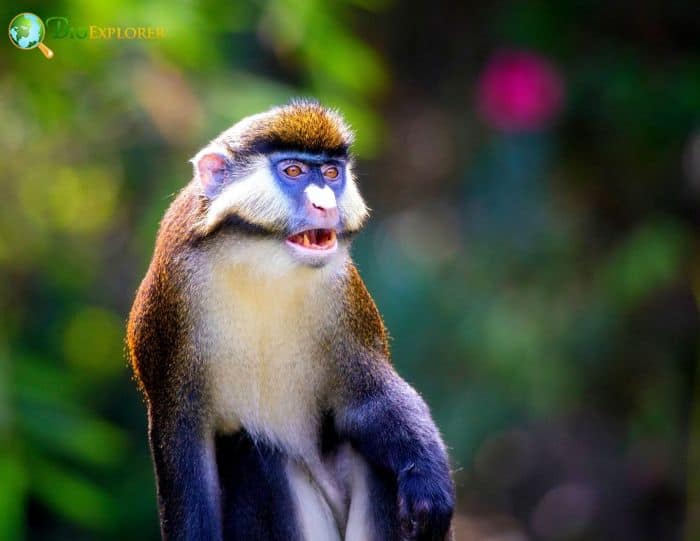 The lesser spotted-nosed monkey[1], lesser spotted monkey, or lesser white-nosed monkey (Cercopithecus petaurista) is a primate species in the Cercopithecidae family.
It is a species of small monkey with a long tail. The face is black, with a white patch on the nose.
A white stripe extends from the temple to below the ear. The Crown, back, outer limbs, and upper tail are olive or khaki.
In some species, the middle and lower back have a reddish tint. The individual hairs, especially on the Crown, are mottled with black and yellow.
The underparts, the limbs' inside, and the tail's underside are white or cream.

What Do Lesser Spot-nosed Monkeys Eat?
The Lesser Spot-nosed Monkey feeds on these food sources[¶]:
Fig (Ficus)
Chinalaurel (Antidesma)
Leaf Flower (Phyllanthus)
Hairy Rock Fig (Ficus glumosa).
Persimmons (Diospyros)
Ohia (Celtis zenkeri)
Guanabanilla (Ouratea striata)
Chinese Banyan (Ficus thonningii).
African Nutmeg (Pycnanthus angolensis).
Sacred Garlic Pear (Crateva religiosa).
Boleko Nut (Ongokea gore).
Raphia Palm (Raphia africana).
African Oil Palm (Elaeis guineensis).

Lesser Spotted-nosed Monkey Facts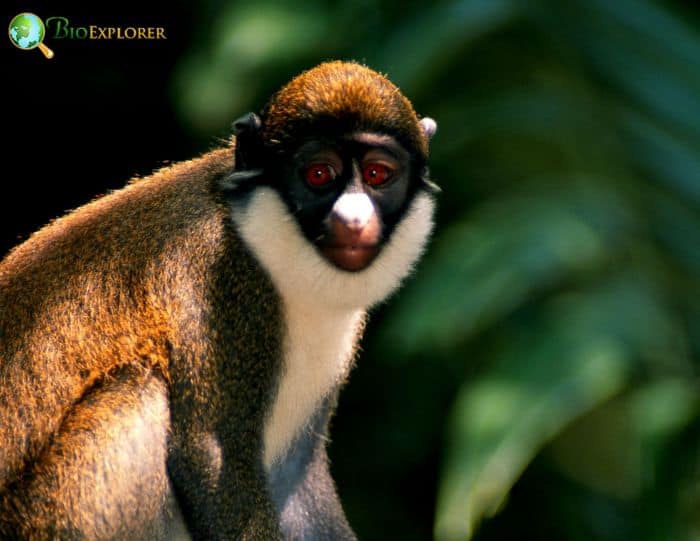 The lesser spotted-nosed monkey is diurnal, arboreal, and cryptic; it moves cautiously through the forest, rarely climbing to high treetops but mostly visiting undergrowth and vines.
It forms social groups of about 10 individuals, usually one adult male, several adult females, and their young.
It feeds on fruits, leaves, flowers, and insects, collecting its food and storing it in the cheek pouches.
Females give birth to single young after a gestation period of about 7 months. Therefore, breeding does not appear to be seasonal.
The group's male emits an alarm call similar to a cat's purr, distracting potential predators so that the rest of the group can seek refuge elsewhere.

Cite This Page