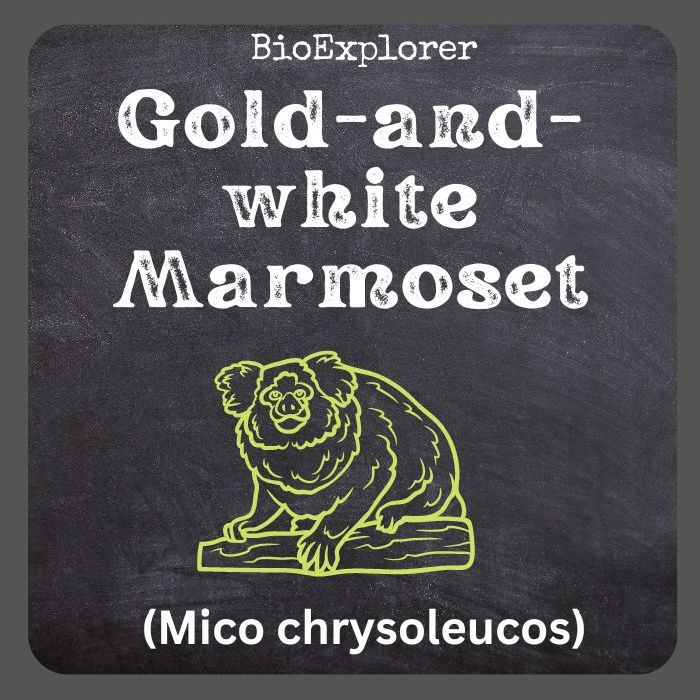 | | | | | |
| --- | --- | --- | --- | --- |
| Animalia | Primates | Callitrichidae | Mico | Mico chrysoleucos |

Common Name: Gold-and-white Marmoset
Taxonomy Classification Year: 1842
Monkey Size: 19 to 26 cm (7.48 to 10.24 in)
Skin Color(s): Pale yellow to orange
Habitat: Rainforest
Diet: Omnivorous
Native Countries: Brazil

Gold-and-white Marmoset Distribution

Gold-And-White Marmoset Characteristics
The gold-and-white marmoset[1], also called the golden-white tassel-ear marmoset, is a species of marmoset, a tiny monkey native to the Amazon rainforest in the eastern Amazonas state of Brazil.
Females and males of Mico chrysoleucos are monomorphic. However, as with other tamarins and marmosets, the species have tufts of hair that distinguish them from other primates.
The tufts have long white hair and are on the ears. Their fur is a pale yellow to orange. The face is pink.
In this species, like other tamarins and marmosets, the claws replace the nails of most of the toes, facilitating their scansorial mode of locomotion.
Gold-and-white marmosets don't have opposable thumbs; this also applies to other tamarins and marmosets but differs from most other primates.

Gold-And-White Marmoset Facts
Gold-and-white marmosets are highly social primates. They cohabitate in large extended family groups, typically between 8 and 20 individuals, depending on the availability of food sources.
These monkeys live mainly in trees and only occasionally descend to the forest floor to feed or move to another tree.
Like many other primates, gold-and-white marmosets enjoy playing with each other, mainly when they are young. Still, it remains an essential aspect of life well into adulthood.
This species uses calls to inform every member of their group of food sources, predators, and invasive tamarin groups.
Sprawling and chest rubbing are used for territorial purposes and to show the dominance of specific individuals in a group.

Cite This Page