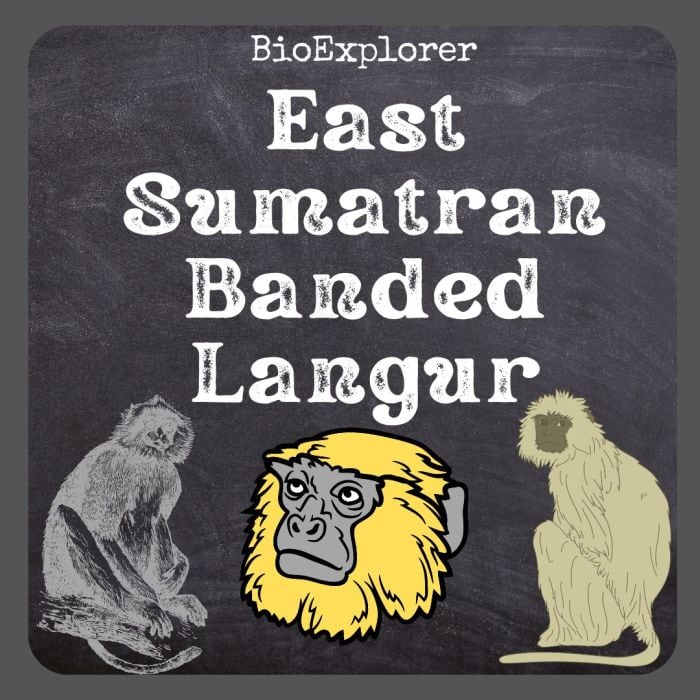 Common Names: East Sumatran Banded Langur, East Sumatran Banded Surili
Taxonomy Classification Year: 1908
Monkey Size: 43 to 61 cm (17 to 24 in)
Skin Color(s): Black
Habitat: Rainforest
Diet: Herbivorous
Native Countries: Indonesia

East Sumatran banded langur Distribution

East Sumatran Banded Langur Characteristics
The East Sumatran banded langur[1], also called the East Sumatran banded surili, is a monkey species in the Cercopithecidae family.
Slender limbs perfect for arboreal life and a long tail that project from the banded surili's lanky body.
The hair on their head tends to let loose in a mohawk configuration or triangular tuft. Dark eyes search through two white circles for fruit in the canopy.
The species is covered in dark fur coats that are surprisingly lighter on the belly, varying from bright white to duller gray stripes.
As with all colobine monkeys, whose young typically have lighter fur than adults, banded surilis infants have white or fawn-colored fur until they begin darkening at around 6 months.

East Sumatran Banded Langur Facts
In the Riau province of Sumatra, East Sumatran Banded langurs are primarily found in the fragmented landscape of pulp and rubber plantations.
Generally, these surilis are shy and alert creatures, rarely leaving the comfort of their canopies.
They are very social. However, their refusal to be closely studied or observed leaves their daily routines and habits mainly unknown to humans.
The species lives in groups of at least 3 individuals but no more than 20 individuals, with an average group size of about 11.
East Sumatran Banded langurs send out a distinctive alarm call whenever they sense danger. Researchers have compared its sound to the crackle of a machine gun.

Cite This Page