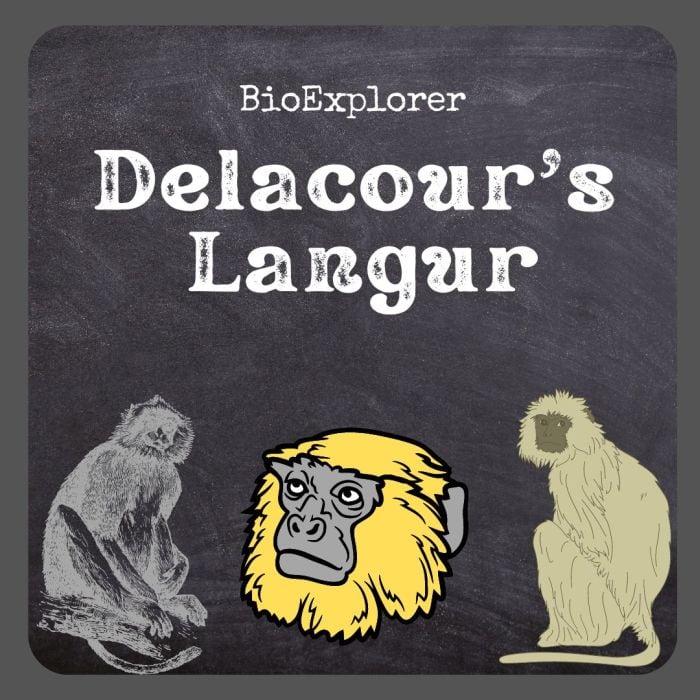 [shemedia_ad type="medrec"]
| | | | | |
| --- | --- | --- | --- | --- |
| Animalia | Primates | Cercopithecidae | Trachypithecus | Trachypithecus delacouri |

Common Name: Delacour's Langur
Taxonomy Classification Year: 1932
Monkey Size: 57 to 62 cm (22 to 24 in)
Skin Color(s): Black
Habitat: Rainforest
Diet: Herbivorous
Native Countries: Vietnam

Delacour's Langur Distribution

Delacour's Langur Characteristics
The Delacour's langur[1], also known as Delacour's Lutung, is an endangered Lutung native to northern Vietnam.
Delacour's langurs are known for the distinct patches of white fur on their thighs that contrast with their black fur.
Females also have a patch of white fur close to their genitalia. Like its relatives ​​in the Langur and Lutung families, the Delacour's langur has tufts of gray hair on its cheeks and a tuft on its head.
Like many of its relatives, baby Delacour's langur has bright orange fur for the first 4 months of life.
This odd feature has been the subject of several scientific theories and studies.
You might think bright colors would make the baby more visible to predators, but the color seems to help babies.

Delacour's Langur Facts
The species is named after Jean Théodore Delacour, a French-American ornithologist.
Delacour's langurs prefer rocky habitats and live in "karst forests, " basically tropical forests with limestone caves and cliffs.
They are among the few mammals referred to as trogloxenes – animals that spend most of their lives in burrows.
Any adult in the group can look around, quickly spot the infants and move to protect them when danger is detected.
The color patterns of the Delacour langur give the monkey its local name, "Vooc quan đùi trang", which is Vietnamese for "white pants langur".

Cite This Page