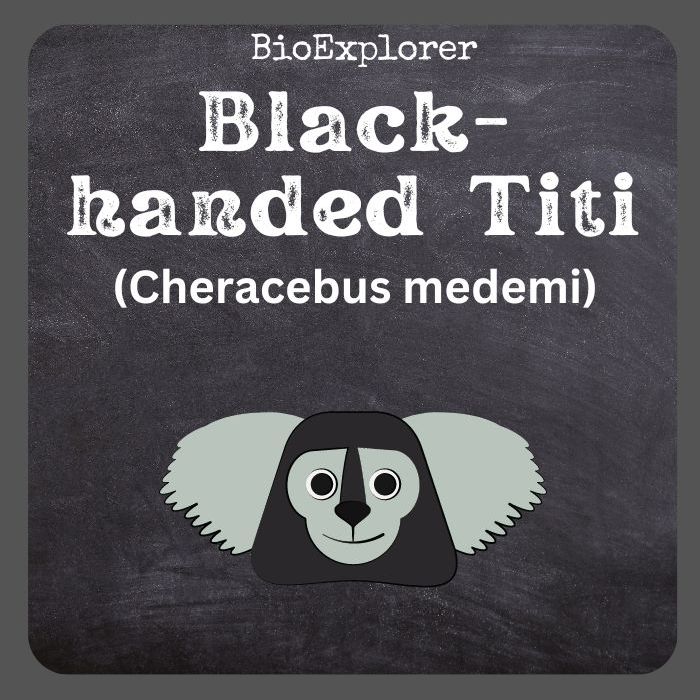 | | | | | |
| --- | --- | --- | --- | --- |
| Animalia | Primates | Pitheciidae | Cheracebus | Cheracebus medemi |

Common Name: Black-handed Titi
Taxonomy Classification Year: 1963
Monkey Size: 23 to 46 cm (9 to 18.11 inches)
Skin Color(s): Black
Habitat: Rainforest
Diet: Omnivorous
Native Countries: Colombia

Black-handed Titi Distribution

Colombian Black-handed Titi Characteristics
The Colombian black-handed titi[1] is a species of titi, a New World primate native to Colombia.
There is no prominent sexual dimorphism between the sexes, except that the male is slightly larger than the female, with a slight variation in color patterns.
The Colombian black-handed titi fundamentally differs from other monkeys in its family.
The animal's body is covered with black, soft, feathered fur and has a small round head.
The hands are also covered with this black fur, except for the neck and ears, which appear with a white or yellow stripe.

Colombian Black-handed Titi Facts
The Colombian black-handed titi is a diurnal and arboreal monkey that prefers to live in dense forests near water.
These Columbian monkeys can jump from branch to branch quickly and sleep at night but are also sleepy at midday.
The species is a monogamous animal, meaning it only has one mate.
The Colombian black-handed monkey lives in family groups consisting of parent monkeys and their young and 5-7 other monkeys.
These South American primates are territorial, and they articulate this by making sounds together when monkeys from other groups enter their own territory.

Cite This Page