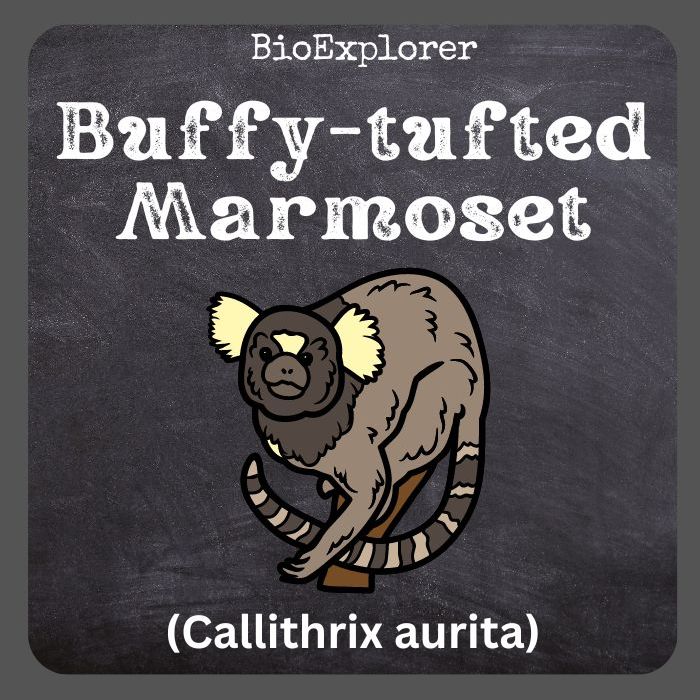 | | | | | |
| --- | --- | --- | --- | --- |
| Animalia | Primates | Callitrichidae | Callithrix | Callithrix aurita |

Common Name: Buffy-tufted Marmoset
Taxonomy Classification Year: 1812
Monkey Size: 14 to 19 cm (5.5 to 7.5 in)
Skin Color(s): Gray-black
Habitat: Forest, rainforest
Diet: Carnivorous
Native Countries: Brazil

Buffy-tufted Marmoset Distribution

Buffy-Tufted Marmoset Characteristics
The buffy-tufted marmoset[1], also called the white-eared marmoset or buffy-tufted-ear marmoset is a New World monkey living in the forests of the Atlantic coast of southeastern Brazil.
Marmosets are generally characterized by their small size, modified claws (instead of fingernails), and two molars.
These Brazilian primates don't have a prehensile tail. Instead, buffy-tufted-ear marmosets have hairy faces and powdery black fur covering their entire bodies.
Buffy-tufted marmosets have a short snout with a flat nose, round yellow eyes, and a drooping mouth that suggests perpetual discontent.
A blaze of orange-red hair covers their head, while long white tufts protrude from the ears (hence its nickname " buffy-tufted ear").
These New-World Monkeys have long fingers with claws instead of nails covered in dusty yellow-orange fur.

What Do Buffy-tufted Marmosets Eat?
The Buffy-tufted Marmoset's diet includes Fustictree (Maclura tinctoria) and Climbing Cactus (Epiphyllum phyllanthus)[¶].

Buffy-Tufted Marmoset Facts
Unlike most marmoset monkeys, buffy-tufted-ear marmosets are mainly insectivorous, although their diet is generally carnivorous.
Due to their small size and distinctive coloration, they are difficult to spot and observe, and their behavior is poorly understood.
Marmosets wake up 30 minutes after sunrise and eat intensely for an hour. The rest of the day is spent resting, socializing, and feeding.
Buffy-tufted-ear marmoset monkeys live in fluid groups of 4 to 15 individuals. The group's composition can include several men/several women, one man/several women, or a group of women/several men.
For long-range vocalizations, these primates emit staccato, repeating "tsiks" (short calls) or alarm calls to warn other group members.

Cite This Page