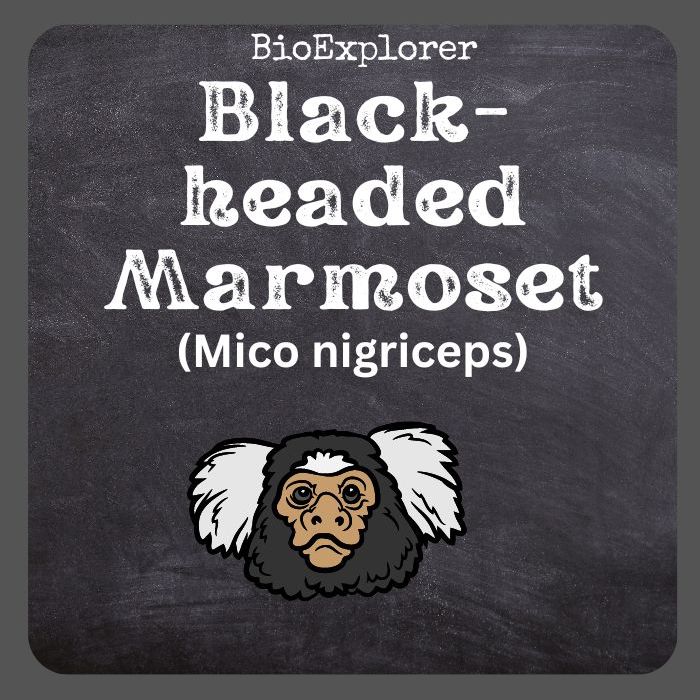 | | | | | |
| --- | --- | --- | --- | --- |
| Animalia | Primates | Callitrichidae | Mico | Mico nigriceps |

Common Name: Black-headed Marmoset
Taxonomy Classification Year: 1992
Monkey Size: 22 to 28 cm (9 to 11 in)
Skin Color(s): Silvery-gray
Habitat: Rainforest
Diet: Omnivorous
Native Countries: Brazil

Black-headed Marmoset Distribution

Black-Headed Marmoset Characteristics
The black-headed marmoset[1] is a species of marmoset native to Brazil. It inhabits Tropical Rainforests, mainly second growth and fringes.
Black-headed marmoset has the characteristic general color pattern of the Argentatus group.
The body is silvery gray, with the fur darkening on the ventral and posterior parts.
The mantle, arm, and belly have orange and tan tones. The back is brown, the hind legs are orange-brown, and the tail is black.

Black-Headed Marmoset Facts
Black-headed marmoset lives in large family groups of 4 to 15 individuals. Typically, only one female per group breeds during any given breeding season.
Groups defend home ranges of 10 to 40 ha, the size of which depends on the availability and distribution of food and secondary growth patches.
This marmoset inhabits the tropical rainforest with a preference for secondary growth and marginal habitats.
These Brazilian monkeys have morphological and behavioral adaptations for uprooting tree trunks, vines, and branches of some species to stimulate the flow of gum they eat.
Mico nigriceps is believed to be near threatened due to deforestation related to livestock keeping, agriculture, and the construction of road networks.

Cite This Page