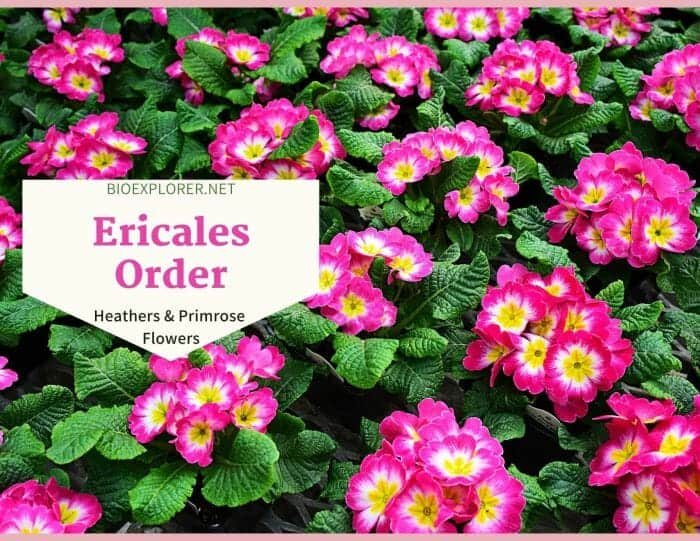 Ericales is a large order of flowering plants comprising many economically important species like Brazil nuts, kiwifruit, and primrose. Ericales is very diverse, involving chiefly trees and terrestrial shrubs that are cosmopolitan in distribution.
[shemedia_ad type="medrec"]
Some families of Ericales possess the ability for aluminum accumulation and exclusively form three kinds of mycorrhiza (ericoid, arbutoid, and monotropoid mycorrhiza). The typically bisexual flowers are pollinated via insects, bats, birds, and wind.
Ericales Families
Ericales with 22 families and 346 genera[1] are placed as a basal asterid with Cornales in the APG IV. The families of Ericales were previously placed in other orders. Morphological and molecular data support the circumscription of the order.
Families under Ericales involve:
Actinidiaceae (Kiwifruit family)
Balsaminaceae (Balsam family)
Clethraceae (Clethra family)
Cyrillaceae (Cyrilla family)
Diapensiaceae (Pincushion plant family).
Ebenaceae (Ebony family)
Ericaceae (Heath family)
Fouquieriaceae (Ocotillo family)
Lecythidaceae (Brazil nut family).
Marcgraviaceae (Monkey paws family).
Mitrastemonaceae (Mitrastemma family)
Pentaphylacaceae (East Asian Eurya family).
Polemoniaceae (Jacob's Ladder family).
Primulaceae (Primrose family)
Roridulaceae (Gorgon's dewstick family).
Sapotaceae (Sapodilla family)
Sarraceniaceae (American pitcher-plant family).
Sladeniaceae
Styracaceae (Silverbell family)
Symplocaceae (Sweetleaf family)
Tetrameristaceae (Tea-mangrove family)
Theaceae (Tea plant family).

Ericales Distribution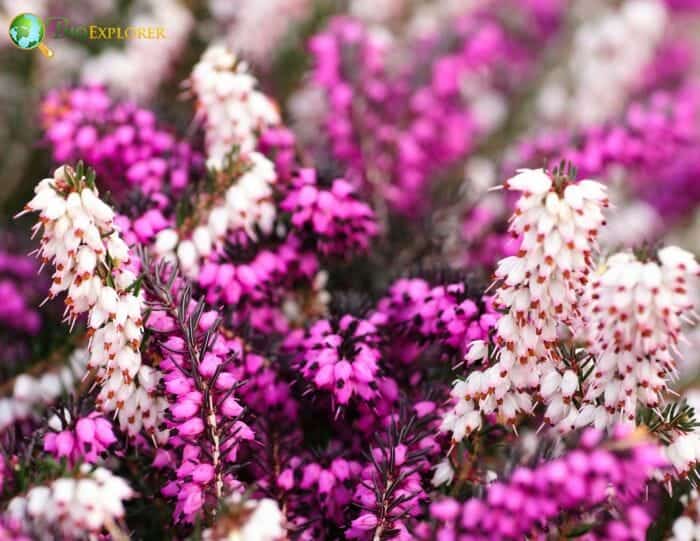 Ericales has a cosmopolitan distribution. Some species have limited distribution in the tropics. Other species are chiefly found in the Arctic or temperate regions. The Ericaceae (heath, rhododendron, and blueberry family) exist as dominant plants over huge areas in the northern hemisphere.

Ericales Characteristics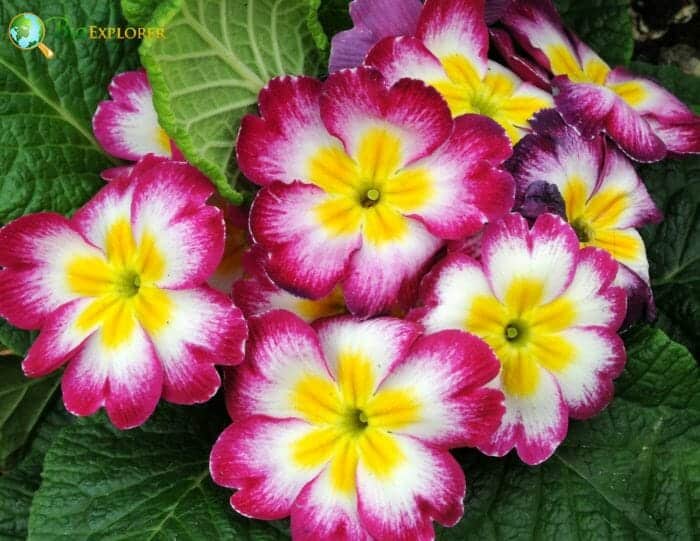 The members of Ericales share the following characteristics:
Plant type: Species involve trees, bushes, lianas, and herbaceous plants. Members are ordinary autophytic plants, carnivorous plants, and chlorophyll-deficient mycoheterotrophic plants. Members possess iridoidsWhat is iridoids?Iridoids are medicinal compound (aka metabolites) found in many plants; they possess neuroprotective, hepatoprotective, anti-inflammatory, antitumor, hypoglycemic, and hypolipidemic activities.. These are chemicals associated with plant protection against herbivores.
Roots: Plants in this order exclusively form three kinds of mycorrhiza (ericoid, arbutoid, and monotropoid mycorrhiza).
Stem: Most members are woody. Simple perforation plates are in the vessel elements.
Leaves: Most leaves are spiral. Other members are opposite or whorled. Basal pulvinusWhat is pulvinus?The enlarged base of a petiole or petiolule; functions in the movement of a leaf or leaflet; cushion-shaped; (E.g.: Plant pulvinus can be observed in Touch-me-not plant (mimosa pudica) where the leaf section has a thickening base) is sometimes present. They vary in shape; linear, ericoid, broad, or relatively flat. Generally, they are coriaceousWhat is coriaceous?A botanical term defines plant leaves having the texture of leather or being rough.. They are exstipulateWhat is exstipulate?Without stipules; Stipule is a small structure of appendage found at the base of some leaf petioles..
Flowers and inflorescences: The flowers are primarily bisexual, actinomorphicWhat is actinomorphic?A characteristic of the flower exhibiting radial symmetry such as starfish or Daisy flower; capable of being bisected into identical halves along more than one axis, forming mirror images. Opposite is Zygomorphic., or zygomorphicWhat is zygomorphic?A characteristic of the flower having only one plane of symmetry, as in a pea or snapdragon; bilaterally symmetrical; especially in reference to a flower or corolla; Opposite is Actinomorphic; irregular flower;. They are in solitary or in the inflorescence of a raceme, fascicle, or headlike cluster.
Sepals and petals: There are usually 5 sepals; valvateWhat is valvate?Sepals having adjacent edges abutting rather than overlapping; opening by valves; edges of structures coming together so that the margins touch but won't overlap. or imbricateWhat is imbricate?overlap or cause to overlap; in botany terms, scales, sepals, or plates having adjacent edges overlapping; with margins of structures overlapping like shingles on a roof.. The flowers are radially symmetrical, and the petals of most members are weakly fused; usually 5.
Stamens and carpels: The stamens are 5 or 10 (or more). They are born free of the petals. Most members have 3-5 carpels; syncarpousWhat is syncarpous?Flowering having united carpels; Contrast apocarpous..
Ovary and fruit: The ovary of the flower is superior. There are 3-5 locules. The fruit is usually a capsule. Other species have a berry or a drupe.
Seeds: The seeds are oily endospermousWhat is endospermous?An embryonic nutritive tissue formed during double fertilization by the fusion of a sperm with the polar nuclei.. They are also proteinaceousWhat is proteinaceous?Containing protein; made of or containing protein; Protein is a complex organic compound made up of amino acids linked together by peptide bonds..

Ericales Flowers and Reproduction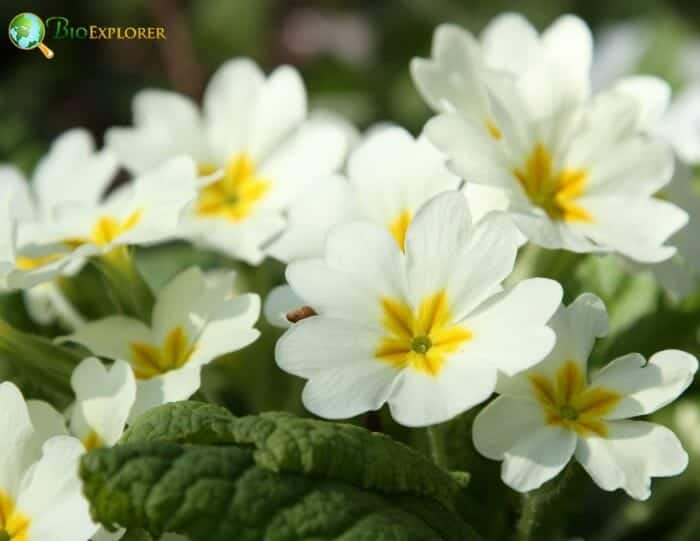 Ericaceae[2] flowers are actinomorphic, pedicellateWhat is pedicellate?Borne on a pedicel; a flower characterized by having a stalk is also known as pedunculate or pedicellate; opposite is sessile (i.e., no stalk);, and bracteates (2 bracteoles). They are hypogynous or epigynous and mostly bisexual (rarely unisexual).
The flowers are often large and solitary or in the inflorescence of a raceme, fascicle, or headlike cluster. Usually, 5 (2-7) valvate or imbricate sepals in the aposepalous calyxWhat is calyx?A collective term for all the sepals of a flower; the lowermost whorl of floral orgrans (Plural form is calyces)..
The petals are 5 (2, 7, sometimes 0) in mostly sympetalous corollaWhat is corolla?A collective term referring to the petals of a flower.. Flowers commonly have 5 plus 5 stamens; biseriate and obdiplostemonous (stamens in 2 whorls with those of the outer whorl opposite the petals).
Usually, the stamens are inserted on the corolla (epipetalous). Ericaceae have syncarpous, mostly superior ovaries. There are typically 5 carpels and 5 locules. The nectaries are present. Pollination of Ericaceae[3] is primarily by bees or hummingbirds.
Other insects, bats, and tropical birds are also some pollinators[4]. In addition, some species of Erica are wind-pollinated.
The white alder family, Clethraceae[5], are hermaphrodite plants with flowers arranged in a raceme.
Branched hairs cover the axis of the raceme. The flowers are small, usually white and fragrant. There are typically 5 sepals in the imbricate calyx; 1 whorl.
There are 5 (-6) polypetalous and sessile petals in the imbricate corolla. Stamens are 10 or 2 in 2 whorls; alternisepalous.
There are 3 carpels, and the ovary is superior. White alder[6] is wind-pollinated. Seed dispersal is via wind, water, and seed-eating birds.
The touch-me-not family (Balsaminaceae[7] ) has showy flowers. They are bisexual and zygomorphic. The flowers possess 3 sepals and 5 petals; 1 single upper petal and 4 lower petals.
The flowers appear to have only 3 petals because there is a fusion of 2 petals on each side of the flower.
Five stamens are alternating with the petals. The gynoecium has 4-5 syncarpous carpels, and the ovary is superior. The family is usually pollinated by the bees.

Mycorrhiza in Ericales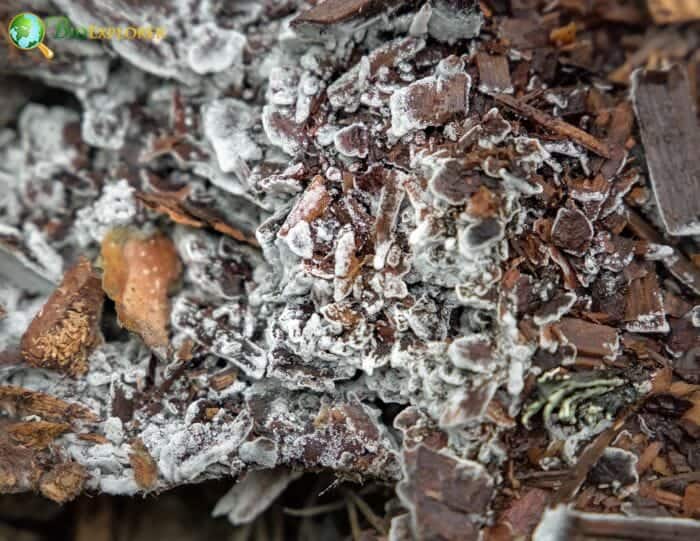 The symbiotic relationship between the fungi and the roots of the plants is called mycorrhiza. Depending on the fungal taxonomy and host plant, different forms of mycorrhizaeWhat is mycorrhizae?A symbiotic and non-pathogenic linkage between fungi and roots of many plants; symbiosis might be mutualistic or sometimes parasitic; Fungi may be superficial or contained within the host cells. (Plural form: mycorrhizae) are formed. The three distinctive forms of mycorrhizae formed by the Cornales are: ericoid, arbutoid, and monotroid.
Ericoid mycorrhiza: This type involves the relationship between the ascomycetes fungi and the species from the family Ericaceae. Fungal hyphae, instead of root hairs, are found in the small-diameter roots.
Arbutoid mycorrhiza: This mycorrhiza is formed between members of Ericaceae and Basidiomycetes. Arbutoid mycorrhiza has a Hartig net and a thick fungal mantle. The root epidermal cells possess dense hyphal complexes.
Monotropoin mycorrhiza: This form is the result of the relationship between Monotropaceae's non-photosynthetic species and basidiomycetes. In this partnership, the carbohydrates from the photosynthetic plant are transferred to the non-photosynthetic host plant by the basidiomycetes. As a result, the root's epidermis has a "peg" of fungal hyphae. In addition, the fungal mantle and Hartig net are also present.

Ericales Example Species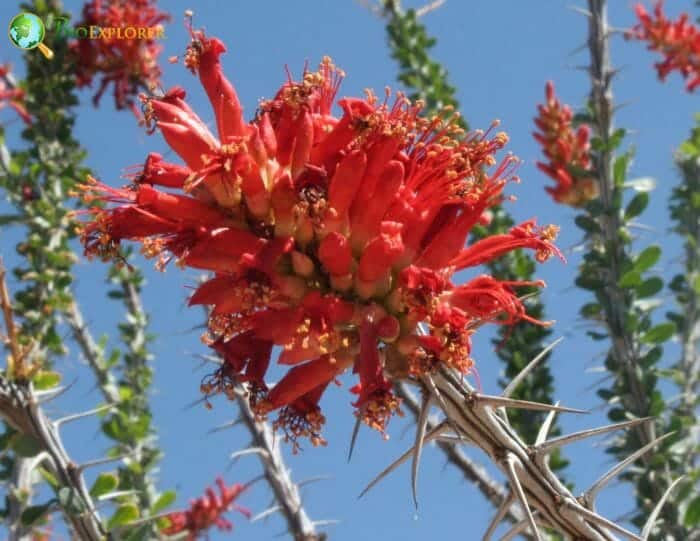 Ericales comprise 12,005 species[8]. Below are some of the example species that belong to this order.
Hardy kiwi – The fruit is edible.
Orange jewelweed – The young shoots and the seeds are edible. The plant has medicinal value.
Wand plant – This species is used as an ornamental plant. The plant is also consumed for medicinal use.
Lama tree or Hawaiin ebony- The berries are edible. The wood was traditionally used to construct fishing traps and the building of temples and house frames.
Prickly heath or prickly mingimingi[9] – The fruit of this plant is edible. The infusion from the leaves is used as traditional medicine.
Ocotillo – The fresh flowers of this plant is sometimes used in salads. The seeds (grounded) are used in making cakes. This species also has medicinal uses[10]. The poles are used as fencing materials.
Brazil nuts – The nuts are edible. The wood is used for construction, carpentry, and flooring.
Common primrose – The species is a garden plant. The flower and the leaves are edible. Its roots have medicinal properties.
Sapodilla – The fruit is edible. The leaves, bark, and seeds have medicinal values[11].
Carolina Silverbell – The species is a popular ornamental plant.

Cite This Page