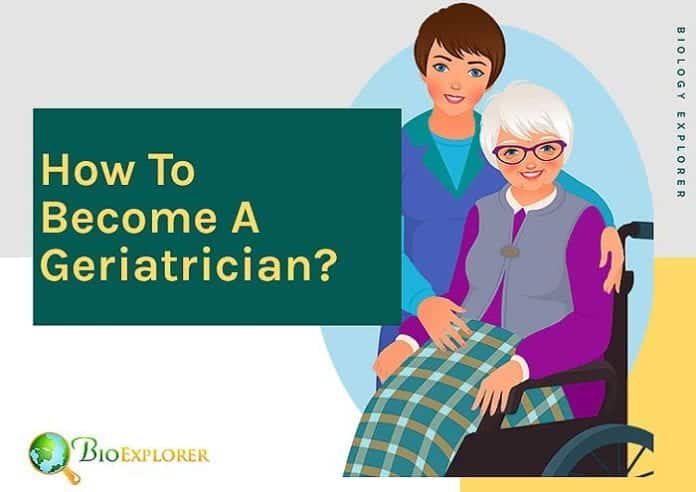 A geriatrician is a medical specialist that deals specifically with elderly patients (older than 65 years) and their unique set of problems.
A geriatrician is responsible not only for treatment but also for the referral to other medical doctors, as well as supporting the healthy lifestyle for the patients.
How to become a Geriatrician?
In order to become a geriatrician, it is necessary to:
Complete the pre-med Bachelor program;
Pass the MCAT;
Obtain the medical degree;
Complete the residency program in internal medicine;
Get a medical license that is legal in all states;
Obtain board certification from:

American Board of Internal Medicine;
American Board of Family Medicine;

Join a fellowship in:

Geriatric medicine;
Geriatric psychiatry;

Pass the Geriatric Medicine Certification Examination;
The geriatricians deal with specific sorts of elderly diseases, such as:

Osteoporosis;
Dementia (Alzheimer's);
Incontinence;
Cancer;
Diabetes;
Insomnia;
Hearing loss;
Vision loss;
Balance issues.

Geriatricians also need to develop soft skills and be knowledgeable about lifestyle medicine.
Participate in additional training and continuing education in their field.
Be aware that the demand for more geriatricians is increasing.

How Much Do Geriatricians Make?
The average salary for a geriatrician in the United States is in the range between $166,739 and $198,046 in the US.

Cite This Page
Key References
"Geriatrician Doctor: What They Do, How to Find One & Why to See Them". Accessed December 01, 2019. Link.
"We Need More Geriatricians, Not More Primary Care Physicians – NEJM Catalyst". Accessed December 01, 2019. Link.
"Geriatrician Career Profile – Job Description, Duties, Education, Skills, Salary, & Growth – HospitalCareers.com". Accessed December 01, 2019. Link.